A Field in England |

reviews, news & interviews
A Field in England
A Field in England
Ben Wheatley finds creeping, hallucinatory horror in Civil War England
Bad moon rising: O'Neil (Michael Smiley) moves in for the kill
An English Civil War horror film which looks as if it was shot on authentic location in both space and time should convince his widest audience yet that Ben Wheatley is a major director. Released in cinemas, on TV, Video on Demand, DVD and Blu-ray on Friday, it's yours if you want it.
It starts with Whitehead (The League of Gentlemen's Reece Shearsmith) and two companions fleeing a brutal battle. Wandering into a field which seems endless, all but Whitehead eat the mushrooms growing there. It's when they happen upon O'Neil (Kill List's Michael Smiley) that the screaming starts. He has papers stolen from Whitehead's alchemist master, and is searching for a treasure buried in the field to deepen his own powers. Capturing Whitehead and his band with contemptuous ease, he tortures him and stuffs him with mushrooms, leading to a scene of improvised, capering horror from Shearsmith (pictured below). That's when this discursive, low-key, dryly funny film quietly sinks its claws in.
Variants on its multi-platform release have been tried before (Ken Loach's recent Spirit of '45 wasn't far off). What's particular to Wheatley's sure-footed, industrious and brilliant career so far is the ambitious positive thinking of the assault. Debut Down Terrace was made on faith in a Brighton friend's house; Kill List and Sightseers followed through its breach in the industry's defences with breathtaking speed. A Field in England was shot in 12 days between other projects, but grows in the mind as much more than a stopgap.
Four films in, the director's peculiar strengths are becoming clear. Some of Down Terrace's deadpan dialogue seeps into Sightseers star Richard Glover's asides here as he plays a sort of holy fool, but the Mike Leigh comparisons made with that and even Kill List (for the cringing verbal embarrassment, humour and cruelty) aren't likely to be heard again (Julian Barratt, Shearsmith and Glover pictured below). There's a morality to Wheatley's vision, linked to his unflinching depictions of violence, and, with his wife and writing partner Amy Jump, equally unsparing humour. He also has a deep sense of England, and of horror. A Field in England is made from both.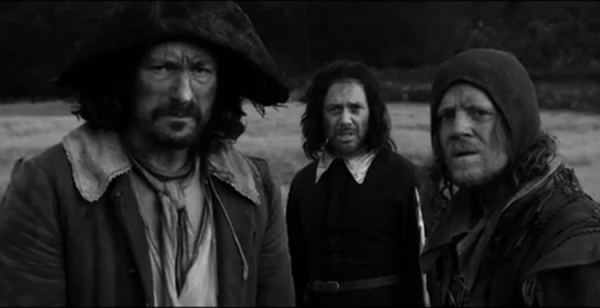 Shot in black and white, the field's waving grass has a strange softness, with bony trees at its borders. The big white sky and vast flatness of its Surrey location give a sense of the English Western Michael Reeves had in mind with Witchfinder General. But A Field in England doesn't really take its nightmarish Civil War ancestor as a model. You feel you could stumble upon its charged rural landscape even now. The battle between O'Neil and Whitehead also feels sadly current. Though the war's chaos seems outside the field, the future English values being fought for play out inside it. With his black Cavalier hat, compared to Whitehead's motley band O'Neil could be the King, and Whitehead recognises that he represents the cruelty of powerful men, which he'll have to overthrow to survive. "I am my own man" is a phrase that's plaintively repeated. Weird, haunting folk verities are there to be uncovered in this fertile field.
A Field in England is in cinemas, on Film 4, Video On Demand, DVD and Blu-ray on Friday. Watch the trailer here
It's during a scene of capering horror from Shearsmith that this film quietly sinks its claws in
rating
Explore topics
Share this article