Romeo and Juliet, Shakespeare's Globe review - 'too much brouhaha' |

reviews, news & interviews
Romeo and Juliet, Shakespeare's Globe review - 'too much brouhaha'
Romeo and Juliet, Shakespeare's Globe review - 'too much brouhaha'
There's vigour and violence, comedy too, but Daniel Kramer's production disappoints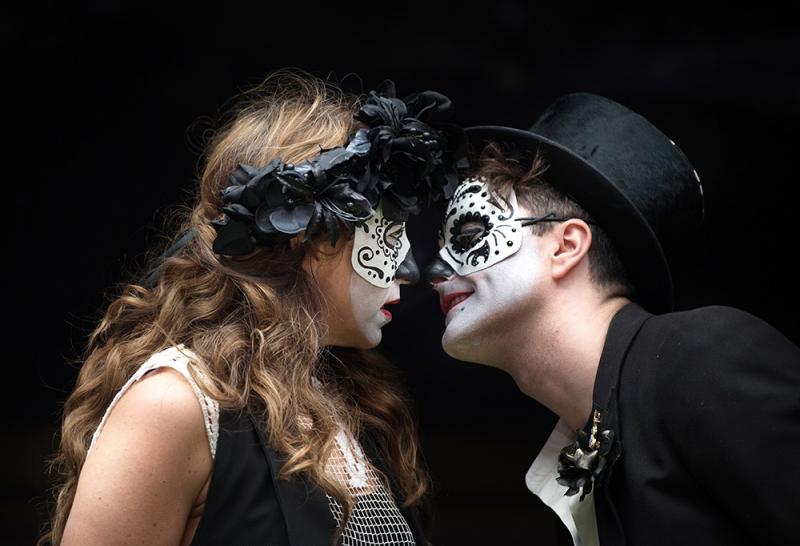 'Twilight' lovers? Juliet (Kirsty Bushell), Romeo (Edward Hogg)
"Everything in extremity". That announcement that the Capulet party is about to begin could just as well serve to describe Daniel Kramer's Romeo and Juliet as a whole. Opening the Globe's new season, it will provoke reactions as conflicting as the play's warring families.
Purists
will pan it, that's for sure, while fans may welcome a fiery energy that melds in considerable comedy. There's precious little room for any in-between.
The party scene says it all. It's played out to Village People's "YMCA". Capulet is clad in a dinosaur suit (he's accompanied through most of the action by a human dog on a lead). The fancy dress extends to a knight in armour and a Wicked Witch; the Nurse is a ruffed prancing queen, Tybalt a dopey butcher who could have wandered in from Rocky Horror territory (if not from another wacky family entirely, of the Addams variety).
This is a violent world of bats and boxing gloves, tasers even
The ensemble action is raucous from the beginning, right from the "do you bite your thumb?" opening (a metaphor for Kramer's provocation in itself?). That is played out over two hospital trolleys, which duly disgorge figures holding tiny rose-decorated coffins: the grave is always close by here (in fact, it's there at the front of the stage throughout, Six Feet Under-style). It kicks off with a blast of rock, though not, as might have been tempting, "Two Tribes Go to War". Too obvious, perhaps? Hard to say when Soutra Gilmour's design hangs a pair of menacing black missiles over the whole action, its Cold War reference staring us in the face throughout. (The party scene, pictured below by Robert Workman.)
This is a violent world of bats and boxing gloves, tasers even. The heads of the two houses come in braces and bowler hats, overseeing white-faced underlings who surely tip a sartorial nod to Clockwork Orange's droogs. The Prince is an absent presence, his voice mic-ed over the proceedings from on high, as if highlighting its impotence.
So much for the society, what about the solitude? Romeo (Edward Hogg) certainly seems on his own as he ambles in through the yard (he gets plenty of interaction with the groundlings throughout). Rake-thin, clad in black emo-style, he's listening to headphones. The first thing that should be said is that Hogg's delivery is glorious. He's convincingly youthful, too – the white-face make-up must help, given that the actor is a good two decades older than his character – and has a certain callow uncertainty.
It's a contrast that hits home when he's set against Juliet (Kirsty Bushell), who speaks with an experience far beyond the 14 years she has yet to turn (her intonation sometimes suggests she's had time to try a turn on the comedy circuit, too). When we first encounter them, the Capulet women are hurrying through their solarium pre-party preparations, and there's a winning Glaswegian comedy to Blythe Duff's Nurse. She has a vitality that's denied Martina Laird's Lady Capulet, for whom waving her hands around seems a substitute for emotions she clearly doesn't feel towards her daughter. (It's either that or the bottle: she goes exaggeratedly dipso as the action progresses, and with some of that head-gear, you can sympathise.)
Kramer has experimented on a number of fronts. Mercutio is played by a woman (Golda Rosheuvel), a decision which offers exactly nothing, except a rather tawdry strip scene. The japing badinage of Romeo's companions has gone, though it's a nice touch to make Benvolio (Jonathan Livingstone) clunky, his puppy fat still there.
The more significant change, however, is the overlapping – "layering" is the word Kramer himself has used – of scenes, which becomes particularly apparent at the opening of second half. The effect varies, reaching its peak as Romeo and Juliet play out the actions of their separate scenes in the same physical space; they speak across one another, about each other, in close proximity. It feels natural actually, and offers insights: at times it seems close to the effect of operatic aria performance in which characters may be inhabiting the same stage but in reality are performing in isolation.
The director's technical collaborators have obviously worked with him on every front – doing otherwise would have been impossible – and they will be assailed by all the charges launched at Emma Rice's Midsummer Night's Dream last year, principally the mic-ing of voices and use of stage lighting. Charging this show with irreverence to whatever the original Globe experience might have been in its time is simply irrelevant in itself, however. Amplification enhances the production – though voice-echoing could possibly go – as much as lighting allowed the sheer colour of the design to shine on a night when natural light was at a minimum (which, over this summer, may be quite often). The reservation is more that designer Gilmour has watched too many Alejandro Jodorowsky films, and composer Ben de Vries's decision to play out the finale to a bad rock opera soundtrack takes away a great deal more than it adds.
It's the battle line that will define Rice's second – and, as we all know, final – season at the Globe. Her Midsummer Night's Dream was a glorious show, but Kramer's production lacks that special something. Throwing everything at us, it manages to leave that most crucial thing, the text, discarded in the wings: giving a completely new life and energy to a production doesn't have to do that (remember some of the revelations of the Globe to Globe season). There's far too much brouhaha to this Romeo and Juliet for the play itself to speak, let alone sing. I'm with the Nurse: "Lord, how my head aches!"
Romeo and Juliet play out the actions of their separate scenes in the same physical space
rating
Explore topics
Share this article