Reissue CDs Weekly: Hoyt Axton |

reviews, news & interviews
Reissue CDs Weekly: Hoyt Axton
Reissue CDs Weekly: Hoyt Axton
The baroque country masterpiece 'My Griffin is Gone' resurfaces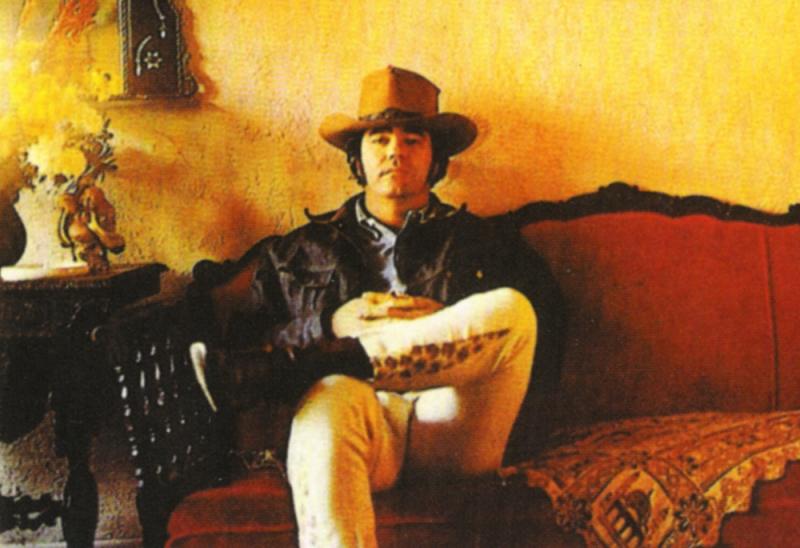 With his griffin gone, Hoyt Axton takes it easy
Hoyt Axton's songs were heard most widely when recorded by others. Steppenwolf recorded his "The Pusher" in 1967. It featured on their early 1968 debut album but was most pervasive in summer 1969 after it was included on the soundtrack of Easy Rider. Axton himself didn't release a version until 1971, when "The Pusher" appeared on his Joy to the World album. The title track, another of his best-known compositions, had charted earlier that year for Three Dog Night.
Back in early 1963 "Greenback Dollar", which Axton had co-written, was a US hit for The Kingston Trio.
While his songs could have commercial appeal, Axton (1938–1999) the recording artist didn't set the charts alight. Following a few singles, his first album hit shops in 1962. Up to 1984, he regularly issued one each year or so, sometimes two a year. His mother, Mae Axton, was a prolific songwriter and had co-written "Heartbreak Hotel". His father was a US Navy officer and, after high school, Hoyt Axton spent time in the service. But music became his life.
Although nominally country, Axton is tough to pigeonhole. He first came to attention during the early Sixties American folk boom, was soon writing his own songs and also tackled blues. In 1963, he covered the stylistically dissimilar Rod McKuen and Willie Nelson. Two years later, he dedicated a whole album to the songs of Bessie Smith. But it is the entirely self-penned album which followed Hoyt Axton Sings Bessie Smith which finally showcased a unique artistic vision.
Originally issued in March 1969, My Griffin is Gone is a wonderful response to the psychedelic era rather than psychedelia as such. Its reissue brings the opportunity to celebrate and dig into what makes it special. Its recasting of country is as bold and important as that undertaken by Gene Clark, Gram Parsons and the Bob Dylan of Nashville Skyline. However, Axton did not seek to bring country to a new, non-country audience but instead reframe in entirely. Baroque country may not exist as a genre, but this is what My Griffin is Gone is. If Van Dyke Parks sought to fashion a country album while Curt Boettcher whispered in his ear, this would have been the result.
Reviewing the album a month after the release of trailer single "It's All Right Now", the US music biz trade mag Billboard identified "a top programme of unique and compelling folk material from the pen of composer-performer Hoyt Axton." Songs were singled out for praise: "Beelzebub's Laughter" was "thought provoking; "Sunrise" offered "much commercial potential" and "Revelations" was "brilliant".
My Griffin is Gone was his only album for Columbia. Picking him up was prescient. The Easy Rider soundtrack album was on sale in August 1969. My Griffin is Gone was released five months earlier. Like "The Pusher", every song on the album was about the world as Axton saw it: one in which drugs were having an impact. The ambivalent lyrics have no explicit pro- and anti-drugs stance. In reportage-type verses, Axton describes the effects of drugs. "Snow Blind Friend" (subsequently covered by Steppenwolf) paints a picture of someone "lyin' on the sidewalk with a misery on his brain, stoned on some new potion." The dark "Kingswood Manor" tells of a protagonist "floating through the air on a cotton candy cloud" who ends up in a straightjacket locked in a "paisley rubber room" in the titular institution. This was not the drug-inspired reverie of "Lucy in the Sky With Diamonds".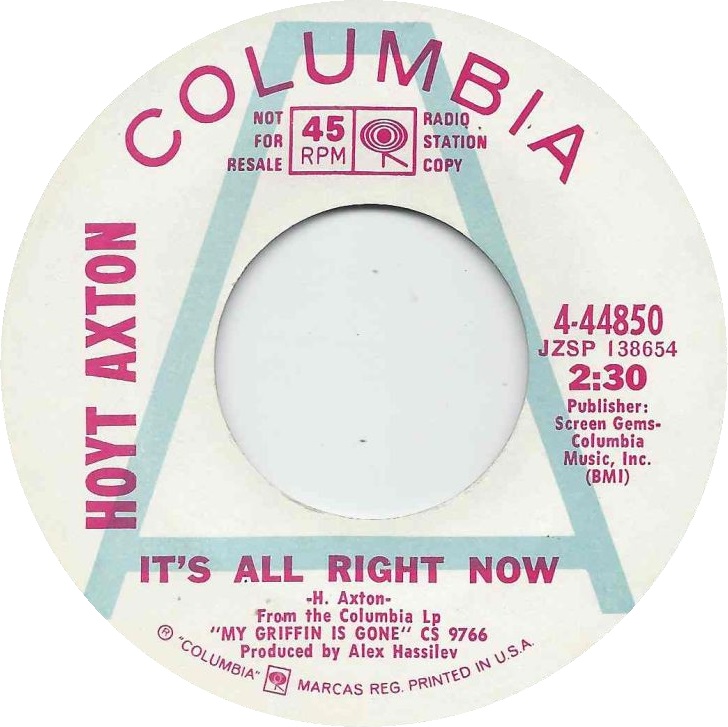 On the opening cut, "On the Natural", Axton sings of going to Colorado, where "up on the mountain, you don't need your little blue pills." He is "tired of the plastic people". On "Beelzebub's Laughter", he asks of the war in Vietnam "won't someone admit it's a sin?" Retreats from the urban and observations on drug-fuelled shortcuts to revelations are recurring themes. Though listening makes his messages clear, this new, slightly flat-sounding (it lacks the punch of a first-press album), no-frills reissue does not reproduce the original album's lyric sheet. Also missing from the package is a reproduction of the back of sleeve, where Axton explained the thinking behind the album. "Someone once told me in a dream that truth was a great white bird," he said. "Here are some feathers I found." It is vexing that features essential to the album have been disregarded.
Axton's gravelly, mid-range voice is rich, melodic and conversational – there is a touch of Lee Hazlewood. Each LA-recorded song has a sinuous, complex structure and a memorable melody. His accompanying musicians at the 1968 sessions included the high-end players James Burton (then also playing with Elvis), David Cohen (from County Joe & The Fish), Jim Gordon and Larry Knechtel. Dobro, harmonica and a rhythmic swing ensure the recognisably country is embedded. There is also subtle orchestration. Overall, the similarly significant My Griffin is Gone prefigures Gene Clark's momentous 1971 album White Light.
My Griffin is Gone was a bold and powerful artistic statement. Billboard said the album was "a winner". Unfortunately, in commercial terms, it was not. Hoyt Axton never attempted anything this ambitious again.
This was not 'Lucy in the Sky With Diamonds': after floating on a cotton candy cloud, a song's protagonist ends up in a straightjacket
Share this article