Norman review - revelatory Richard Gere in mesmerising New York tale |

reviews, news & interviews
Norman review - revelatory Richard Gere in mesmerising New York tale
Norman review - revelatory Richard Gere in mesmerising New York tale
Absorbing parable about the pitfalls of making connections in high places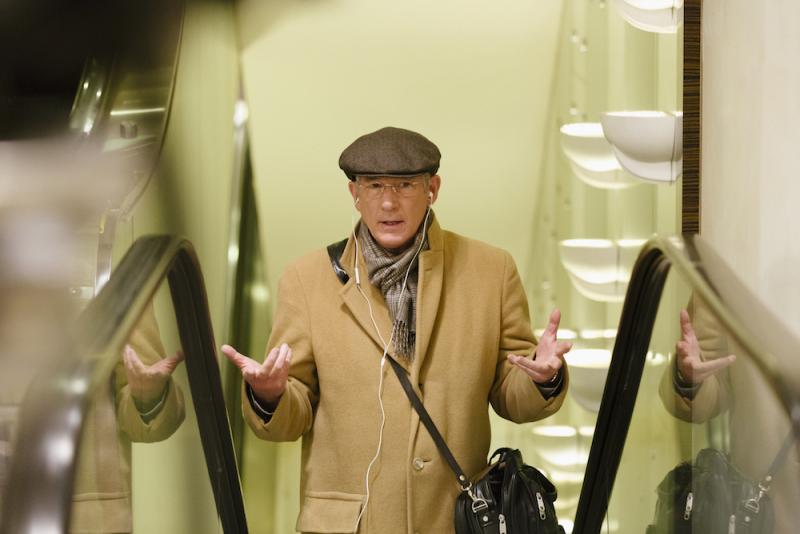 In the office: Richard Gere as Norman Oppenheimer
"You're like a drowning man trying to wave at an ocean liner," says lawyer Philip (Michael Sheen) to his uncle Norman Oppenheimer (Richard Gere as you've never seen him before – a revelation). "But I'm a good swimmer," replies Norman, feverishly making notes on a napkin.
Swimming, for Norman, means trying to network his way around
New York City
's biggest
Jewish
names and make a deal. He's a wannabe macher, a connector, always on the periphery, always on the verge of catastrophe.
The Moderate Rise and Tragic Fall of a New York Fixer
is the film's subtitle – a bit of a give-away.
From the first snowy scenes around Central Park and the Upper West Side, the city and the portrait of Norman's place in it are mesmerising. You can almost taste that bitter wind cutting into his ruddy face as he endlessly walks the icy streets, ear-buds in (Israeli director Joseph Cedar, in his first English-language film, has made Gere's ears stick out, which somehow makes all the difference), placing calls from Starbucks, Staples, Bergdorf's shoe department, anywhere he can find.
His tweed cap, scarf and camel coat are smart enough but they seem to be the only clothes he has. We're never told where he lives: he may even be homeless. The only time we see him eating is when he tucks into crackers and a jar of pickled herring at his synagogue. The rabbi (a tetchy Steve Buscemi) treats him with tolerance. Others, like Bill Kavish (Dan Stevens), the assistant to a mega-financier, just tell him to get lost, which Oppenheimer interprets as a hugely successful conversation. There's something lonely and likeable, as well as painful, about his desperation, and Gere's performance is the essence of subtlety. It's clear, as it was in Time Out of Mind and Arbitrage, that he's getting better and better with age.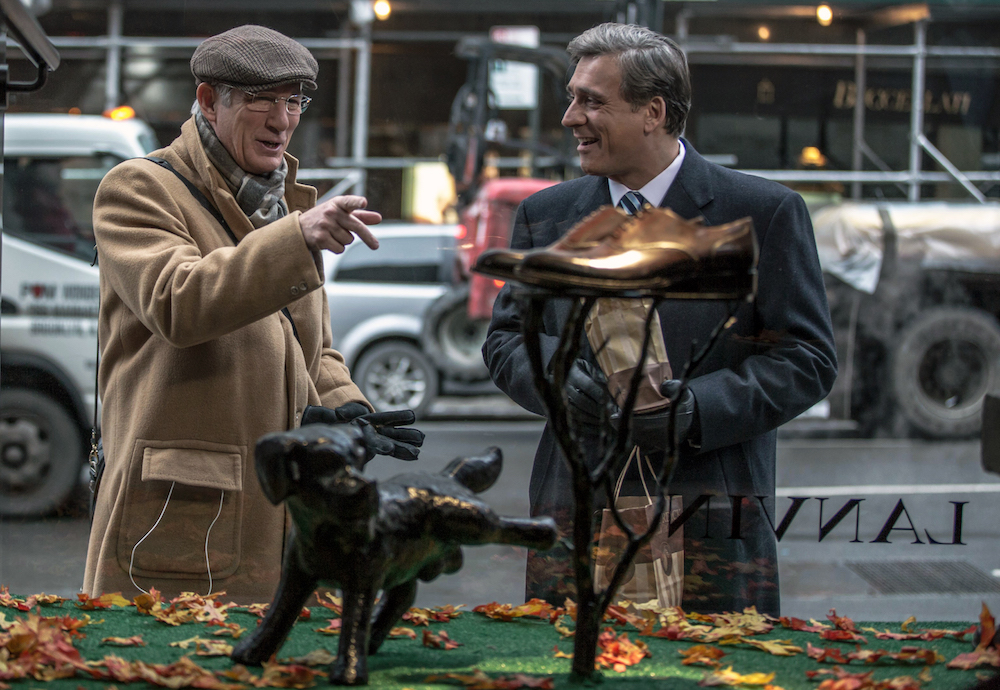 Norman is friends with everyone and no one until he homes in on Micha Eshel, played by the superb Lior Ashkenazi (pictured above, right) who also starred in Cedar's Footnote. Eshel is a minor Israeli politician, alone in New York for a few days. Norman follows him from a trade conference to a Lanvin boutique and worms his way into his confidence by name-dropping, always mentioning his wife and daughter – whom we never see – as part of the business connection. Eshel, rather surprisingly, listens and talks about his own career struggles and addiction to power. Norman ends up buying Eshel some $1,000 shoes. '"Best investment I ever made," Norman says later. But is it?
This totally absorbing film has many cringe-making moments. One of the worst – or best – is when he gatecrashes a dinner party at the super-luxe house of Arthur Taub, a New York bigwig (Josh Charles) who Norman hopes to connect with Eshel. Taub has to spell it out: "This is my private home, you can't just walk in and sit at my table." Norman is like a deer in the headlights. But he transforms even that humiliation into a boast to his rabbi: "I was at Arthur Taub's house." Which leads the rabbi to believe, when the synagogue needs $14 million, that Norman may come in useful after all. Bad idea.
But for a time, it seems that the investment has paid off. Eshel becomes prime minister of Israel and – still wearing the shoes – miraculously recognises Norman at a reception. Suddenly everyone really does want to know him. There are wonderful split-screen scenes of Norman making those connections (from Starbucks and the street, as usual) while highly placed parties in New York and Israel hope his promises are for real. But be careful what you wish for. A lawyer (a pale, tightly wound, English-accented Charlotte Gainsbourg) is the only one who catches on to the dubious nature of Norman's transactions. His "What do you need? I'll help you get it" spiel cuts no ice with her – she doesn't need connections. Norman's craving to be liked does, indeed, lead to his tragic fall, accompanied at the end by a snatch of something that sounds very like the theme tune to Curb Your Enthusiam. But it's a New York story, through and through.