Queen Anne, Theatre Royal Haymarket review - slow, long and dull |

reviews, news & interviews
Queen Anne, Theatre Royal Haymarket review - slow, long and dull
Queen Anne, Theatre Royal Haymarket review - slow, long and dull
Helen Edmundson's new history play gets bogged down in period detail
"The world makes politicians of us all": Queen Anne (Emma Cuniffe) in a battle of wills with Sarah Churchill (Romola Garai)
How well do you know your British history? Fancy explaining the causes and origins of the Glorious Revolution or listing the members of the Grand Alliance? What about the terms of the 1701 Act of Settlement or the Occasional Confirmity Bill of 1702? I ask not because Helen Edmundson's Queen Anne will require you to know any of this, but rather precisely because it won't.
If there was a Top Trumps of British monarchs Queen Anne wouldn't be anyone's pick for a winner. Hers is a corner of the 17th and 18th centuries rarely taught in schools, its political back-and-forth and factional tussling making for a less obvious narrative than either the Restoration that came before or the Jacobite rising that followed. Dramatically too she's a challenge. Neither mad nor bad, obviously heroic or wildly eccentric, she makes for an unlikely addition to monarchs whose reigns have made great theatre. All of which means that Edmundson's RSC production transferred to the West End can take nothing for granted in either her material or her audience
There's surely a fascinating play to be had about domestic diplomacy, but this isn't it
Every character, every event and the complicated backstory leading up to it must be painstakingly introduced and explained in dialogue that spends so much time on exposition that it leaves almost no room for character. At the heart of the piece are three women – the diffident, devout queen (Emma Cunniffe), her childhood friend, the charismatic and ambitious Sarah Churchill, Duchess of Marlborough (Romola Garai, pictured below with Chu Omambala as Churchill), and straight-talking waiting woman Abigail Hill (Beth Park), and while their interactions would pass a theatrical Bechdel test with flying colours it's more by adhering to the letter than the spirit of the thing.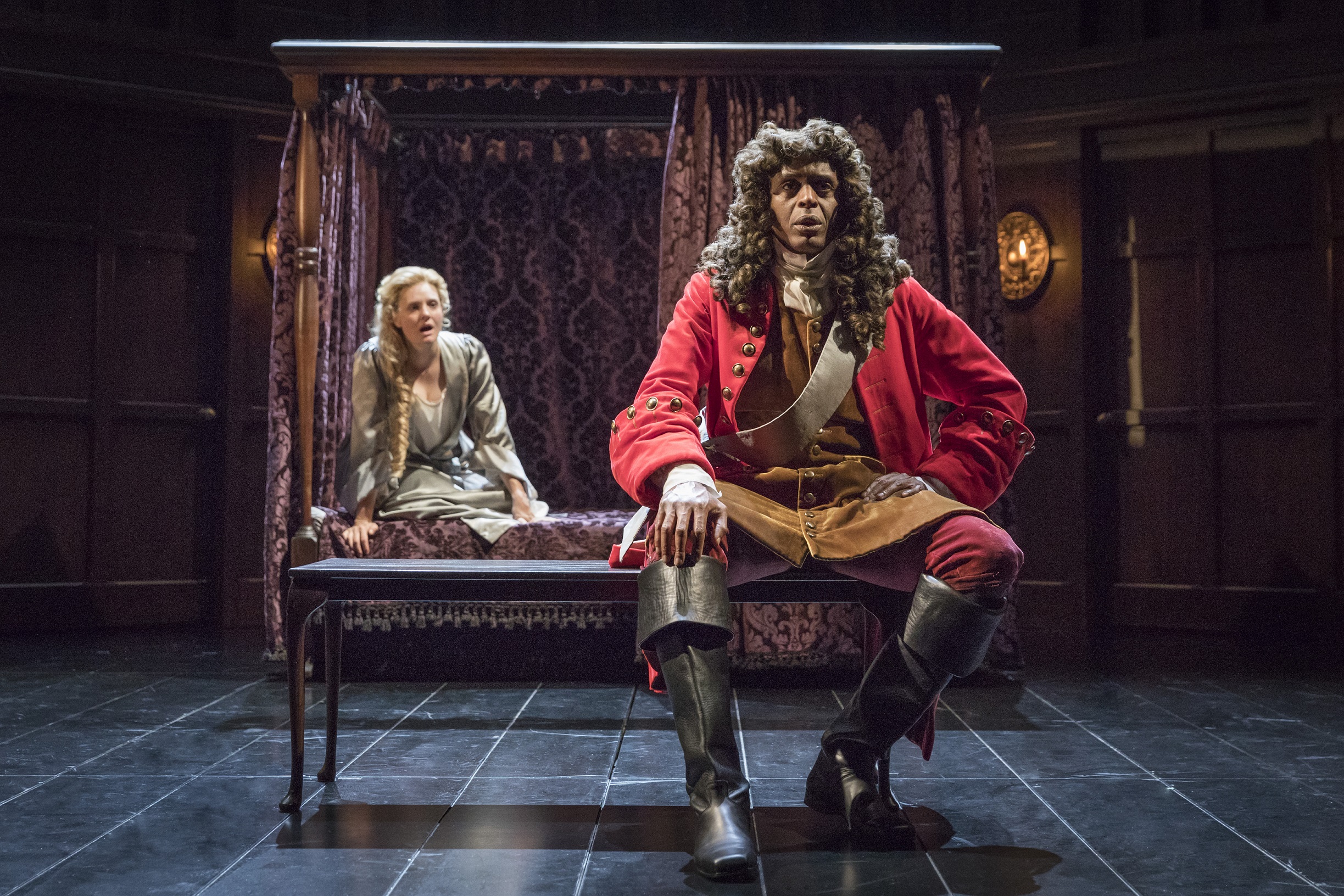 While Cunniffe's bravely understated Anne hints at an inner life, both Garai's volatile Sarah and Park's Abigail remain ciphers, too busy doing – scheming, alliance-building, loitering suspiciously in corners while heavily cloaked – to give us much of these women as women. There's surely a fascinating play to be had about domestic diplomacy and the role of women at court, but this isn't it. By going in through the front door of history and focusing on Anne herself, Edmundson cuts off access to the more interesting side windows others have found by way of an entrance, whether that's Stephen Jeffreys using the Earl of Rochester as a window on Charles II in The Libertine or Jessica Swale with Nell Gwynn.
It's partly a problem of dialogue. Do husbands and wives really speak with such stilted formality as the Churchills do when alone? I hope not, for the sake of the institution. Unwilling to pastiche period conversation but unable to offer a convincingly contemporary alternative, Edmundson finds herself caught awkwardly between the two, and even at its best moments the play cannot quite wrench itself free.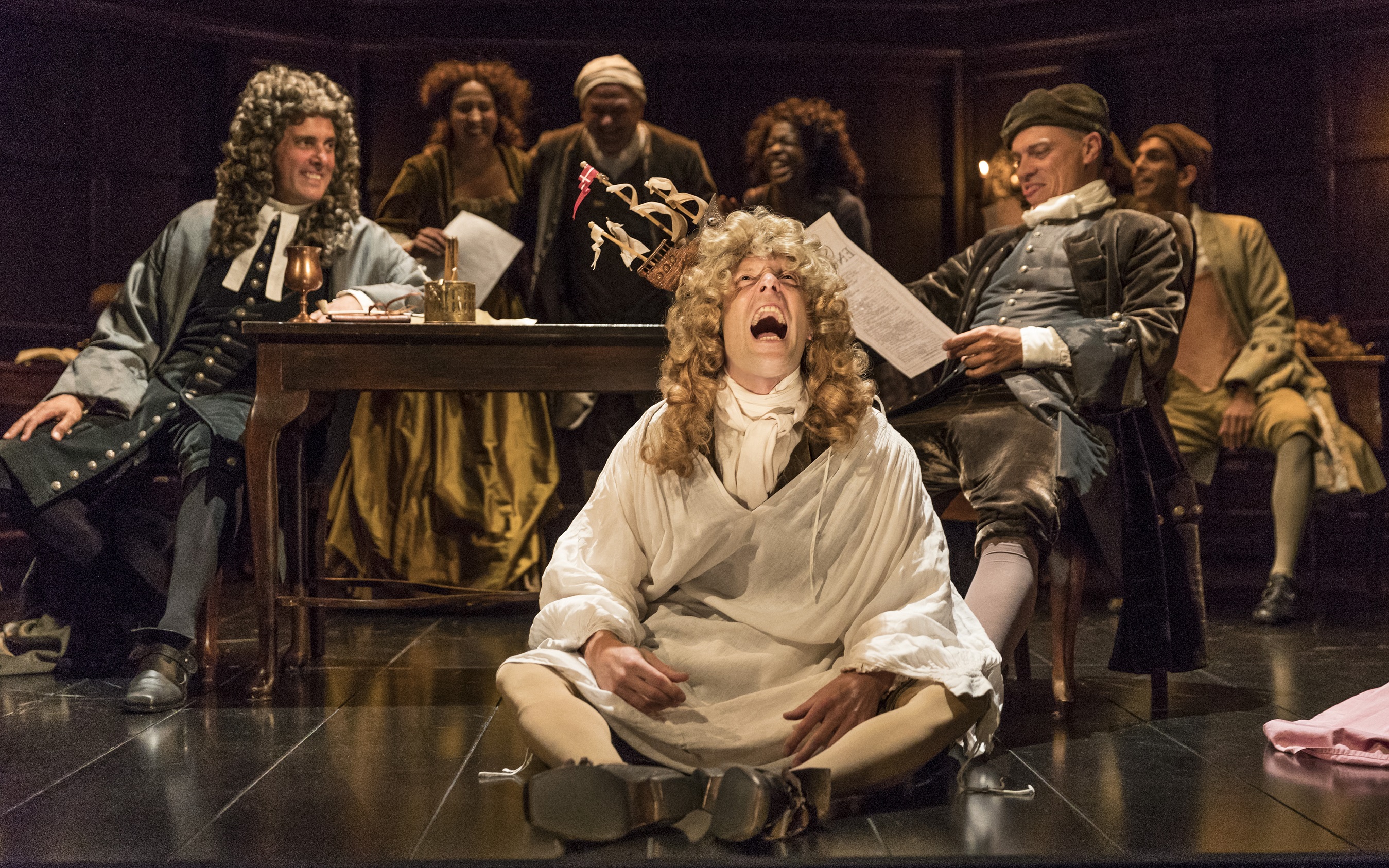 There are some neat performances suspended within the stasis of the drama. Hywel Morgan makes a touching, tender Prince George, tempering his comedy with pathos, while Jonathan Christie has a lot of fun as scurrilous satirist Arthur Maynwaring (pictured above). Given his head, James Garnon's Robert Harley (Speaker of the Commons) threatens to run away with every scene he's in, but his charismatic comedy is gradually reined in as the evening goes on by director Natalie Abrahami, who together with designer Hannah Clark bring a much-needed sense of movement and fluidity to proceedings.
Topical references to the Scottish-English union and British two-party politics give the play a superficial relevance that will excite some. But dig down beyond the knowing textual glances and nudges and there's little more there. Slow, overlong and only intermittently entertaining, Queen Anne feels an awful lot like being back in the classroom – a show you might want to consider playing truant from
Queen Anne is at the Theatre Royal Haymarket until 30 September, 2017
Director Natalie Abrahami brings a much-needed sense of movement and fluidity to proceedings
rating
Explore topics
Share this article