In the Dark, BBC One review - missing girls mystery promises hidden depths |

reviews, news & interviews
In the Dark, BBC One review - missing girls mystery promises hidden depths
In the Dark, BBC One review - missing girls mystery promises hidden depths
Very bad things in rain-sodden Derbyshire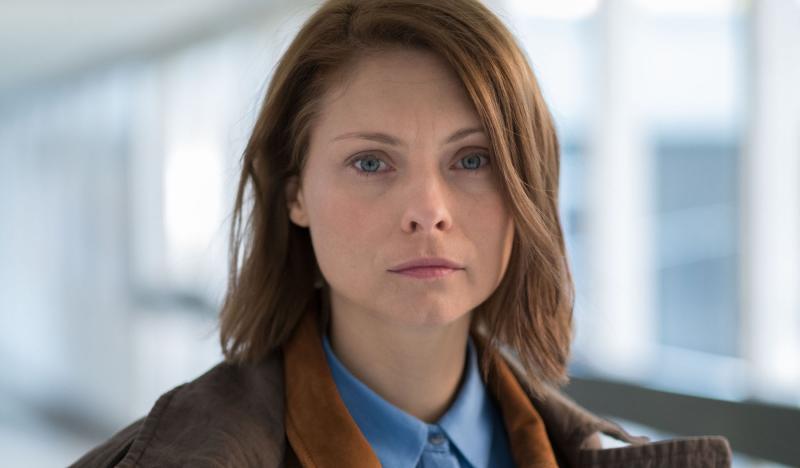 Secrets and lies: MyAnna Buring as DI Helen Weeks
Detective Inspector Helen Weeks (MyAnna Buring), having finally cornered a skanky drug-dealer/benefit cheat in a blind alley – and stopped an eager PC from Tasering the woman – is punched in the stomach for her pains. How's that for a hard-hitting start?
Weeks is pregnant – she should be called Eleven Weeks – and it later transpires she's not sure who's the daddy.
In the Dark, based on the novel by Mark Billingham, may seem like a run-of-the-mill crime drama but soon modulates into something deeper. The pre-title sequence shows someone digging a grave on a dark and stormy night. The identity of the culprit is the hook on which adapter Danny Brocklehurst hangs his investigation into how secrets can corrode relationships and even one's soul.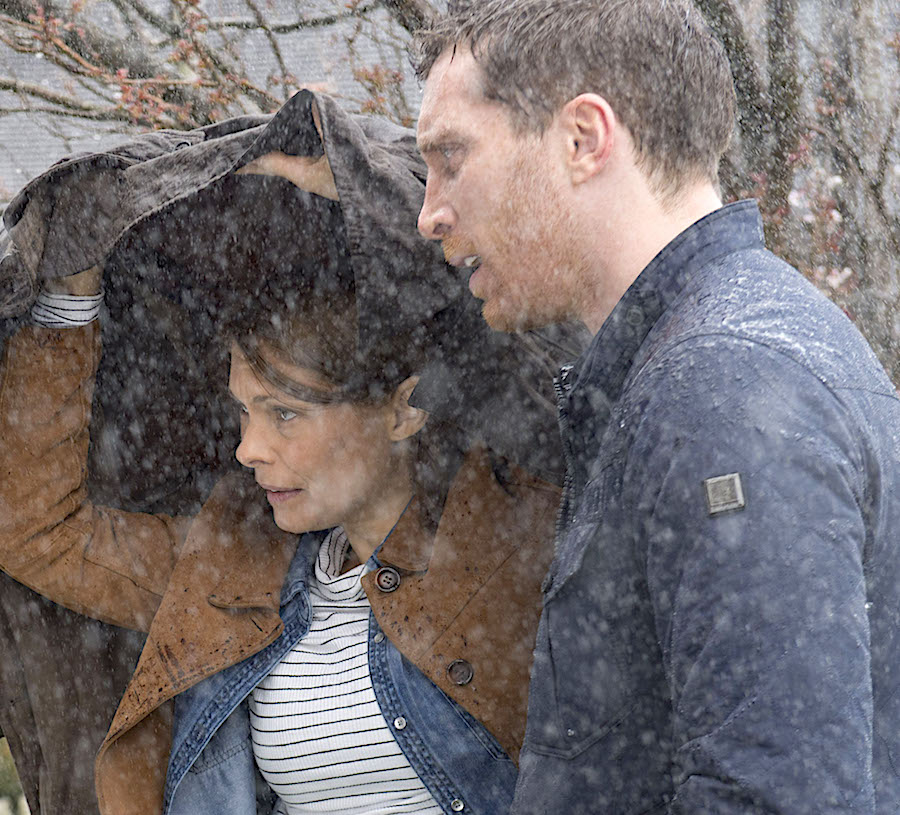 Everyone – in one way or another – is in the dark. Two girls have gone missing in Polesford, a Derbyshire market town that is currently half under floodwater. The wife of the prime suspect, Linda Bates (Emma Fryer), just happens to be a childhood friend of Helen, so the DI and her husband Paul (Ben Batt, pictured right with Buring), also a copper, leave the mean streets of Manchester behind and head for the dales. Here they are welcomed with open arms by Helen's gay dad (Clive Wood) and his partner.
Flashbacks to when Helen and Linda were 13-year-olds suggest, none too subtly, that something Very Bad befell them. Helen asks Linda: "Do you ever think about what happened all those years ago?" The reply – virtually the punchline to this first episode – is: "Every fucking day."
Meanwhile, the maggoty corpse of one of the missing girls is soon found by one man and his dog. Could Linda's husband Stephen really be the guy whodunnit? Helen and, to a lesser extent, Paul can't help getting involved – and rubbing up the locals the wrong way. Paul was at Hendon with DI Tim Cornish (Ashley Walters making the most of a thankless role) and he doesn't take kindly to having his judgement questioned. (This being the PC BBC, there seems to be a disproportionately large number of black folk in the Peak District.)
There is no shortage of other suspects. They include a shifty cabbie called Gavin (Kevin Sutton) – "no one really knows anyone, do they?" – a dodgy poetry-writing chef, and a farmer up in arms about the theft of his piglets. And who is Adam, who keeps calling Helen? He turns out to be David Leon (the much-missed DS Joe Ashworth in Vera), another DI convinced he is the father of Helen's child.
It is the cameos – flashes of idiosyncrasy and wit – that earn this opener its fourth star. Chief among them is Matt King (Super Hans in Peep Show) who brings a louche glamour to gay pathologist Phil Hendricks (pictured below). He is not the first actor to portray the pierced slicer-and-dicer on screen. Aidan Gillen played him in Thorne on Sky, with David Morrissey as the eponymous detective. This is presumably why Thorne (who appears in the novel In the Dark) and his gallows humour are conspicuously absent.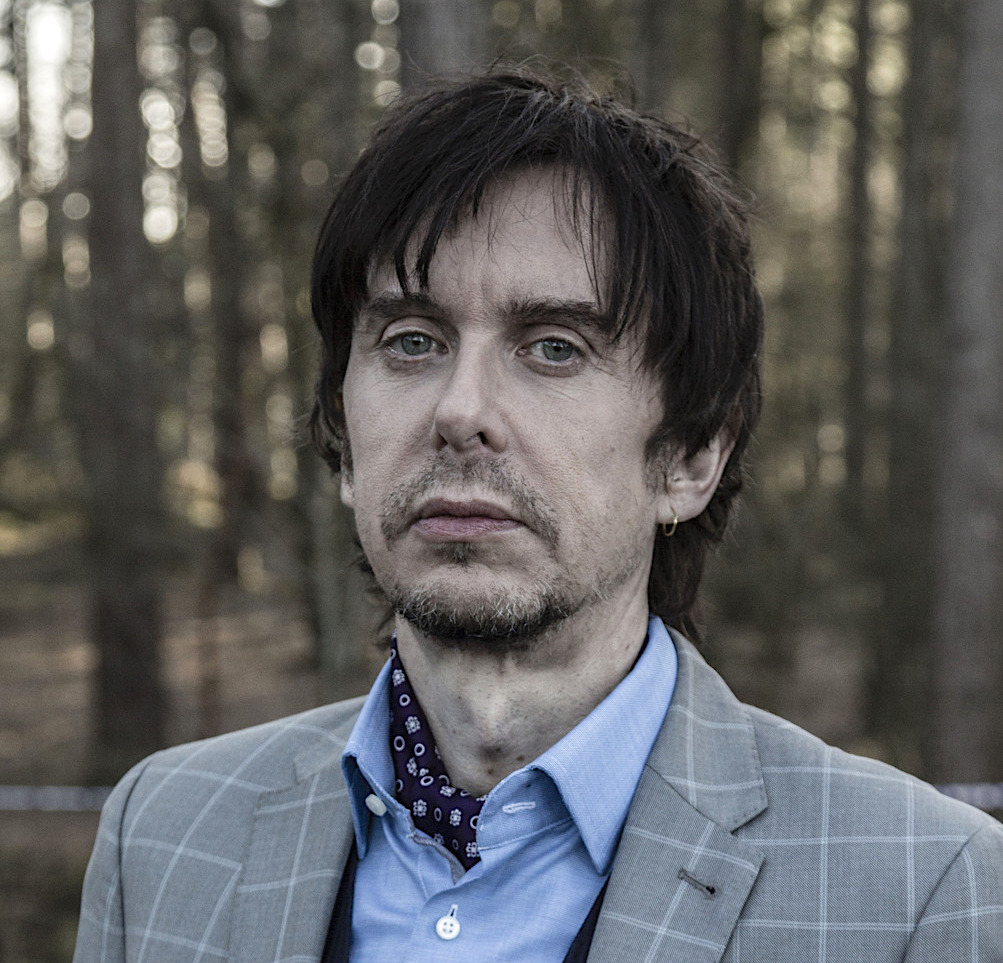 Director Gilles Bannier (Spiral) ensures that fans of Billingham's thrillers (and those who haven't yet read them) will enjoy both the cranking up of tension and the creaking of personal relationships. Mr Billingham himself, a former actor, can be glimpsed as a court usher: "All rise!"
As for the leads, Buring (Long Susan in Ripper Street) and Batt (Scott & Bailey) with his come-to-bed-eyes – "everyone's got secrets" – make a credible couple of mismatched lovers. Paul is delighted at the prospect of fatherhood; Helen believes all they have to look forward to is "20 years of fear".
Batt's memorable TV debut as Milo, a cocky student in an episode of Lewis titled Music To Die For (2008), promised great things. Whatever you thought of his performances in Shameless and Sirens, watch what happens in next week's episode when Helen finally confesses all.