Prom 16 review: Osborne, BBCSSO, Volkov - scintillating piano concerto premiere |

reviews, news & interviews
Prom 16 review: Osborne, BBCSSO, Volkov - scintillating piano concerto premiere
Prom 16 review: Osborne, BBCSSO, Volkov - scintillating piano concerto premiere
New Anderson and little-known Liszt make an unlikely, exotic pairing
Steven Osborne: 'Quick and vividly pictorial touch'
Expectations ran high for this first performance of Julian Anderson's piano concerto, and they weren't disappointed. Taking its title from a book of the same name by Andre Malraux, The Imaginary Museum goes on a journey around the world over the course of its six movements.
Malraux's idea was that a coherent collection – of art, artefacts, the stuff of culture – can only be assembled in our heads, when their physical manifestations are scattered to the four winds in the galleries and palaces of the globe.
Coherence is the key word here. Ever since his Thebans opera – long in the making, first performed by English National Opera in 2014 – Anderson (pictured below with Osborne and Ilan Volkov) has pared back his orchestral textures, which were acutely heard in the first place. An opening, repeated B flat seems to test the vast acoustic of the hall, explored and filled by Anderson in several previous Proms commissions. Twenty-five minutes later, the conclusion (up a mountain, as if climbed by Carl Ruggles) opens on to another, grander vista of the kind that Tippett liked to conjure with. In between, two scintillating scherzos frame a big slow movement that fully satisfies the demands of the genre, though the piano's rapturous melody is shadowed by a second keyboard tuned down a quarter tone. Composed for and dedicated to Steven Osborne, the concerto makes full use of the quick and vividly pictorial touch which have brought him just renown in the music of Ravel and Messiaen.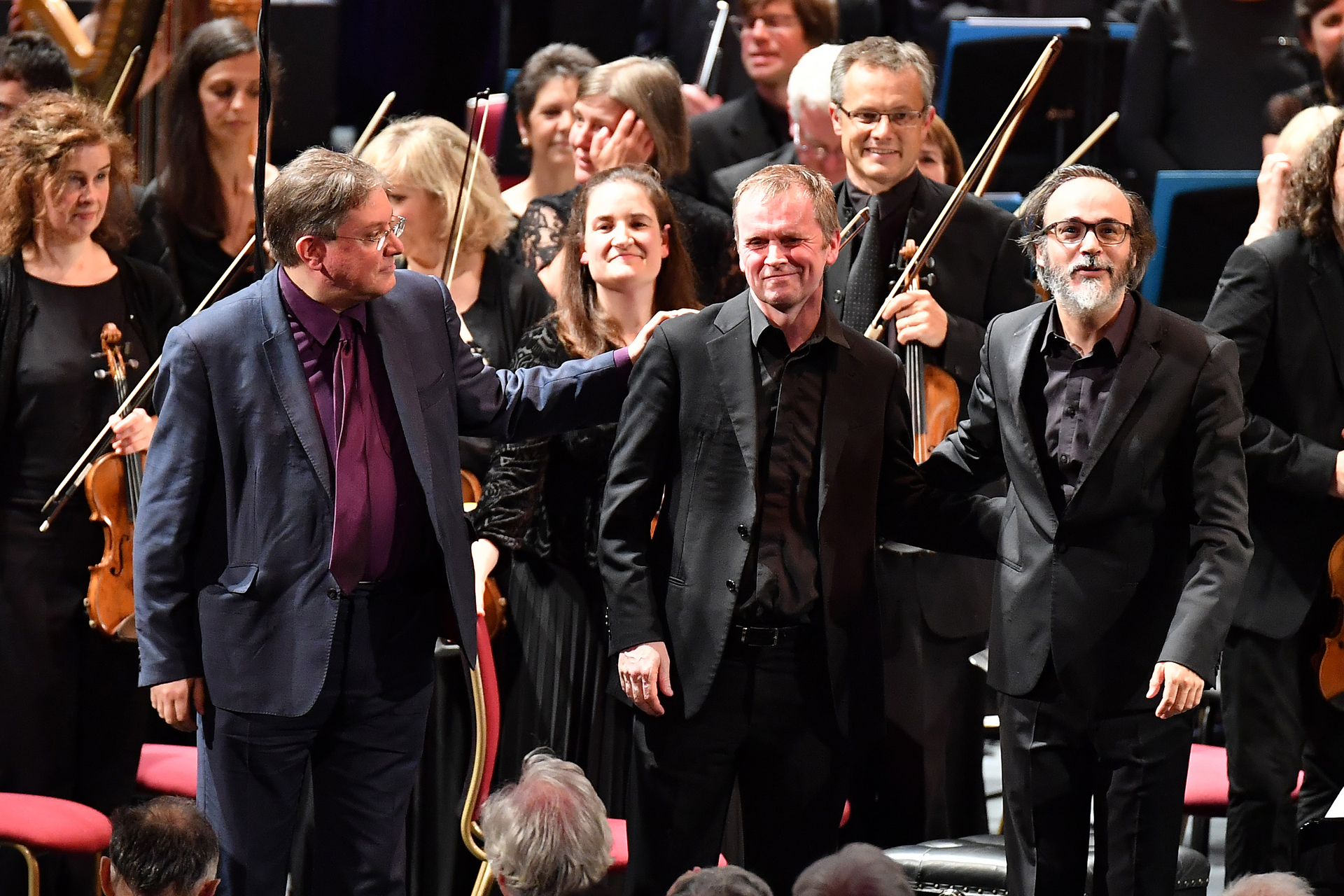 The Imaginary Museum wasn't the only Proms premiere of the evening. A pair of tone-poems made their festival debuts, more than a century after Franz Liszt wrote them. With brittle, echoing fanfares, faltering wind lines and shuddering string fragments, Liszt's Hamlet made no futile effort to pack five hours of narrative into 15 minutes. Rather he composed the space inside Hamlet's head: his loneliness, his dead-end fury and frustration. Perhaps there's a ghost of a ghost rising from furious tremolos and a fragile flute melody of doomed hope for Ophelia: she was answered by a sad little violin solo, beautifully taken by the BBCSSO's leader, Laura Samuel. Otherwise it's an anti-tone-poem for an anti-hero: an absorbing piece of work in this gutsy, muscular account and (as so often with Liszt) strikingly prophetic of modernism's mission to destroy and renew.
The hollow resonance of that voice rang out with even more original and unsettling appeal in Von der Wiege bis zum Grabe (From the Cradle to the Grave). In Volkov's hands, it came across as a piece steeped in lateness. This is the last of Liszt's tone-poems, composed in 1882 four years before his death, and exactly, tellingly contemporary with the final opera of his son-in-law. We're still discovering how much Wagner borrowed or stole from Liszt. In the empty, numinous, viola-led opening of the tone-poem, we're a stone's throw from the forest clearing where the curtain rises on Parsifal.
So far, so unfamiliar – and arduous work for the BBC Scottish Symphony Orchestra. All the same, they had enough left in the tank for a tight and thrilling Pictures at an Exhibition. With an unresting ear for the many refinements of Ravel's matchless orchestration, Volkov pulled no punches. He gave the brass their head in a magnificent and implacable "Cum mortuis in lingua mortua", having drawn the audience in with a Tuileries of small and playful joys. Simple, noble – ideal, really – "The Great Gate of Kiev" showed off an orchestra at the top of its game.
Composed for and dedicated to Steven Osborne, the concerto makes full use of his quick and vividly pictorial touch
rating
Share this article