Popstar to Operastar, ITV1 |

reviews, news & interviews
Popstar to Operastar, ITV1
Popstar to Operastar, ITV1
How did they manage to find so many singers who can't sing?
Saturday, 16 January 2010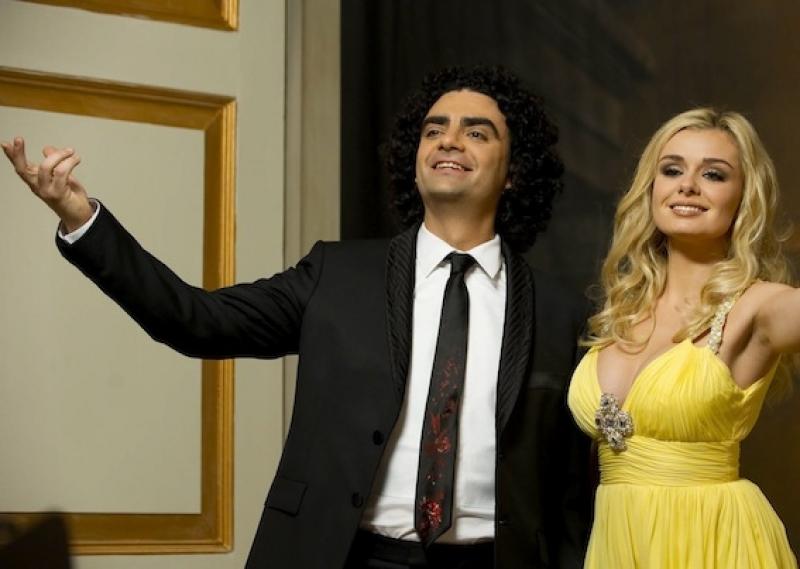 Rolando Villazon and Katherine Jenkins prepare to mentor the unmentorable
Naturally it would be impossible to reach an objective verdict on what is the worst programme ever shown on television, but it is at least safe to say that Popstar To Operastar is determined not to get left behind in the race to the bottom. This could also be said of some of its contestants, whose unfamiliarity with the concept of "singing" seemed surprising in people who perform music for a living, albeit of the non-operatic kind.
Not that the concept is necessarily a bad one. The notion of recruiting a bunch of pop singers and bussing them over to the operatic sphere could have been a device for shaking up a number of preconceptions. It could have blown holes in the idea that opera is either boring or "elitist" by advertising its emotional reach, its drama, and its unmatched melodic splendour. And while everybody knows that singing opera demands specialised skills, surely experienced singers from a different discipline could make a plausible stab at it?
It was on the latter issue that Popstar failed so catastrophically. There are pop singers who might take to opera fairly comfortably. Leona Lewis or Mary J Blige, perhaps, or Michael Buble or recent X Factor winner Joe McElderry. Michael Bolton sings operatic pieces regularly. But an air of desperation and compromise hovered over the contestants who'd been selected for the show, as if everybody who might have been able to make the thing work had smelled a rat and turned it down.
Let's face it, the production team must have resorted to dog-sleds, snowmobiles and abseiling down the inside of volcanos to come up with this bunch. Marcella Detroit hasn't crossed the public's radar since she quit Shakespears Sister in the Nineties, yet here she was, obviously petrified, trying to sing Bellini's "Casta Diva", "the Holy Grail of divadom", as floridly attired judge Laurence Llewellyn-Bowen put it. Vanessa White from The Saturdays (perpetrators of six Top 10 singles, as she reminded us) sang "O mio babbino caro", and sounded like a bunch of alley cats stuck on a hot plate. Alex James, Blur's bass player, can't sing at all, so he enacted "Figaro's aria" from The Barber of Seville as a farcical comedy routine.Another problem was getting the judging tone right. This might have been easier if they'd found the right judges in the first place, but bumptious rock singer Meat Loaf contented himself with bawling out his verdicts like a small-town Sheriff from Alabama, while Llewellyn-Bowen made excruciating attempts to deliver Wildean bons mots. The singers were struggling so badly with the material that nobody had the heart to tell it like it was, and in a rational world, all of them would have been voted off at the end of the show instead of just one. That was Alex James, by the way.
The two singing "mentors", Katherine Jenkins and Rolando Villazón, could be seen furiously improvising ways not to say "you were ****ing terrible!" I loved Villazón's ingenious observation that James "embraces the singer that he is!", while Jenkins retreated into the security of telling the contestants they weren't breathing properly or needed to expand their diaphragms more.
The hosts weren't much help. Alan Titchmarsh - doesn't he do gardening programmes? - kept announcing that we'd either heard or were going to hear "eight outstanding performances", with the brazen yet misplaced confidence of a man declaring the end of boom and bust. Myleene Klass has lovely teeth. Next Friday I'm going to watch Dan Snow's programme about the Royal Navy instead.