mother! review - Darren Aronofsky dares, frustrates and bores |

reviews, news & interviews
mother! review - Darren Aronofsky dares, frustrates and bores
mother! review - Darren Aronofsky dares, frustrates and bores
Jennifer Lawrence and Javier Bardem get mixed up in a metaphorical mess
Friday, 15 September 2017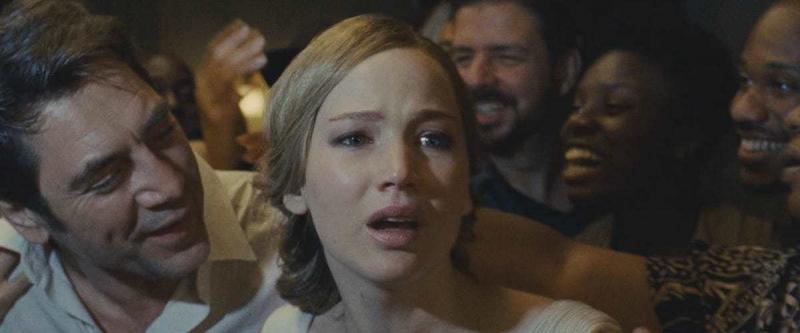 The Poet (Javier Bardem) makes Mother (Jennifer Lawrence) suffer for his art
Breathing through an oxygen mask with a busted diaphragm and rib after shooting a single scene in mother!, Jennifer Lawrence had rarely suffered more for her art. Nor have we.
Darren Aronofsky
's latest begins as an enjoyably enigmatic, Polanskiesque waking nightmare, as the Mother (Lawrence) and her beloved Poet (Javier Bardem) find creepy strangers barging into their happy home. It ends in ineffectual, flailing chaos.
The blurring of mythic dreams with supposed reality begins in the first minutes, as a fire-razed mansion reconstitutes itself around Lawrence as she sleeps. Big close-ups and hand-held cameras emphasise her isolation as she wanders this strangely organic home as it rumbles and groans, and grows bloody stains and slits. She's the loyal muse to Bardem as he grumpily fails to write. He's more interested, though, in Ed Harris's unexpected, bronchial visitor, a surgeon who has perhaps recently operated on himself, and is soon joined by Michelle Pfeiffer (pictured below) as his wife. Her bullying, bitchy bluntness threatens Lawrence's inexperienced, younger woman, and is mother!'s biggest pleasure. This is just the start, though, of a surreal, massed home invasion.
The Fountain (2006) is the purest expression of Aronofsky's best instincts. But where that was a gently profound exploration of love and creativity spanning centuries, mother! is partly about "rage", the director has suggested, a more assaultive, pummelling emotion. He was interested in repetition as early as Requiem for a Dream's "hip-hop montages", too. So mother!'s eventually boring half-hour climax, as guests smash the would-be womb of Mother's home and finally brutalise her, isn't Aronofsky losing his grip. The apparent incoherence is deliberate, the excess finessed. This doesn't mean he's right.
His characters talk as artificial archetypes, unnatural dream-figures. Pfeiffer's barbs apart, their dialogue irritates. What this most resembles is one of Don DeLillo's late novellas, a minor, simple statement by a major talent convinced they're being profound. For all its thunderous cinematic effects and spongily embedded symbols, this is Aronofsky's most literary, most empty film.
You can decode its imagery, ponder the ruthless selfishness of artists and their public, and pile up maternal metaphors. You can admire Bardem's selfless, impossible role, and the way Lawrence forces her part's passive longueurs to physically punishing catharsis. The intellectual rewards are slim, though, and the final chaos hollow.
No one would have handled his last three films quite the way Aronofsky did. Even the deliberately realist The Wrestler subtly undermined its sports movie narrative, Black Swan revelled in the "were-swan" pulp of its ballet horror, and Noah loaded its Biblical epic with heavy, hard Jewish religion. They were made, though, by an increasingly conventional director, as he was allowed deeper into the Hollywood system. mother! slashes and burns all that. It's a statement by both Aronofsky and his young, brilliant star that they won't be tamed.
You can do all those things right, and fail. mother!'s irritations are an itch its virtues can't scratch.
The apparent incoherence is deliberate, the excess finessed. This doesn't mean he's right
rating
Explore topics
Share this article