Thebes Land, Arcola Theatre - meta-theatre at its most thrilling |

reviews, news & interviews
Thebes Land, Arcola Theatre - meta-theatre at its most thrilling
Thebes Land, Arcola Theatre - meta-theatre at its most thrilling
Off West End hit returns for a deserved encore
Monday, 18 September 2017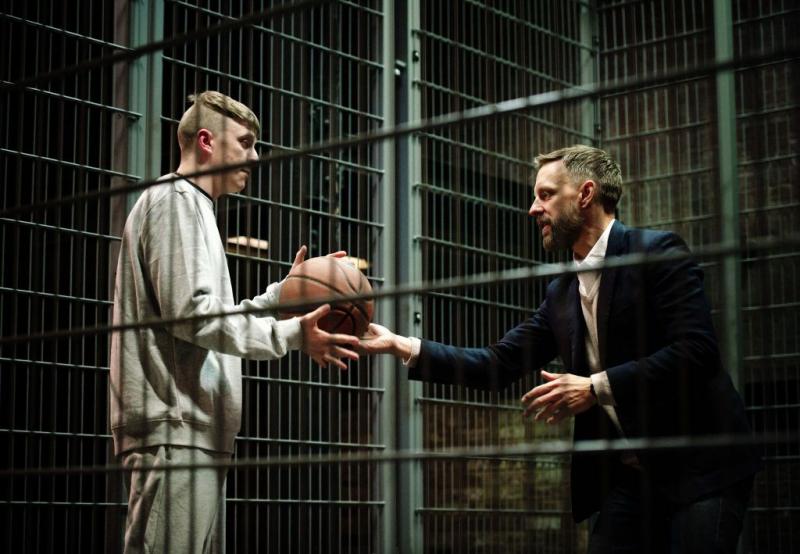 Taut two-hander: Alex Austin and Trevor White and in 'Thebes Land'
Thebes Land returns to the Arcola Theatre as part of the wider CASA Latin American Theatre Festival, following a short 2016 run that resulted in an Off West End Award, or Offie, for Best Production.
Director Daniel Goldman's pinpoint translation of Franco-Uruguayan playwright Sergio Blanco's original text proves a tight, exhilarating two-hander on themes of violence and the ethical boundaries of theatre itself.
Writer T (Trevor White) is devising a play based on a series of interviews he is conducting with Martin (Alex Austin), a prisoner serving a life sentence for murdering his father, and subsequent workshops with actor Freddie (Austin again), who is due to play Martin. A subtle blurring of reality and fiction ensues as Freddie and T re-enact both the emotionally charged meetings between writer and subject and the rehearsal process itself.
Details are discussed and altered as the facts of the crime, and the abuse leading up to it, are gradually revealed. The inherent duality of theatre – that's to say its suspended disbelief – is investigated alongside the crime: in seeking emotional truth, is factual accuracy a reasonable price to pay? And who has the right to decide?
White (pictured above) and Austin's slippery cat-and-mouse duet is never less than compelling. Austin (pictured below) switches between his two roles effortlessly, Martin's hard stare and tightly-wound presence contrasting with the wide-eyed, winsome Freddie, however much both characters share a youthful vulnerability. White's persona is more fluid: he narrates with clarity and shifts seamlessly between mentor, teacher, and artist. The physical distance he maintains in both relationships can't pre-empt a bond that moves beyond the merely professional; the rare moments of contact are infused with genuine tenderness.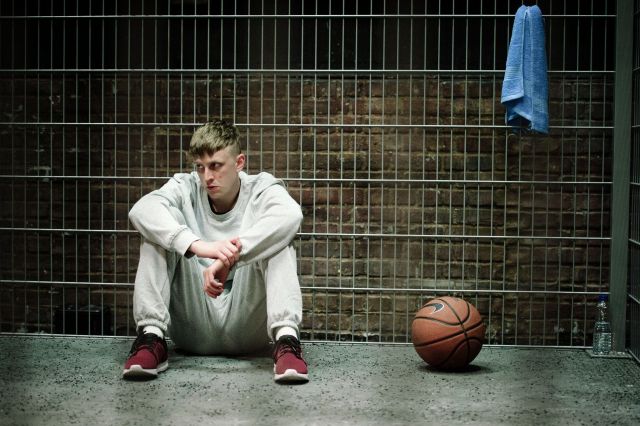 Jemima Robinson's caged basketball court acts as a set-within-aset for this play-within-a-play as the auditorium itself and, briefly, the outside world are both utilised. Richard Williamson's video design serves to extend the multilayered narrative further by providing different, and at times disturbingly contradictory, pictures of events.
Thebes Land is a superb example of meta-theatre. It never quite investigates the concept of patricide in as much depth as initially promised, and some Oedipal references flatter to deceive, but as a rigorous exercise in form and an equally thorough investigation of the responsibility of art – to portray or to perfect – this is a sensational evening: unlike the one traveled by Oedipus, a very welcome return indeed.