Grenfell Tower Benefit Concert, Cadogan Hall - stellar line-up for a vital cause |

reviews, news & interviews
Grenfell Tower Benefit Concert, Cadogan Hall - stellar line-up for a vital cause
Grenfell Tower Benefit Concert, Cadogan Hall - stellar line-up for a vital cause
A message went out. And then the scale of the event started to grow...
Monday, 18 September 2017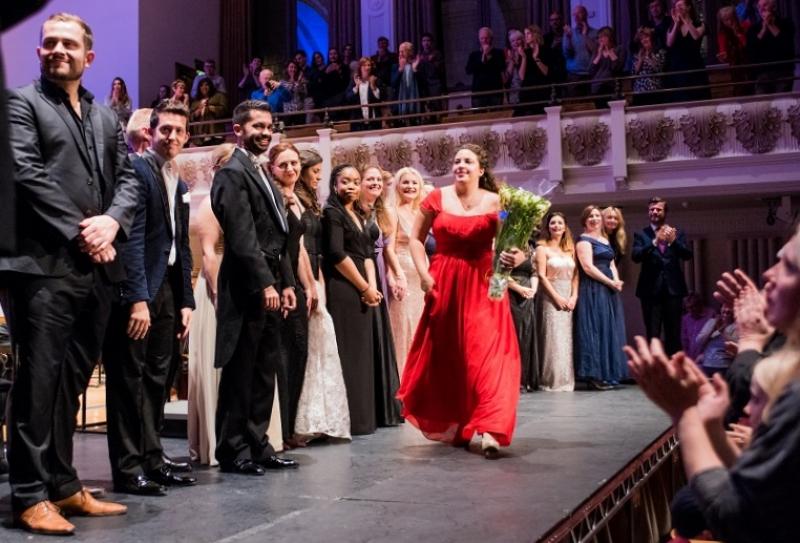 Nazan Fikret and fellow singers at the end of the concert
"Keep here your watch, and never part." There was a strong symbolism of standing and singing together in the last moments of the Grenfell Tower Benefit Concert. After singing the Lament of Purcell's Dido, Christine Rice made her way back slowly through the orchestra to join the choir. All 150 participants in the concert, operatic stars, young singers, conductor, a special orchestra assembled from various London orchestras joined in for the final chorus of Dido and Aeneas.
All had given their services for free to support charities helping Grenfell Tower survivors. The organisers ensured that former Grenfell residents could be invited, and 75 attended the concert.
It had been, as host Petroc Trelawny called it, "a night of epic proportions even by operatic standards". It lasted nearly three and a half hours including interval, but presented a fascinating range of singers and music and seemed much shorter. It involved 28 musical items ranging from the stillness of Janis Kelly's unaccompanied "The Last Rose of Summer" to the full-on orchestral whirlwind of Wagner's "Liebesnacht" from Tristan und Isolde with Lee Bisset and Stuart Skelton (pictured below). Young mezzo Héloïse Mas made a telling contribution as Brangäne, popping up from within ranks of the chorus .
The story of how this this concert happened, how its momentum picked up, is an inspiring one. Soprano Nazan Fikret was working as a member of the Young Artist programme at Garsington Opera this summer. Her 30th birthday happened to fall on 14 June, the day when the Grenfell Tower disaster happened. She asked herself the question: "What can I offer, what can I do for good?" She put a message on Facebook saying that she was thinking of putting on a concert, and imagining that it would just involve some friends in a church or pub. And then scale started to grow. Significant names in the classical music and opera world asked to be involved. First the singers Janis Kelly and Stuart Skelton, then the pianist Eugene Asti. Then organisations started to step in: the Royal Opera, English National Opera. She found she needed all kinds of people: an orchestral fixer, for example, people to sort out insurance, .
It was an evening with plenty of memorable moments and, for those of us who follow the operatic scene from a distance, delightful discoveries. Rising star sopranos shone in Puccini: Anna Patalong in "Mi chiamano Mimi" and Natalya Romaniw in "Vissi d'arte" – both conducted by Edward Gardner, and also helped by the flawless playing of harpist Sue Blair.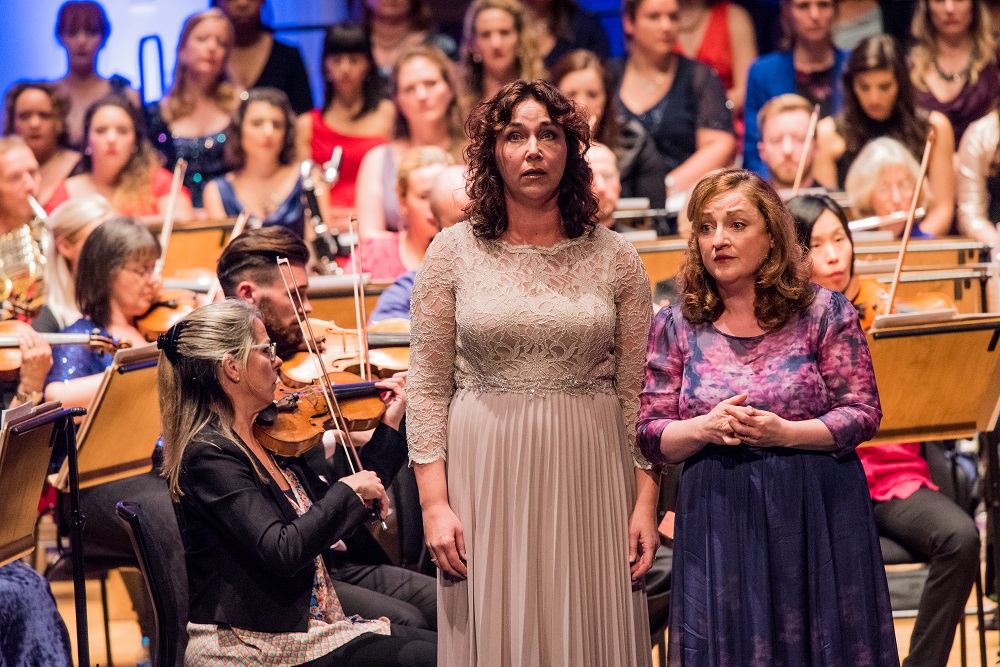 Ailish Tynan (pictured above on the right with Christine Rice) brought poise, beauty and the cleanest of lines to Schubert's "Nacht und Träume". Alan Opie masterfullly sang Verdi; Gary Griffiths seemed a natural Mozartian; Jake Arditti excelled in Handel. Fikret herself sang an impressive "Der hölle Rache" from The Magic Flute. But above all it was the conviction coming from the players. The chorus made a glorious sound. The orchestra – presumably on very little rehearsal time - also rose to the dignity of the occasion.
The story of how this this concert happened, how its momentum picked up, is an inspiring one
rating
Explore topics
Share this article