The Death of Stalin review - dictatorship as high farce |

reviews, news & interviews
The Death of Stalin review - dictatorship as high farce
The Death of Stalin review - dictatorship as high farce
Armando Iannucci finds a reign of terror's funny side
Brave new world: Marshal Zhukov (Jason Isaacs) suggests a less than five-year plan
Like Steptoe and Son with ideological denouncements, Stalin's Politburo have known each other too long.
They're not only trapped but terrified, a situation whose dark
comedy
is brought to a head by Uncle Joe's sudden, soon fatal stroke in 1953. The prospects of replacing him and of his survival alike cause behaviour which would disgrace rats in a sack. Armando Iannucci's portfolio of political satire has found its perfect subject.
He's helped by a cast of fascinating contrasts. Steve Buscemi's Nikki Khrushchev is all sardonic Brooklyn cynicism, mixing acerbic putdowns with disbelieving dismay at the general idiocy, all the while improvising a long game of his own. Simon Russell Beale (pictured below left with Andrea Riseborough and Buscemi) finds his most charismatic film role as Beria, Stalin's chief hatchet man and NKVD boss. Thrusting himself into the leadership vacuum while placing his goons on every Moscow street-corner, Beale plays him not as a thug, but as a wheedling, charming man, clever enough to present himself as the reform candidate, personally releasing former victims with an amiable air.
Equally surprising is Michael Palin's Molotov, a vague and kindly survivor of all Stalin's purges, who is also ruthlessly blinkered in his loyalty to the ever-shifting party line. Jeffrey Tambor (of The Larry Sanders Show and Arrested Development) is so mordant as Stalin's initial, woefully underqualified replacement Malenkov he's compared to Karloff by his cronies. And then there's Paul Whitehouse as Mikoyan, a ruthless Minister of Foreign Trade who's open to persuasion, and Andrea Riseborough in an affecting turn as Stalin's daughter Svetlana. She is like a Tsar's daughter, loyal to her dear old dad, but finding her patronage and prospects leaking away as a complex palace coup plays out.
She is at least better off than her cretinous blowhard brother Vasily (Rupert Friend), responsible for much of the physical comedy in a film played at the pace of high farce. The most enjoyable cameo in this wholly relishable crew is Jason Isaacs' Zhukov, the Red Army's great war hero, who blows into scenes with a sweep of a cape and rattle of medals, and is played with a blunt Yorkshire accent.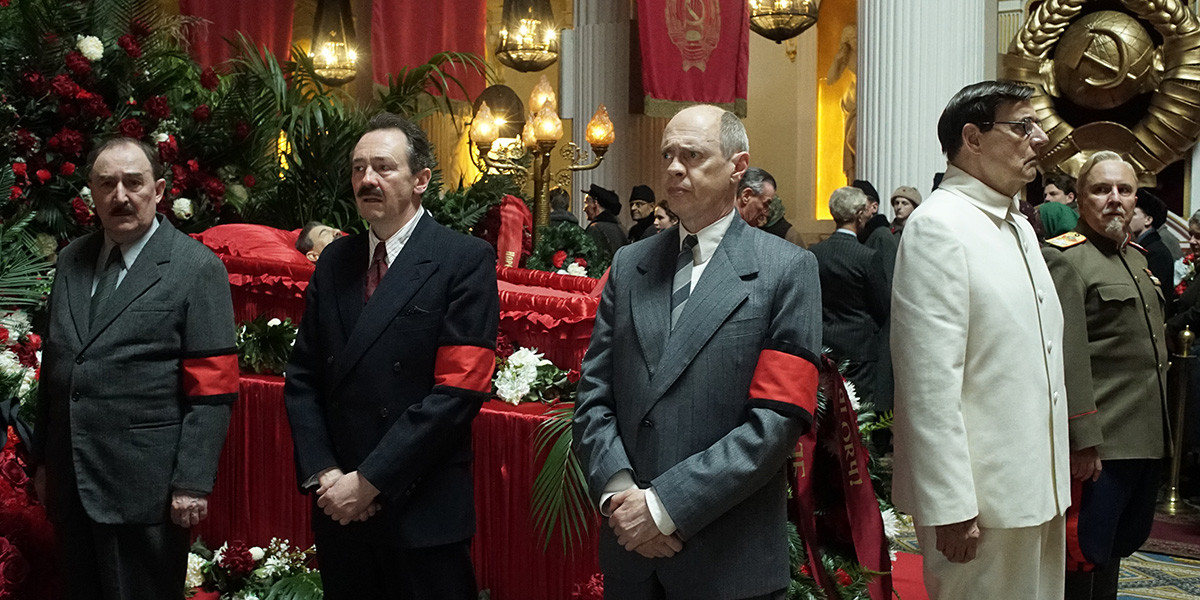 Iannucci's marshalling of these wonderful resources proves his skill as a director in his second cinema film after In the Loop. His screenplay's adaptation (with David Schneider and Ian Martin) of Fabien Nury and Thierry Robin's French graphic novel also brilliantly intercuts complex material, never letting up on its dense, purposeful detail, or rattling momentum.
Tone is of course his most difficult task. His subjects were party to prolonged mass murder equivalent in scale to that of the Nazis. The regular marshalling then standing down of death squads as commands and counter-commands are issued in the febrile Kremlin keeps The Death of Stalin's body-count high. There is just enough of this brutality to keep the film honest. Iannucci's point that dictatorships have an inherent, ghastly absurdity is made by an elderly doctor running with puffing slowness for his life, as much as by the hesitantly half-raised hands at Politburo meetings requiring unanimity. Actual quantities of laughter are diluted by the difficult satiric point, but the acting and the farce's whirring clockwork occupy you anyway.
Beale plays Beria as a wheedling, charming man, personally releasing former victims with an amiable air
rating
Share this article