The Consul, Guildhall School review - blowsy melodrama rooted by committed students |

reviews, news & interviews
The Consul, Guildhall School review - blowsy melodrama rooted by committed students
The Consul, Guildhall School review - blowsy melodrama rooted by committed students
Overheated fusion of absurdist drama and bureaucratic parody works where it can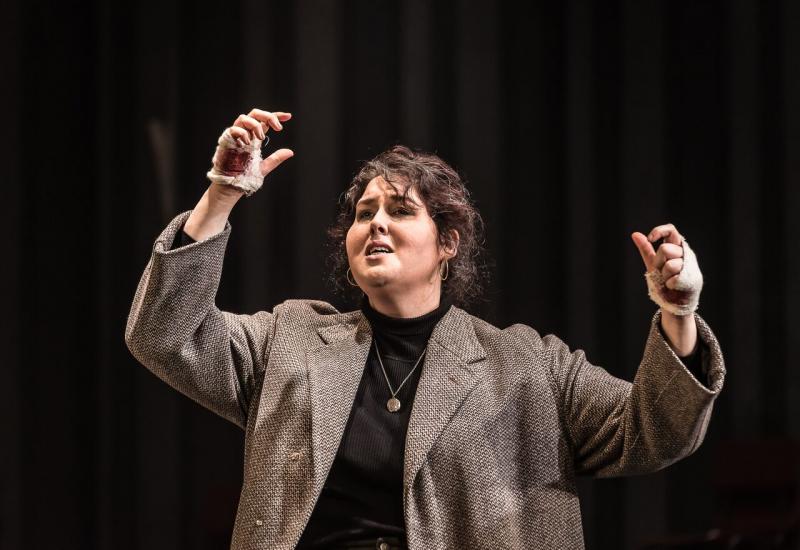 Michelle Alexander as Menotti's Magda Sorel at breaking-point
Fancy that: the day after the last major Menotti staging I can remember in the UK, The Medium at the Edinburgh Festival, "splendid piece of post-Puccinian grand guignol" turned up in two different reviews (moral: don't discuss the performance with your colleagues). "Dated piece of post-Puccinian absurdist melodrama" might be a bit harsh but not so wide of the mark in the case of The Consul, his late 1940s fantasy rooted in the horrors of totalitarianism and western bureaucracy. Certainly the Guildhall School students, conductor and production team gave it the best possible chance, making it work where it can.
Passing masterstrokes mean it can't be entirely dismissed as a period-piece, the operatic equivalent of that derogatory term the "well-made play", or Lloyd-Webber compared to the Sondheim of serious musical-theatre triumphs. There's so much self-sabotage here in whoring after the public taste: a kitchen-sink-drama family burst into an ill-prepared trio after an excess of blaring angst, while other set-pieces serve the singer well but lurch out of dramatic context in a way that Puccini would never have permitted.
Menotti is his own librettist, a dreadful one when it comes to Brechtian moralising (company pictured below). But there are good ideas here: the Italian popular song played on the gramophone at the beginning, one of the best bits of music in the opera; the restraint which underscores a baby's death; a spooky divertissement staged by a magician-petitioner in the consul's office; and a grand scena for the stressed-out heroine which somehow nails the situation.
That was an absolute high-point here in the conviction of dramatic soprano Michelle Alexander, destined for big things if she can underpin power with a really solid technique. She acts with the voice, less so with the body; the hands need to really follow the expression of the moment, and there was some ambiguity at the beginning about whether Magda really cares when freedom-fighter husband John bursts in, wounded after a run-in with the secret police (for that matter, would you bandage a wound around a trouser leg?) The final scene, which means rooting the action to the time just before the opera – let's just say gas ovens don't do the job these days – begins compellingly, poignant high strings sensitively managed by a Guildhall Orchestra on amazing form under Timothy Redmond, and it's not Alexander's fault if Menotti blows it with a kitschy musical conclusion.
Director Stephen Medcalf saves Menotti's final compromise from itself with what comes after – breathing, not music, and I probably shouldn't say more. Simon Corder, impressive as ever on a relatively low budget, designs a stage for him which keeps the Sorels' kitchen (pictured below: Alexander, Christian Valle, Benson Wilson and Chloe Latchmore) in line with the suppliants at the consulate, the floor strewn with waiting tickets, until the room swivels round to reveal the secretary's desk.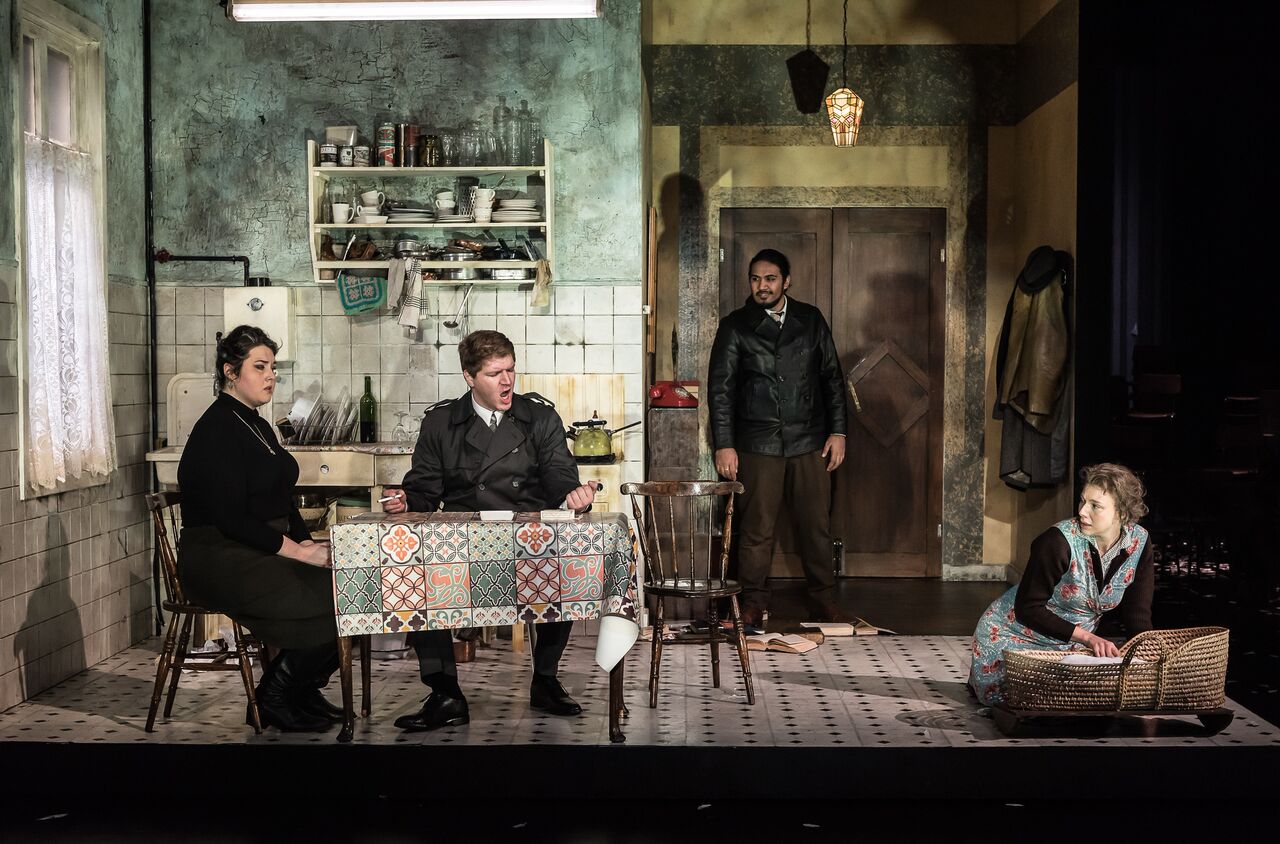 Some of the acting needs to be fine-tuned, but there isn't any weak singing in the cast – how far the Guildhall has come in a decade or so. Among the rest of the first-night cast, there are stand-out performances from Chloe Latchmore as Magda's mother, convincingly aged and worn, Emily Kyte's Secretary (sometimes swamped by the ever-vivid orchestra), Claire Lees as the touching Foreign Woman, Eduard Mas Bacardit as magician Magaloff and Samantha Clarke, outstanding in her few lines as a maddened Spanish woman at the beginning of the second half. Baritonal prowess comes from Jake Muffatt's John Sorel and there's a fine bass turn from Christian Valle as a threatening Police Agent.
Choreography by Victoria Newlyn tightens up what could be a loose divertissement as Magaloff hypnotises the assembled consulate crowd. It's a much-needed interlude in an angsty score, winning its place retrospectively in the second of two hokum-y dream sequences. Fitful Menotti's ideas may be, and inspiration perhaps doesn't come into the picture, but thanks to the Guildhall's best shot, and the opportunities gratefully taken by a generous team of singers, this evening is never dull.
Subscribe to theartsdesk.com
Thank you for continuing to read our work on theartsdesk.com. For unlimited access to every article in its entirety, including our archive of more than 10,000 pieces, we're asking for £3.95 per month or £30 per year. We feel it's a very good deal, and hope you do too.
To take an annual subscription now simply click here.
And if you're looking for that extra gift for a friend or family member, why not treat them to a theartsdesk.com gift subscription?