Poison, Orange Tree Theatre review - study of grief is both courageous and subtle |

reviews, news & interviews
Poison, Orange Tree Theatre review - study of grief is both courageous and subtle
Poison, Orange Tree Theatre review - study of grief is both courageous and subtle
Finely judged two-hander about death and how to survive it
Tuesday, 14 November 2017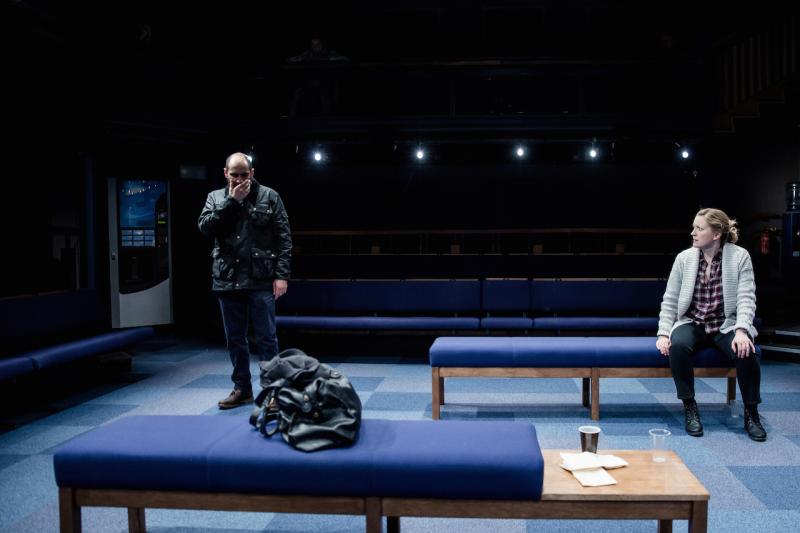 The blue zone: Zubin Varla and Claire Price in 'Poison' by Lot Vekemans
Should Brexit ministers need help understanding the cultural mindset of their continental counterparts, they might consider a subscription to the Orange Tree, the compact Richmond producing house that is defiantly opening its arms to Europe.
This year alone it has staged
plays
from Germany, France and now the
Netherlands
, its in-the-round presentations bringing characters and predicaments up close and personal. With the actors almost within touching distance, there is a strong sense of being a privileged voyeur, observing not so much a performance in a theatre as goings-on in a room.
Lot Vekeman's 2010 play Poison – a major hit across Europe and translated from the original Dutch for its New York premiere last year – intensifies that intimacy. This isn't just because there are only two characters, whose names we never know. It's that this couple's situation is every parent's worst nightmare. This is a play about grief: about the different ways individuals deal with it; about the pressing need for those individuals to talk about it; and about why it's so hard for them to talk about it to each other.
The bereaved parents in question have been separated seven years when we meet them, making awkward small talk in the vestibule of the cemetery where their three-year-old is buried. There has been no contact between them since the father walked out one New Year's Eve, without warning or explanation, and for a while it looks as if this is going to be a variant on the "men are from Mars, women are from Venus" scenario: she the howling, wild-eyed earth mother; he the closed-off, dry-eyed strategist.
But this play is more subtle than that. Yes, she finds his attitudes detached, journalistic, and he accuses her of "wallowing in her grief like a warm bath". These accusations, we soon realise, spring from defensiveness. He behaved badly in abandoning her. She also behaved badly in making him want to do it. He knows that his seven-year silence was cruel and unreasonable. She is dismayed to learn that he has recently remarried; worse, is about to become a father again. "I hate happiness … happy people," she says, and the bitterness is real.
The Dutch are tough. They say what they mean and don't tiptoe around difficult subjects
What has brought the pair together is a letter from the cemetery announcing that 200 graves will need to be moved following the discovery that they are poisoning the ground water. Next-of-kin consent is required. It's not hard to see that the "poison" of the title is also the blight on the couple's relationship which, like their small son's remains, must be repositioned before life can go on. Likewise, this requires the full consent of both parties.
Does this sound off-puttingly grim? There is little light relief in Poison's 80 minutes without interval though this is the first time I've heard the words "I'm bursting for a pee" on a public stage, followed by a swift exit. Despite the downbeat topic, director Paul Miller elicits some moments of high drama, and the two performances are finely detailed. Claire Price (familiar from countless small-screen series from Home Fires to Call the Midwife) strikes a bluff, open-faced figure, her conformity to an early-middle-aged type masking a mess of contradictions. Meanwhile Zubin Varla is less voluble, more shadowy and, at first, seemingly less needy. The gradual turning of the tables happens by degrees so small as to be almost undiscernible.
Rina Vergano's translation is clean and clear but retains a slight stylisation. The Dutch are tough. They say what they mean and don't tiptoe around difficult subjects, so some of the straight-talking is mildly startling to a British sensibility. What's more, the playwright has marked in the script exactly where she wants the character to think before he or she carries on speaking. The result is a forensic examination of what can happen when "a man and a woman first lose a child, then themselves, then each other". There can, of course, be no happy ending, but the characters do arrive at a place where a future is possible. Brexit ministers take note.
Poison at the Orange Tree Theatre until 2 December
This could be a variant on men are from Mars, women are from Venus, but the play is more subtle than that
rating
Explore topics
Share this article