Chineke! Ensemble, RNCM, Manchester review - musical advocacy |

reviews, news & interviews
Chineke! Ensemble, RNCM, Manchester review - musical advocacy
Chineke! Ensemble, RNCM, Manchester review - musical advocacy
A ground-breaking group in chamber music with a difference
Tuesday, 12 December 2017
Members of the Chineke! Ensemble including founder member Chi-chi Nwanoku
The Chineke! Orchestra has won golden opinions for its ground-breaking work and musical achievement, and Manchester caught up to the extent of a visit from the eight-person Chineke! Ensemble to the Royal Northern College of Music.
As with the full orchestra's performances, the repertoire included its own gesture towards greater recognition of past
composers
from
black
and ethnic minority origins – in this case Joseph Boulogne (
aka
Le Chevalier de Saint-Georges) and Samuel Coleridge-Taylor.
There are more points of exposure for a chamber group than might be the case with a larger ensemble, so in some ways the challenge was a big one for Chi-chi Nwanoku and her colleagues. One real plus point was their success in getting an audience that was clearly different from the normal one for chamber music. Its members applauded vigorously after every movement of every work, and sometimes in mid-movement where they thought there was a lull in the music – that's usually a good sign, meaning people are there who haven't picked up the inhibitions of the classical in-crowd (and we should remember that until well past the middle of the 19th century it would have been normal practice for the cognoscenti, too).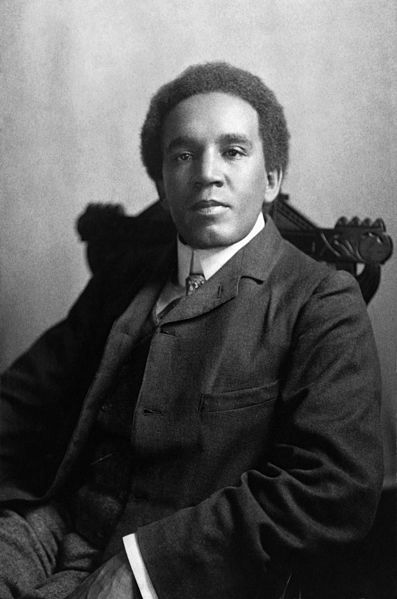 Musical advocacy was part of the evening's purpose. Two movements each selected from Boulogne's String Quartet in G minor (op. 1, no. 3) and Boccherini's Cello Sonata in G, performed here by cello and double bass, along with Coleridge-Taylor's Clarinet Quintet in F sharp minor (op. 10), gave a taste of the little-known, before Beethoven's Septet in E flat (op. 20). The music by Boulogne (the "black Mozart") was given by Raja Halder, Didier Osindero, Clifton Harrison and Ashok Klouda in stylishly classical mode, with a neat twist to mark the final reprise of the theme of its rondo movement. Klouda and Nwanoku brought engaging liveliness to their Boccherini, with an impressive cello cadenza in the Largo and an Allegro that bobbed along nicely.
Coleridge-Taylor's quintet (the composer pictured above), with Marian Adam its soloist, is an intriguing example of the work of a late 19th century Stanford pupil which bears the Irish pedagogue's personality very strongly. As a response to the challenge of writing a clarinet quintet unlike Brahms's, Coleridge-Taylor produced a four-movement work with a slightly modal feel and beautifully presented melodies, sounding at times very like Dvořák. His slow movement's romantic flavour borders on the sickly-sweet, and his Scherzo offers some almost African rhythmic subtlety, before a finale that springs several surprises. It was all played with vigour and exuberance, but intonation problems crept in here and there, and the Scherzo main theme only came really well together on its repetition.
The Beethoven Septet was a fine example of what the group could do. With Nico Fleury (horn) and Linton Stephens (bassoon) joining Halder, Harrison, Klouda, Nwanoku and Adam, tuning was carefully refined and the playing audibly grew in assurance and fluency. The first movement was neat and buoyant, the Adagio boasted excellent clarinet and horn playing, the minuet jogged along in fine style, and the theme and variations showed off the string players' abilities. With more attention to tuning, the Scherzo (the "Ludwig" theme for those who remember the TV animation series) and finale kept real rhythmic springs in their steps, in which Chi-chi Nwanoku had a clearly significant role.
One real plus point was their success in getting an audience clearly different from the normal one for chamber music
rating
Share this article