BlackSkyWhite, Institute of Contemporary Arts |

reviews, news & interviews
BlackSkyWhite, Institute of Contemporary Arts
BlackSkyWhite, Institute of Contemporary Arts
USSR Was Here is a poor follow-up to the crazy Astronomy for Insects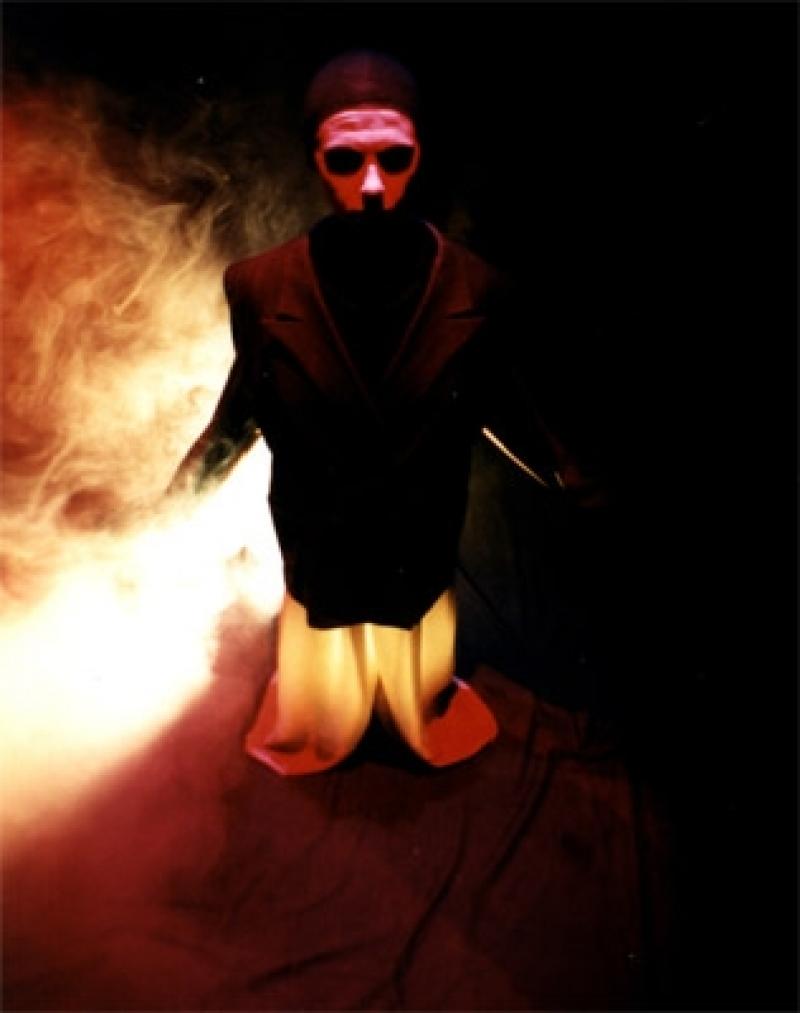 Marcella Soltan in USSR Was Here: 'too dependent on the title's associations'
I whizzed back to my previous reviews of BlackSkyWhite when I got home last night to check how much I'd enjoyed them in the past, so disappointing was their offering for the London International Mime Festival, USSR Was Here.
Russians have colonised mime theatre with a razor-edged passion and ingenuity in theatrecraft that usually makes any Russian company a must-see in the Mimefest. Derevo are the masters (pupils originally of the great Slava Polunin), but Derevo quit Russia for Germany and now BlackSkyWhite have the political field to themselves.
USSR Was Here
, created in fact long ago in 1994, was billed as apocalyptic, death-of-Communism meets more recent memories of 9/11. In the end it was just two people on a stage with little light and a hell of din.
The director Dmitriy Aryupin gives it a proper big-up with a programme note that says, "In a single minute this building that 250 million called home simply vanished." How exciting. And so when the lights go down in the tiny ICA theatre, rumbles and birdsong start up on the speakers and dry ice starts to puff (pleasantly scented with incense), you wonder what will stagger out of the swirling mist.
Not a fireman, or an alien creature, but an androgynous person in black city jacket over soft white muslin trousers that I guess they have shoved a torch down, to make the flowing legs glow like phosphorescent water. A second, almost identical person demonstrates, against a red light and lot of smoke, a thudding Godzilla backwards lurch, while the score hammers at your ears.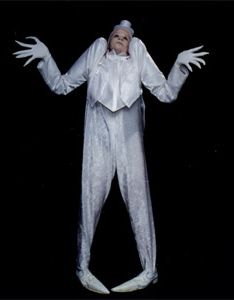 A spell could not be cast by such dull movement, nor was the red or ultraviolet lighting and misty staging suggestive enough to make it anything other than two people doing a silly walk backwards. There were variations: a sliding sideways swivel, which their overlong trousers made look like skating, and a spasmoid sort of dad-dance. The two had a couple of tricks to show with false heads (apparently conjuring up a lover to kiss or a baby to fondle), but the tricks were easy to work out, the performers too uninvolved with each other to create any worlds or stories for us to enter, or to be more than a parade of Gogolesque oddities.
The sound score, created by an uncredited collaborator, offered little compensating interest. It's a tuned din of disparate elements, sampling metallic slashes, a saxophone drilling out a minor third, screams of pain woven into notes, and - somehow awfully predictably, given the production's title - Shostakovich's iconic DSCH string quartet. The whole thing is too lazily dependent on its title and the associations, lacking the cackling lunacy of sheer dressing-up-box invention that was my abiding impression of their last visit here with Astronomy for Insects (picture right), a more recent creation from 2001.
One of the truly informative things that Britain's CCTV obsession could be turned to is having hidden cameras in every theatre monitoring how quickly into a production the lights of mobile phones go on as people check their messages. My neighbours started looking at theirs only 10 minutes in. I didn't blame them. While Aryupin insists that what he is doing is "challenging theatre", summoning up our own "absolute mirror" in order to make us see our own stories, I don't have any story remotely as interesting of my own to read in their mirror as I'd hope they could show me. And I guess my neighbours had something more interesting in their inboxes.
Explore topics
Share this article