DVD/Blu-ray: Detroit |

reviews, news & interviews
DVD/Blu-ray: Detroit
DVD/Blu-ray: Detroit
Kathryn Bigelow's remembrance of riot and racism keeps a claustrophobic grip
Police riot: Melvin Dismukes (John Boyega) watches on helplessly
Detroiters razed sections of their own city as surely as Rome did Carthage, during five summer days in 1967. It took, amongst others, the 101st Airborne – victors at the Battle of the Bulge, then just back from Vietnam – to crush America's worst race riot of the decade.
Forty-three people were killed, and empty lots scarred the still devastated city a half-century later, when Oscar-winning
director Kathryn Bigelow
made the week's worst atrocity her subject.
Though Bigelow has gained her greatest acclaim for claustrophobically sombre work torn from the headlines in The Hurt Locker and Zero Dark Thirty, her most visionary film, Strange Days (1995), found a near-future LA fearing fracture over footage of a racist police murder. Detroit narrows that situation down to a corridor and adjacent rooms in the Algiers Motel, where three black men were murdered on July 25, 1967.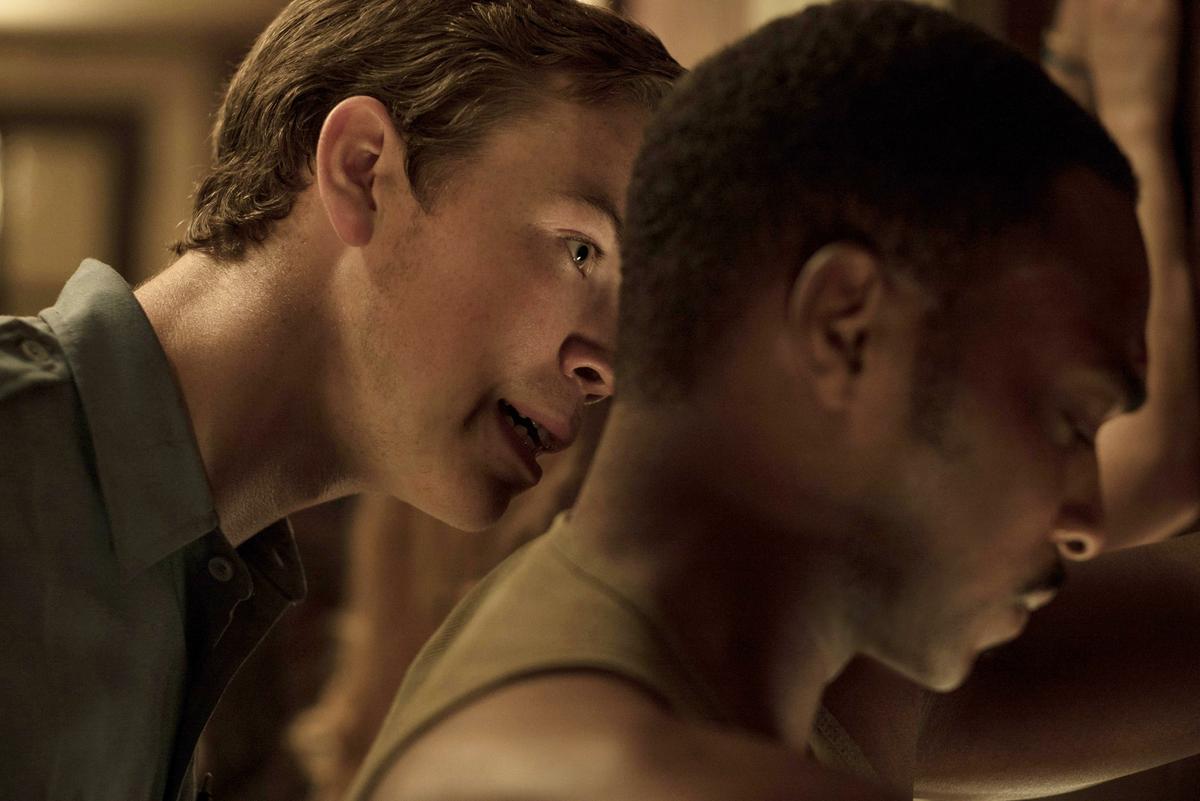 Mark Boal's screenplay sketches the injustice and violent, racist policing which made the city a powder-keg. Bigelow's camera is jittery during the police raid which lit the spark, then flows as if blown on the breeze after the first rioter as he smashes a window. Soon soldiers are silhouetted, bayonets fixed, in eerie yellow smoke.
The parallel lives of black security guard Melvin Dismukes (John Boyega), two members of Motown wannabes the Dramatics, and murderous white cop Philip Krauss (Will Poulter, pictured above right) then converge on the Algiers. This is a sensual, social sanctuary from the chaos for Dramatics singer Larry Reed (Algee Smith), as he debates John Coltrane and flirts with two white girls. Then Krauss is at their door, and Bigelow crowds in tight on a nightmarishly prolonged, seemingly real-time interrogation which leaves three "suspects" dead. You can almost smell the clammy helplessness and prejudice. The numbing legal aftermath for the survivors is worse. America shunned Detroit at the box-office (as it had Strange Days). Shame and catharsis still await it here.
So does the rich humanity expressed in Detroit's music, a dream the broken Reed turns his back on in fear and loathing. Amongst otherwise unremarkable extras which briefly contextualise the film's events, seeing the real Larry Reed duet with Algee Smith therefore blazes with redemptive beauty.
You can almost smell the clammy helplessness and prejudice
rating
Explore topics
Share this article