BlacKkKlansman review - absurd and angry satire |

reviews, news & interviews
BlacKkKlansman review - absurd and angry satire
BlacKkKlansman review - absurd and angry satire
Spike Lee turns a startling Seventies tale into a gut-punch Trump protest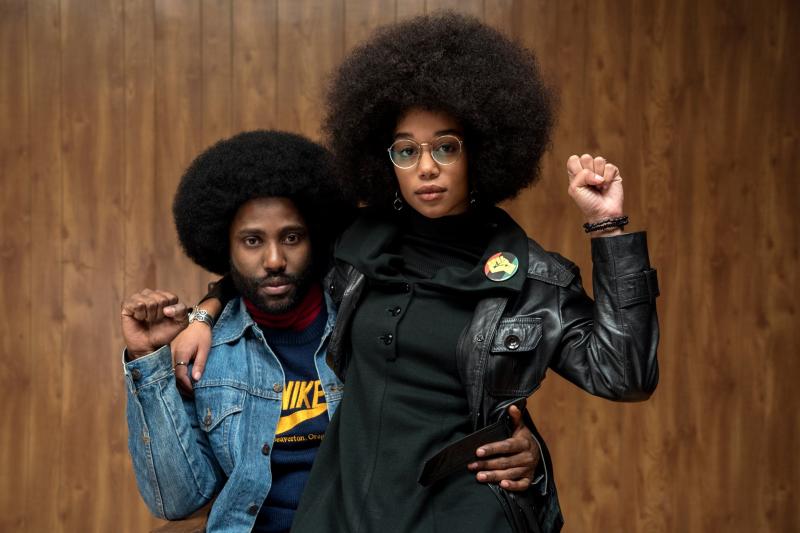 Black Power and White Power: Ron Stallworth (John David Washington) and Laura Harrier (Patrice Dumas)
What happens when you let racism sit and fester in the middle of your culture?
That's the question
Spike Lee
keeps asking while telling the mostly true
story
of black policeman Ron Stallworth's bizarre spell in the
Ku Klux Klan
.
Stallworth (John David Washington, pictured below right with Adam Driver) was "the Jackie Robinson of the Colorado Springs Police Force" in 1972, a lone black recruit who silently endured abuse to become an undercover detective. Absent-mindedly ringing a KKK information line one day, his enthusiastic racism over the phone impresses local Klan Wizard Walter (Ryan Eggold), who signs him up. Fellow cop Flip Zimmerman (Adam Driver) takes Ron's place at meetings while concealing his less conspicuous Jewishness.
It's an improbably tall tale, told with verve, humour and artfully submerged fury. Walter is the nicest of Ron/Flip's new racist friends, almost sympathetic and equivalent to Pacino's Mafioso in Donnie Brasco in the way he's set up for betrayal. Even the feral Felix (Jasper Pääkkönen) gets some ultra-right pillow-talk with wife Connie (Ashlie Atkinson), while Klan chief David Duke (Topher Grace, pictured in bottom photo) is a mild-mannered, faintly nerdish would-be Fuhrer. They're diversely delineated thugs.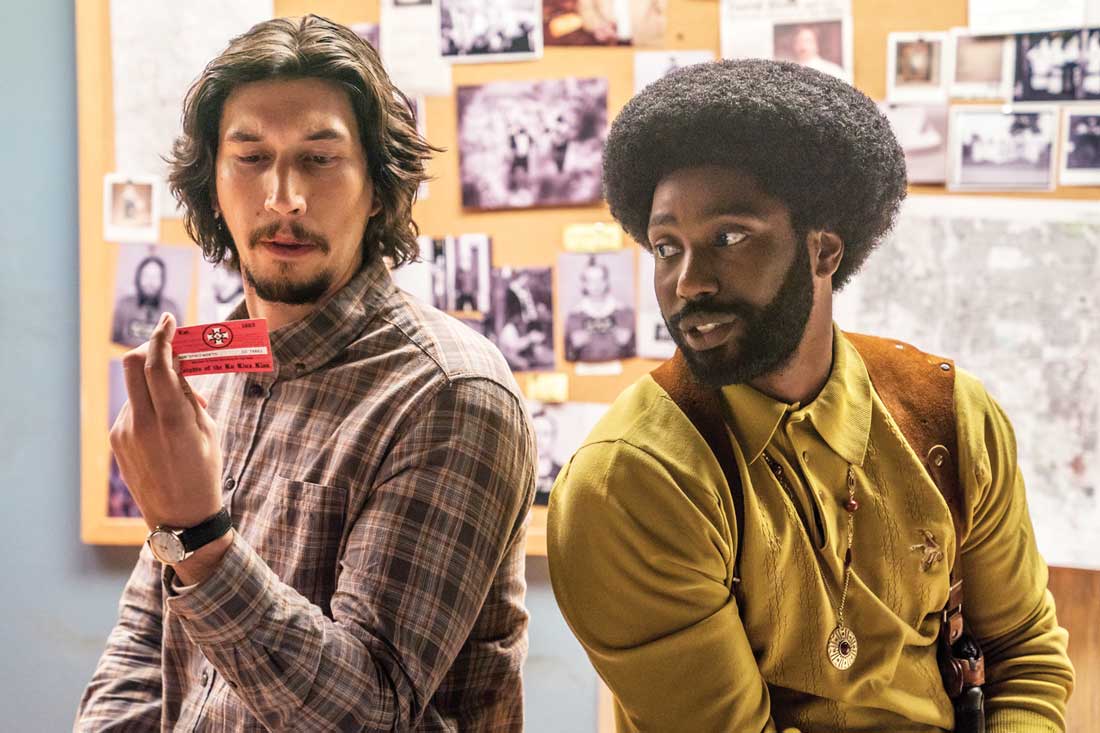 Lee meanwhile revels in Blaxploitation style (made slightly anachronistic by the mostly 1979 setting), from clothes and Afros to Terence Blanchard's gospel-soulful symphonic score. BlacKkKlansman's ironic, almost campy tone also sugars the poison of its racist language to make you swallow more than you might otherwise stomach, till the verbal rot starts to choke the air with unchallenged hate. It's the source of Flip's strangled laugh when his immersion in anti-Semitism forces him back into a Jewish identity he'd disregarded, the quiet climax of Driver's typically muted performance. Lee, tin-eared to anti-Semitic tropes early in his career, makes Flip's double-consciousness and "passing" as white clearly equivalent to black experience. "It's our business," Ron lectures him.
The racial satire and rhetoric are marked by a sequence of high-octane speeches. "They're killing us like dogs, right here," Kwame Tura, aka Stokely Carmichael (Corey Hawkins), says of the police, weaving like a boxer on the podium as he prophesies race war. Then as Duke sweeps into a plantation-style mansion with a phalanx of Hell's Angel outriders and spills his venom to his faithful, Lee intercuts Harry Belafonte as William Shockley, smiling with bitter irony as he casts an incantatory spell in recalling the 1916 mutilation and lynching of Jesse Washington.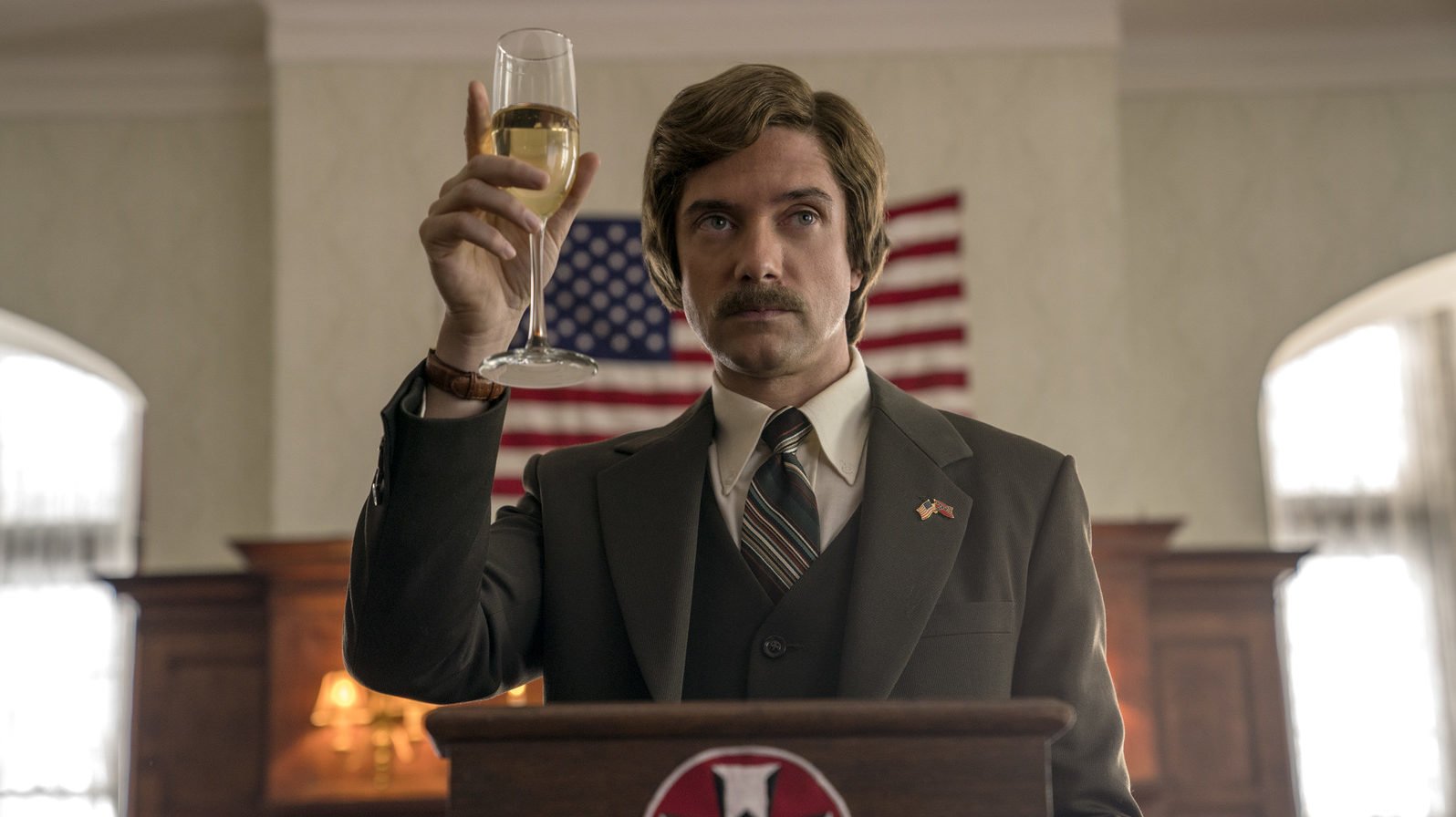 American cinema is similarly interrogated. Lee opens with Scarlett O'Hara wandering an Atlanta which has become an open Confederate morgue during the most epic sequence of Gone with the Wind, by many measures still America's most popular film, whose 1939 prologue mourned the pre-Civil War South "of Knights and their Ladies Fair, of Master and of Slave." Lee's Klansmen later enjoy DW Griffiths' 1915 The Birth of a Nation, considered an epochal masterpiece of technique despite its KKK cavalry rescue of a virginal white woman from a black rapist. Its popularity revived the Klan and lynchings such as Jesse Washington's. These were foundation stones for Hollywood and America, Lee is saying. This is the power he's been fighting.
Parallels to the present are mostly punched up with a wink, as when Gone with the Wind is followed by Saturday Night Live Trump Alec Baldwin as another racist blowhard, and Duke declares politics "another way to sell hate". But after a series of false endings which make the film seem to falter, suddenly we are in the chaos of Charlottesville in 2017, as an emboldened racist murders Heather Heyer. There are screams and outrage, mourning and silence. And there is David Duke at the heart of it, and there is Trump, allowing it. This is how far things have got.
The ironic, almost campy tone sugars the racist language to make you swallow more than you might otherwise stomach
rating
Explore topics
Share this article