Rebecka Martinsson: Arctic Murders, More4 review - Swedish sleuth is a cold case |

reviews, news & interviews
Rebecka Martinsson: Arctic Murders, More4 review - Swedish sleuth is a cold case
Rebecka Martinsson: Arctic Murders, More4 review - Swedish sleuth is a cold case
Crime drama from the far north looks good but doesn't quite grip
Saturday, 20 January 2018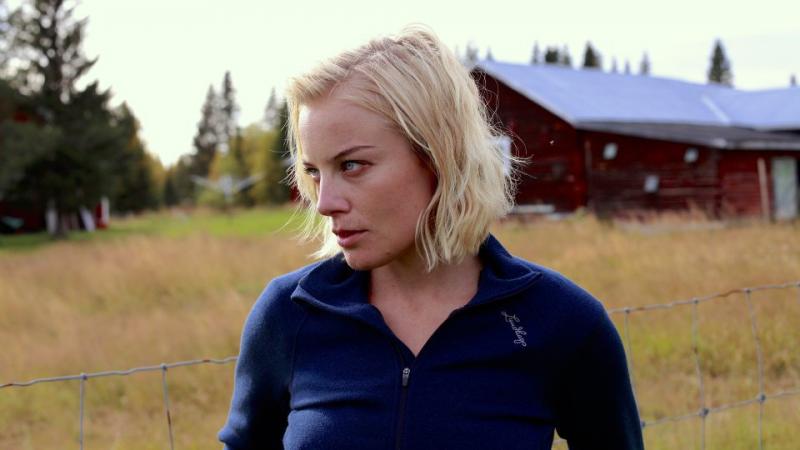 Blonde having not much fun: Ida Engvoll as Rebecka Martinsson
Sara Lund and Saga Norén have a lot to answer for. Their adventures in the murk of murder as they grapple with their own dysfunctional psychology entranced audiences who don't speak a scrap of Danish or Swedish. The search has since gone on for other gripping instances of Nordic noir.
How long can it be before we accept that
The Killing
and
The Bridge
both had ingredients that aren't easily reassembled?
The "Walter Presents" strand has coughed up all sorts of potential replacements, while BBC Four continues to pan for gold on Saturday nights. There's already been one Swedish drama premiering this week. Before We Die, as reviewed on theartsdesk, and the recent ski ghoul saga Black Lake offered evidence that not every Swedish crime writer is up there with Stieg Larsson and Henning Mankell. And now here's another offering from Sweden: Rebecka Martinsson: Arctic Murder (More4), adapted from novels by Åsa Larsson.
According to the map, you can't go much further north in Sweden than Kurravaara
It's certainly copied one ingredient faithfully. The titular main character is a strikingly blonde woman in, at most, her early thirties. Rebecka Martinsson (Ida Engvoll) is not a detective but a lawyer whose credentials as an eccentric outrider were swiftly established. She had disengaged sex with her partner then at her posh firm Meijer and Ditzinger greeted a promotion with an instant demand for much more cash. "That's exactly why we want you on board," said her boss approvingly. "You're bloody crazy!" We'll doubtless find out for ourselves. At the moment her craziness extends no further than taking instant leave to dash home to a funeral up in the far north.
According to the map, you can't go much further north in Sweden than Kurravaara. On a similar latitude to Tromsø and Murmansk, the locality is very aware of its marketing potential. "If you just put Arctic in front of it you can rent out any outhouse," said Rebecka's kindly former neighbour, who alerted her to the death of the local pastor Mildred Nilsson. The forests and lakes look ravishing under cloudless skies, but even in summer it's nippy, necessitating, by the end of the episode, a comely jumper for Rebecka, who looks set to take a longer leave of absence while she follows up on her suspicion that Mildred did not have an accidental tumble but was fatally stabbed in the neck by a very sharp wood chip. Naturally the local police in Karuna missed the evidence, and a senior detective objected to his pregnant young colleague Mella (Eva Melander) from investigating further. She did anyway. She and Rebecka look likely to shiver a few timbers in this tight-knit rural community.
According to Wiki, the real Kurravaara has a population of 57. It seems quite a few of the fictional inhabitants wanted Mildred dead, especially the members of the local hunting club who resented her attempts to bar them from using the church land for shooting practice. Suspicion may also fall on her husband Erik, one of many who found the deceased intensely irritating, and her lover Lisa. At this point there are plenty of red herrings.
It's not yet gripping like a vice, and the feeling lurks that in the title role Ida Engvoll's icy beauty lacks a chink that allows a path into her (thus far) unreadable hinterland. She was nice to a young man with Down's Syndrome and let her hair down dancing. For those who can't wait to find out what really makes her tick, All4 shows "The Blood Spilt" as one 90-minute episode and there's a second episode called "The Black Path" in which Rebecka Martinsson prosecutes in another murder.