Colin Currie Group, Kings Place review - dynamism and detail in Steve Reich |

reviews, news & interviews
Colin Currie Group, Kings Place review - dynamism and detail in Steve Reich
Colin Currie Group, Kings Place review - dynamism and detail in Steve Reich
All-Reich programme offers intensity and focus, but surprising nuance too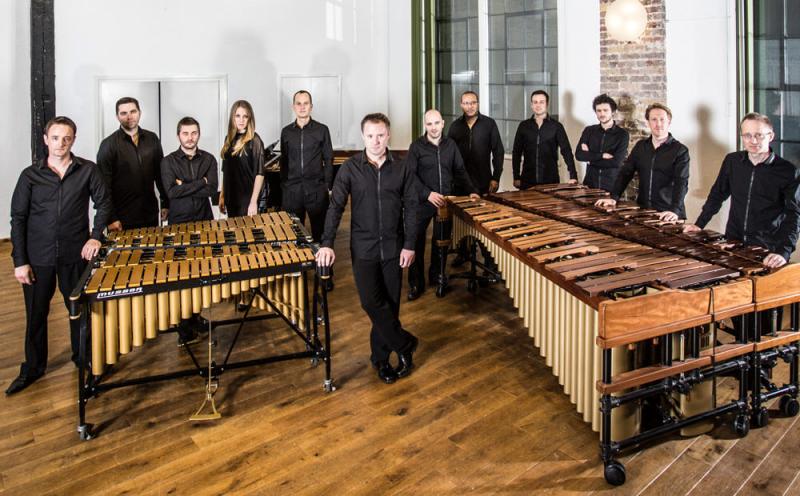 Colin Currie Group, Steve Reich specialists
Colin Currie is increasingly coming to be seen as Steve Reich's representative on Earth. His Colin Currie Group was founded in 2006 for a Proms performance of Reich's Drumming and has gone from strength to strength, now touring the world with Reich's music.
Reich himself endorses Currie's work, but it's hardly necessary: From any performance by the Group it is immediately clear that what we are hearing is the real thing.
Even Reich's greatest fans would admit there's a risk of monotony in an all-Reich programme, but this one was well structured for contrast and flow. Each of the two halves began with an early piece, followed by an '80s-era multitracked woodwind solo, and rounded off with a recent work for keyed percussion ensemble. That ought to have traced an evolution, from the stark utterances of a '60s radical to greater sophistication in recent years. It did, but there was more here too, with Currie (pictured below by Marco Borggreve) and his colleagues finding surprising nuance in the early works, and a welcome dose of raw energy in the later.
Music for Pieces of Wood is almost a creation myth, both for Reich's work and for music itself. Four percussionists each play claves of different pitch, layering increasingly complex rhythms and building the intensity of sound. But the impressively subtle dynamics in this performance tempered that primitive rawness. The layering is emphasised through careful internal balances, and sections are rounded off with brisk diminuendos, all of which were executed with panache.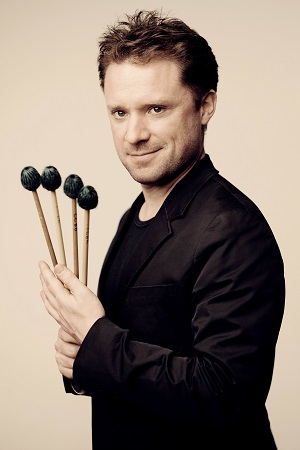 New York Counterpoint is written for clarinet, played here by Timothy Lines, and a backing track of 10 clarinet voices, including a rich bass. Lines gave a suitably incisive performance, and with plenty of warmth too, but was often dominated by the backing – not that it's a solo work as such, but a better balance might have offered greater clarity to the contrapuntal ideas. Similarly with Vermont Counterpoint in the second half, where flautist Rowland Sutherland was often overwhelmed by himself in chorus. More incisive attacks from him might have helped, and more sustained phrases, but Reich's choice of instrument seemed to be the main problem, the flute ill-suited to his aims.
Mallet Quartet brought us up to 2009. The work is for two vibraphones and two marimbas. This is a classic Steve Reich ensemble and it is where Currie and his colleagues really shine. The exceptionally clear acoustic of Hall One and Kings Place was a great help in this piece, especially with the bass end of the marimbas, a subtle sound but crucial to the work. As ever, the percussionists played as one, following tiny visual cues from Currie at the vibraphone.
The highlight of the evening was Drumming Part 1. Eight tuned bongos were lined up to point at the audience, and four players, two on each side, performed with hard sticks. This is early Reich, from 1971, so it is still all about rhythm and process. But there is a strong ritual element here too, not lost on the players, all dressed in black and playing from memory. Again, the acoustic proved ideal for this rhythmically focussed music, lending the climaxes an almost claustrophobic intensity and percussive bite.
Quartet, from 2013, earned its place here on account of having been written specifically for Colin Currie. The ensemble is two vibraphones and two pianos, and the structure is the standard Reich fast-slow-fast. It's not his finest work, but it does show some interesting new directions. The two pianos are more accompaniment than protagonists, and one rather than two would probably suffice. The pianos play mildly dissonant, jazzy harmonies – not resolved of course, just repeated – while the vibes play surprisingly free-flowing melodic lines above. Currie and co gave it a fantastic performance, and in their hands it all sounded like classic Reich.
There's a risk of monotony in an all-Reich programme, but this one was well structured for contrast and flow
rating
Explore topics
Share this article