Julius Caesar, Bridge Theatre review – blood, sweat and bullets |

reviews, news & interviews
Julius Caesar, Bridge Theatre review – blood, sweat and bullets
Julius Caesar, Bridge Theatre review – blood, sweat and bullets
Nicholas Hytner's rabble-rousing production pits the ruling elite against populism
'I come to bury Caesar': David Morrissey as Mark Antony and David Calder as Julius Caesar
All hail! Shakespeare's Roman drama may be enjoying something of a resurgence at present, but it rarely proves as vital and arresting in performance as this.
Last summer in the US, a staging at the Public Theater caused a furore and frightened away sponsors by killing off a Caesar who was unequivocally the pussy-grabbing Dayglo President himself. There were also productions in Sheffield and at the RSC. This one, though, directed by Nicholas Hytner, is a splendidly many-headed hydra.
It's a slick, pacey, interval-free two hours that sees the Bridge Theatre transformed into something between a gladiatorial arena and a rowdy bearpit. You can choose to witness the action from a ringside seat, or you can be in the thick of it as part of a mobile mob of around 300. It may seem like a headlong dash through the play, fuelled by noise and wild energy. But that's tactical – and what's really going on here is far more sophisticated.
As we're cajoled and manipulated, excited to have a part to play in the unfolding events, we're so gripped, so horribly entertained, so high on our own volatility and our tiny, tiny taste of power that we almost fail to notice what we've become. Watch how we cheerfully chant slogans and offer up our allegiance en masse; and how, after the assassination, we jostle for the best view of Caesar's bloody corpse. If we were allowed to use our phones, we'd be snapping selfies with the body. It's not hard to see these attitudes and appetites reflected in the politics of memes and hashtags, in a vote for Trump or Brexit, or in groupie-style idolatry of Jeremy Corbyn.
Hytner's modern-dress production wisely avoids on-the-nose parallels, but its warnings to a rudderless, insular political elite in the face of a rising tide of potent populism are stark. Led by a great triumvirate – David Calder's Caesar, Ben Whishaw's Brutus (pictured above with Michelle Fairley) and David Morrissey's Mark Antony – it is superbly acted. And it is galvanisingly staged, with blood-pumping, tub-thumping velocity, but with human detail and supreme intelligence too. Bunny Christie's design sees platforms rise and fall, flags and banners unfurled and, in the battle scenes as civil war rages, rudimentary barricades wrapped in barbed wire slicing the spectators into opposing camps.
The opening sequence is a Trump-style rally at which a rock band pounds out a brutally rough cover of the White Stripes' "Seven Nation Army". Calder's Caesar, swaggering and stuffed into a leather jacket, flings his red baseball hat to the crowd. He plays the regular guy while failing quite to conceal his disdain for the citizens he rules – and his contempt for women is plain in the nasty faux chivalry he shows to Michelle Fairley as Cassius (pictured below), pulling a gurningly insincere "pardon me" face and offering a sarcastic salute. He will die, later, in a spray of bullets.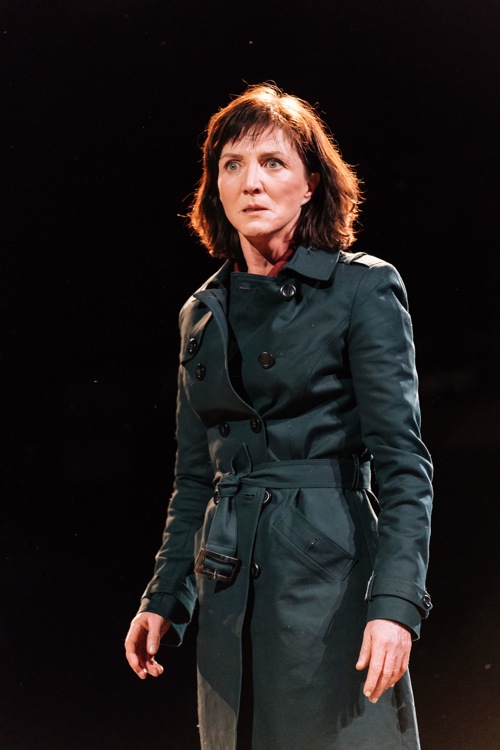 Whishaw's Brutus, meanwhile, is an earnest, bookish, shabby and bespectacled revolutionary – well-intentioned, but also prickly, impatient and a touch self-regarding. Morrissey's Mark Antony is brilliantly charismatic, a shrewd, people-pleasing combination of blokish and clever. The sheer panic that seeps through the opening of his famous "Friends, Romans, countrymen" oration is ferociously compelling, as the conspirators dither, gore dripping from their hands. It's a speech that swells with alarming and irresistible force.
In a company that delivers many vivid performances, there's strong work from Adjoa Andoh as a tartly incisive politico Casca, and Fred Fergus supplies a quietly telling turn as Lucius, Brutus's own somewhat mutinous, overworked aide. And throughout, there's an underscoring, designed by Paul Arditti, that mingles terror and thrill, like the soundtrack to a big-budget action movie that we've somehow stepped into. There's the thrum and tremble of horror-flick build-up, Rocky-like bombastic anthems, the din of hovering helicopters, gunfire and explosions – all accompanied by the hectoring commands of military commanders or VIP minders. However involved we feel, we're repeatedly reminded that ours is not a starring role: we're there to do as we're told. The message of Hytner's production is in its very mechanics. It's enormously effective: penetrating, and – in all sorts of ways – powerfully persuasive.
Julius Caesar at the Bridge Theatre until 15 April
We're so high on our own volatility and our tiny, tiny taste of power that we almost fail to notice what we've become
rating
Explore topics
Share this article