Sunday Book: Nicholas Hytner - Balancing Acts |

reviews, news & interviews
Sunday Book: Nicholas Hytner - Balancing Acts
Sunday Book: Nicholas Hytner - Balancing Acts
The National Theatre's former boss is wonderfully insightful about everything but himself
Nicholas Hytner: private passions
After the first preview of Mike Leigh's play Two Thousand Years at the National Theatre, a young Guardian reporter accosted an audience member for his view of the play. The audience member gave his name as Nigel Shapps, his age as 42, his background as Jewish, and his opinion that it was one of the most brilliant things he'd ever seen.
Much to Leigh's delight, he was quoted in the paper the next day.
Nigel Shapps was in fact Nicholas Hytner, the artistic director who commissioned the play. The reporter hadn't recognised him. An easy mistake. "I have no idea who you are," said Frances de la Tour when Hytner was first introduced to everyone in the building, "but on behalf of the entire company, welcome." And he really was welcome.
From 2003 to 2015 Hytner played a perfect hand on the Southbank. He did everything right: West End hits, challenging work about the way we live now, great Shakespeare and musical theatre, NT Live, a building redesign, cheap tickets, greater access for all. He even managed to commission some female playwrights. His era was strikingly free from disaster. The only person Hytner seems to have pissed off was Harold Pinter. (Pictured below: Rory Kinnear and Adrian Lester in Othello)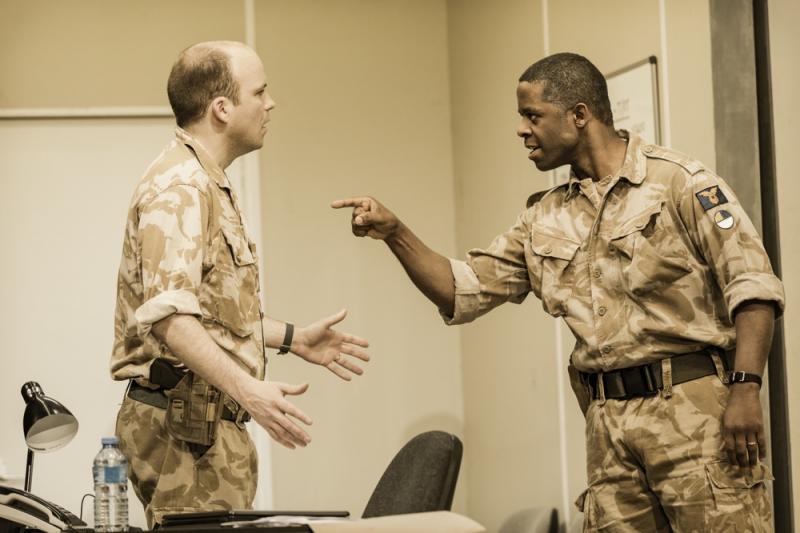 And now here, by tradition, is Hytner's account of his years in the top job. Unlike comparable postscripts by Peter Hall and Richard Eyre, it's not a diary in which everything is suffered to hang out. It also ranges back through Hytner's earlier career, and his flirtations with the big screen. What it doesn't do is reveal much about the brilliant diplo-technocrat whose first press conference at the National introduced a gifted communicator of extraordinary self-possession. By the end you know barely more about Nicholas Hytner than you do about Nigel Shapps.
Balancing Acts opens with a hilarious but telling vignette. At the National's 50th-anniversary celebration Hytner slips down to the green room to be part of the gang, but can't get through a pass door. He batters at the reinforced glass until it shatters. It's his moment of highest passion, but (apart from the security staff watching CCTV) nobody witnesses it.
There are nuggets from Hytner's private hinterland planted here and there. He grew up in a household "fraught with emotional hazard". His father was a barrister. His brother is big in advertising. He was "a dodgy flautist" at Manchester Grammar, and a keen actor at Cambridge until he realised he was bad at it, doubtless because he keeps his cards so very close to his chest.
He is gay, but not volubly, and childless. Playing Dad to the cast of The History Boys was, he confesses, "a role I didn't think I coveted". The fantasy of fatherhood surfaces again when directing the film The Object of My Affection: he identifies with the gay character played by Paul Rudd who "looks through a chain-link fence into a playground where a young father is playing baseball with his son, as if locked out of paradise". His own idea of paradise is "breakfast under a fig tree outside a crumbling French or Italian farmhouse" (such as he conjured up at the start of his Much Ado). This book was written in one such property in France, which presumably he owns, presumably funded by ticket receipts from Miss Saigon. As for cohabitees, we hear nothing beyond a coy pen portrait of "a Texan with brown eyes" from the Broadway cast of Carousel who "used to look at me like he knew my secrets and none of them bothered him. He got to know a lot of them, and they didn't".
Whatever the brown-eyed Texan found out remains locked in an attic. Hytner admits to "devoting too much of my life to emotional self-defence", a project he continues here. The acknowledgements give thanks to Stephen Grosz for "invaluable suggestions". What those suggestions might have been, from the author of a bestseller about psychoanalysis, is difficult to fathom. At least have the courtesy to admit you're a sphinx? Hytner loves a gossip, but not here. Directors and designers he wishes he hadn't hired are not named. Nor plays commissioned, apart from Greenland. The story about the internationally renowned director he angrily banished from the building is not mentioned in dispatches. He and his collaborator Nick Starr slag off an up-itself theatre, but it's your guess which.
Hytner is, he says, never happier than sitting at the edge of his own party. Well, this memoir is his party. He may keep to the fringe, but it's quite a do, with a wonderful guest list. There are the bog-standard through-the-keyhole pleasures of accompanying him to meet John Gielgud, Arthur Miller, Richard Rodgers' formidable widow. There's a ringside seat at the fretful gestations of War Horse, which took a while to stop being long and boring, of Jerry Springer: The Opera, His Dark Materials and Danny Boyle's Frankenstein. What an artistic director of the National Theatre actually does is fascinatingly clarified.
Central to the narrative is Hytner's unfolding relationship with a crotchety Alan Bennett, who had to be discouraged from foregrounding a gay subtext to The Wind in the Willows and having the gay History Boy played by a 12-year-old. His revelatory interrogations of Hamlet and Othello and even Timon of Athens, in which he had a go at fatcats who fund the arts, should be circulated in schools. His reverence for actors is palpable; he adores witnessing the younger ones absorb the aura of their seniors. With something like awe he watches as they instinctively get to the heart of things. It's not all wall-to-wall high fives for his in-house stars Simon Russell Beale and Rory Kinnear. Billie Piper (pictured above in Great Britain), he says, "carries with her the inexplicable electric charge that brings an audience helplessly to heel". That's a diamond-sharp summary of thespian charisma from someone who knows.
Audiences are much discussed, those protean organisms whose responses he finetunes like Dr Frankenstein in a lab. He has the greatest respect for them, but knows that James Corden's pratfalls in One Man, Two Guvnors (pictured above) are "the kind of old rubbish they secretly liked better than Ibsen". On the loyal audience's behalf, even the ones who aren't yet as deaf as posts, he tells Katie Mitchell that he can neither see nor hear her productions. British audiences, unlike (say) German ones, "prefer the director's imagination to reveal the play, rather than the other way round". He thinks so much about audiences he even tries to imagine the characters in the working-class plays he commissions coming to see themselves at the National. The title is deftly all-inclusive, but mainly alludes to the responsibility to produce quality theatre that audiences want to see.
Rehearsal rooms, he says, are "hospitable to verbosity", a typically concise euphemism. This book is not. Hytner is a lucid and urbane stylist and a pithy sketch-writer. So long as you want to know what a towering artistic director thinks as opposed to feels, and don't crave an avalanche of indiscretions about actors shagging in the lavs or weaselly politicians talking crap about the arts, this debonair defence of theatre - subsidised or otherwise - and all who toil in her is a rare and succulent treat.