The York Realist, Donmar Warehouse review - a miniaturist masterpiece |

reviews, news & interviews
The York Realist, Donmar Warehouse review - a miniaturist masterpiece
The York Realist, Donmar Warehouse review - a miniaturist masterpiece
Pitch-perfect Peter Gill revival surpasses its original
Wednesday, 14 February 2018
Call them by their names: Ben Batt and Jonathan Bailey in 'The York Realist'
Peter Gill has been a quiet if invaluable mainstay of the Donmar over time. But the Welsh playwright-director has rarely been better served than by this emotional stealth bomb of a revival of his 2002 Royal Court play, The York Realist, presented here as a co-production with the Sheffield Crucible, where it will transfer following the London run.
The director, Robert Hastie, previously reinvigorated at this same address another gay-themed play of an earlier vintage, My Night With Reg, cut from very different temperamental cloth. The York Realist is a sparer, more buttoned-up piece, if equally rending in its final impact: you may have seen this terrain covered before, not least in any of several recent films, but rarely with such piercing sensitivity and lingering power.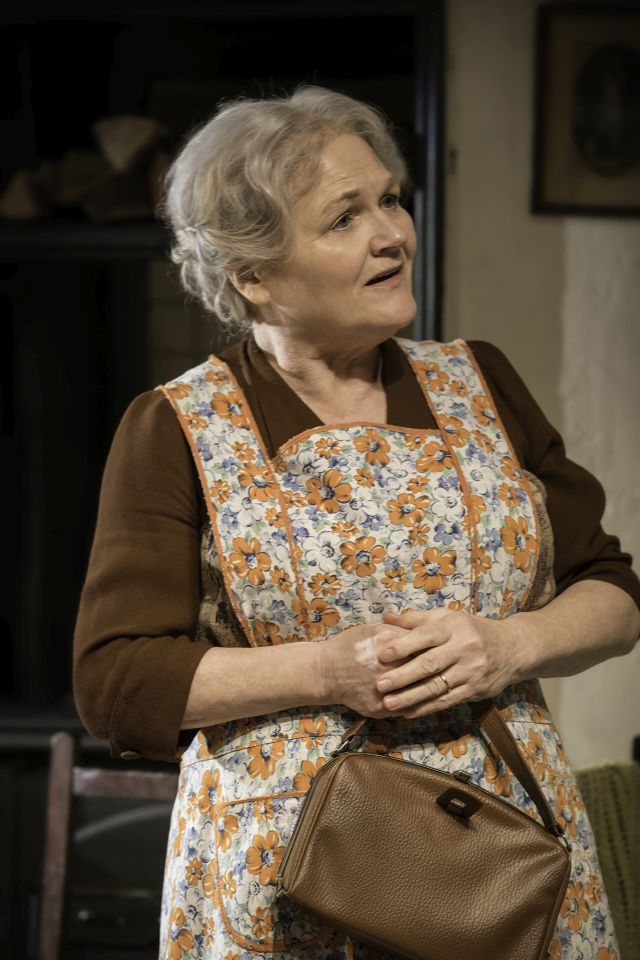 The realist of the title would seem to be George (Ben Batt), a farmer in early 1960s Yorkshire who leads a determinedly uncomplicated life with his endearingly attentive if ailing mum (Lesley Nicol, pictured right) and various friends and relations who bustle good-naturedly in and out of Peter McKintosh's expert single set: a comfortable if faded environment given over to copious cups of tea and capped by a louring cloudscape. George therefore isn't overly inclined to make too much ado of the romance that gently develops between him and John (Jonathan Bailey), a London director who has come north to assist on a bustling local production of The Mystery Plays, in which George has signed on for a part as a centurion, if only he would show up at rehearsals. (As and when he does, he is full of praise: "Jesus is a nice fellow," George reports. "Well, they all are.")
It's during a courtesy call in which John comes to inquire as to George's well-being that the two men bridge a social and cultural divide and embark upon a relationship conducted with a gathering awareness, particularly by the women in their midst. (George's sister speaks of her brother not being "the marrying kind".) The action begins at the end only to double back on itself in a production that, oddly, runs a half-hour shorter than the English Touring Theatre premiere that landed at the Court. (Current Donmar artistic director Josie Rourke was the assistant director on that one.) The writing couples capacious currents of feeling that Hastie amplifies with unforced ease: a moment where John gently fingers George's back unnoticed by George's family arrayed around the table or, elsewhere, a brief if indicative nuzzle that speaks volumes amid an environment where actions are more easily arrived at than words.
George, in particular, would prefer not to overanalyse events as they unfold. "I don't look into things like you do," he tells John, George's imperturbability an inevitable source of perturbation. Both actors play their mating dance with a sensitivity that I don't recall from the first production, when Lloyd Owen's George tended to eclipse the others around him. Bailey's John is so glimmering and warm a presence that you know exactly what George is responding to when he acknowledges his director's "bright" eyes. And the superb Batt exudes a sturdy, unself-conscious command that makes it doubly painful to watch once George starts to wither, heartache a new word in his expanding vocabulary. (Note the growing defensiveness with which George insists to others that he is doing fine.)
It's to Gill's credit that the women are by no means marginalised. Nicol is to be commended for giving less of a turn than did Anne Reid back in the day, and she breezes through the mum's quest for a glass into which she can put her teeth: a line worthy of Alan Bennett. Katie West is quietly revealing as the local girl, Doreen, who sets herself up as George's intended, even though well aware that there is a part of this enigmatic, taciturn presence she will never fully know.
The post-interval recap of the group outing to George's play prompts one laugh after another but never once at the characters' expense. Instead, one is aware of the various ways art connects up to life, nowhere more than in the extraordinary monologue near the end where George recounts the cultural blossoming he experienced during the many visits he paid to John in London. (Batt's amazed delivery of the phrase "The ballet. Me" is shiveringly moving.) Can these soulmates, riven by arguments that it pains them to say, find a way forward? John's rather sheepish if hasty departure (no bus for the character this time) would suggest not. But as the lights fade on George in thrall to a baleful poem that he understands to its very core, we are left with a man made aware of the pleasures of art alongside the primal body blows dealt to the heart.
Ben Batt's delivery of the phrase 'The ballet. Me' is shiveringly moving
rating
Explore topics
Share this article