I, Tonya review - Margot Robbie shines in over-complicated oddity |

reviews, news & interviews
I, Tonya review - Margot Robbie shines in over-complicated oddity
I, Tonya review - Margot Robbie shines in over-complicated oddity
Craig Gillespie's one-note take on Tonya Harding's fascinating true story
Thursday, 22 February 2018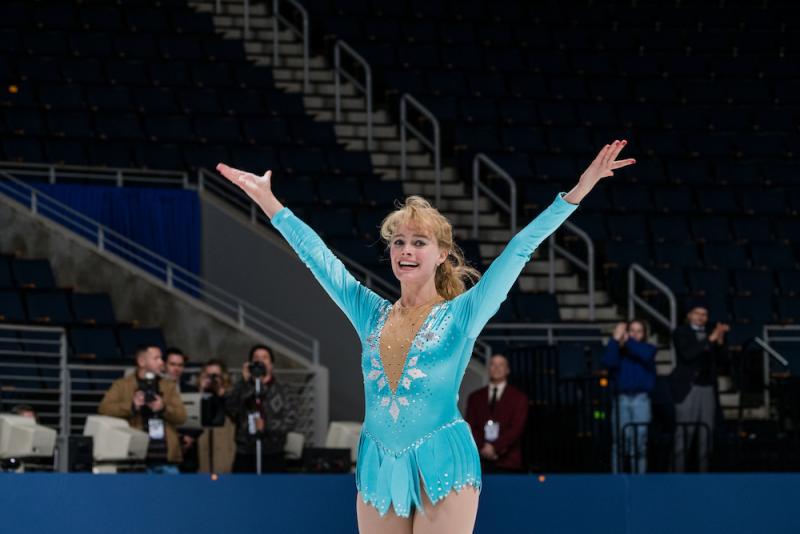 Margot Robbie as Tonya Harding: an imploding star
Tonya Harding and the kneecapping of Nancy Kerrigan – what a story it was, back in 1994.
Even if you knew nothing about figure skating, you followed the tale of Tonya, the red-neck, white-trash
Olympic
hopeful from Oregon, her more elegant rival Nancy and the clumsy plot, hatched by Tonya's estranged husband and other bozos, and perhaps Tonya herself, to ruin Kerrigan's chances in the Winter Olympics.
If you're expecting answers or insight from I, Tonya, you'll be disappointed. It may be better to come to it without prior knowledge. It stars an impressive, fiercely focused Margot Robbie in the title role (though as the teenage Tonya, she looks considerably older than 15), and it is a strange beast, trying too hard to be meta and clever. A queasy, quasi-biopic directed by Australian Craig Gillespie (Lars and the Real Girl, Million Dollar Arm, The United States of Tara) with a screenplay by Steven Rogers, it's based on "wildly contradictory" recent interviews with Tonya and her ex-husband Jeff Gillooly (Sebastian Stan). This contradictory aspect is perhaps its flaw. But if anything, the story is more toxic than it seemed at the time, the result of all-American ignorance, abuse and deprivation. There's some talking to camera, some breaking of the fourth wall, and a lot of ugliness and unfunny violence, played for laughs, which leaves an unpleasant aftertaste.
"There's no such thing as truth. Everyone has their own truth," Tonya tells us. She originally denied being part of the plot to attack Nancy but then pleaded guilty to hindering the prosecution, saying she only knew about the assault after it had happened. She was heavily fined, put on probation for three years but, much worse, barred from the American figure skating association. Skating was the only thing she knew how to do, having left school early in order to pursue her one talent (she was the first American woman to land a triple axel jump in competition). "Send me to jail, then I can still skate," she begs the judge. Her career was over.
Tonya's mother LaVona (Allison Janney, pictured above, in a chilling, powerful performance) is not your typical figure skating mom. She smokes, drinks and curses at everyone, including Tonya's coach (a contrastingly ladylike, dull Julianne Nicholson), kicks Tonya off her chair, hits her, throws a knife at her, tells her she skates like a graceless bull-dyke. Tonya's beloved dad takes her to shoot rabbits in the woods but he soon scarpers and she's left to LaVona's tender mercies. Not surprisingly, she marries the first guy who pays her a compliment. "You fuck dumb, you don't marry dumb," says LaVona at the wedding. She has a point. Soon Jeff is hitting her even harder. Before she takes out a restraining order, Tonya points her rifle at him. "I never did this," she informs us. Whose truth, indeed.
One of the intriguing aspects of the Tonya Harding story was the contrast between her and Nancy Kerrigan. Nancy was petite and chic, with smooth brown hair, tasteful skating outfits and a supportive family; Tonya was muscular, frizzy-haired, with bad make-up and gaudy home-made ensembles. And they were friends for a time, but the film never explores this and we see virtually nothing of Nancy (Caitlin Carver). Instead there's a lot of the repulsive Shawn (Paul Walter Hauser), Jeff's fantasist, fat-ass friend and so-called bodyguard of Tonya, who lives with his parents and whose farcically inept part in the Kerrigan plot forms the crux of the film's comedy.
The film only breaks through into real emotion when LaVona seems to be offering love for the first time. It's a shocking moment, and brings home the abuse that Tonya suffered as well as her enormous talent (Robbie trained for five months for the dance moves, doubles were used for trickier parts but the triple axel, which hardly anyone is capable of, had to be done with special effects). We want to believe that her monstrous mother loved her, just as we want to believe that Tonya knew nothing about the attack. "America – they want someone to love, they want someone to hate," says Tonya. If nothing else, this film has granted Harding, now re-married, a kind of rehabilitation. She loves it.