Haveron, BBC Philharmonic, Wilson, Bridgewater Hall, Manchester review - spirit of the 1940s |

reviews, news & interviews
Haveron, BBC Philharmonic, Wilson, Bridgewater Hall, Manchester review - spirit of the 1940s
Haveron, BBC Philharmonic, Wilson, Bridgewater Hall, Manchester review - spirit of the 1940s
Bright, clear sounds in three pieces of welcome post-war relief
John Wilson: a musicians' musician
John Wilson has built a reputation as a conductor which marks him out as a musicians' musician. He doesn't present himself with any pomposity, even wearing a neat black tie and lounge jacket on this occasion, while the male musicians around him were in white tie and tails. He doesn't play to the gallery either: there's a smile and a bow, but no flamboyance in his on-stage demeanour.
He does deliver in performance, though – with a crystal-clear beat, lots of cues and anticipation, and calm and gentle reminders of points of expression and phrasing.
His niche in the gallery of conductor specialists has been built on reviving great scores from the golden age of film and stage musicals in the 20th century, and a recognition that they demand a sound all their own – crisp, bright, silky and rhythmically alive. Call it "American" if you like: there are plenty of British orchestras able to produce it when called upon, and the BBC Philharmonic is among the foremost. With them Wilson has recorded substantial quantities of the music of Aaron Copland too, recognizing that the quintessentially mid-century American "symphonic" style has important roots in jazz and show music.
There was a sense of going back to dependable tradition as the dark clouds of war dissipated
So Copland's 1945 suite based on his ballet, Appalachian Spring, was very much their shared territory. With Ruth Rogers (a member of The John Wilson Orchestra) guest leading, they were in the spirit of the wide open spaces from the start, with a cool, clear sunlit morning as the story ballet introduces its scene and its characters, a loud and snappy allegro and a vivid, nutty violin sound, varied with point-of-bow tenderness for the intimate moments. The square dance snippets had bouncing rhythms, and the "Simple Gifts" melody its sense of endless continuity and ever-optimistic turning and momentum.
It's no accident that Appalachian Spring was such a huge success in 1944 and 1945, defining mainstream American orchestral music for a generation and beyond. There was a sense of going back to dependable tradition as the dark clouds of war began to dissipate – and one of the fascinations of this concert programme was that it set Copland's work alongside two others from the same period with rather similar psychology behind them.
Korngold's Violin Concerto may be a Marmite piece, with its swishy – some would say clichéd – chord sequences (there's show music in the background there, too), its edgy sweetness and a final movement that has bit of Copland-esque hoedown stomp and open-air vivacity about it.
Wilson let it speak for itself. You wonder sometimes whether its importation of the world of film scores to the concert hall was even tongue-in-cheek, but maybe it was more to do with a new world of melting-pot inclusion and "music for the millions" (the title of a film of the later war years which reflected the idea that "symphony" was for a mass audience). After all, in Korngold's Hollywood the same musicians who played for Bruno Walter as the Los Angeles Philharmonic would have been pumping out soundtracks in the studios on their days off. It needs a soloist with consummate technique and the ability to make the high register sing (Huberman was its intended soloist and Heifetz its first performer), and Andrew Haveron (pictured below) was equal to almost all the many challenges of what is a great soloist's showcase.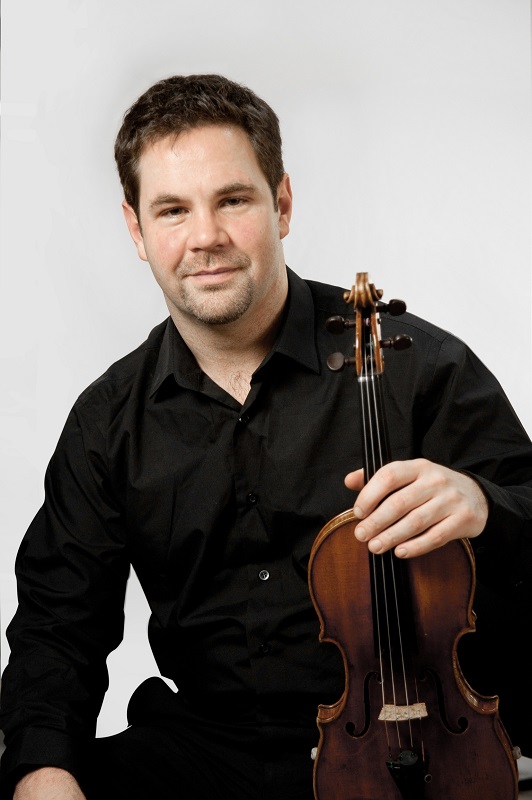 There is an atmosphere of blessed relief after the crisis of war in Vaughan Williams' Symphony No 5, too. Admittedly it was begun in 1938, but not finished until 1943, when the tide had undoubtedly turned, and it incorporates music from his opera The Pilgrim's Progress, then part completed, in its make-up. There's a reference to the recurrent "Alleluia" motif (familiar from his Sine Nomine tune to "For all the saints"), though it's disguised – as John Wilson properly recognized – with tenuto marks. There are perhaps more obvious echoes of the Alleluias of the German tune "Lasst uns erfreuen" (Let us rejoice), known to many English congregations as "Light's glittering morn" – in fact you know you're hearing music from the former editor of The English Hymnal at many a point in this symphony.
In performance it needs to have calm and visionary qualities, and lightness of touch at the same time. Wilson found the former (and brought clarity to the richly woven, diatonic counterpoint) in the opening and Romanza third movements, and the latter in the Scherzo second movement (almost like Dukas's The Sorcerer's Apprentice in its Trio) and the Wasps-ish song theme of the finale. He also provided a real outburst of angst in the middle of the exalted Romanza, reminding us this is a long way from mere nostalgic pastoralism. It was not dedicated to Sibelius for nothing.
Crisp, bright, silky and rhythmically alive: call it 'American' if you like
rating
Explore topics
Share this article