Un ballo in maschera, Grange Park Opera review – singing out against the American grain |

reviews, news & interviews
Un ballo in maschera, Grange Park Opera review – singing out against the American grain
Un ballo in maschera, Grange Park Opera review – singing out against the American grain
High-concept Yankee Verdi benefits from some Old World style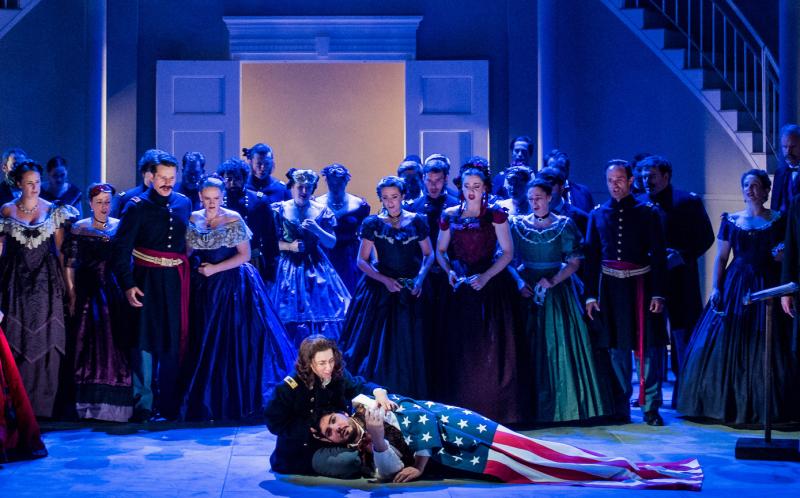 A very American coup: Vincenzo Costanza's last gasp as Riccardo
Stumble across Grange Park Opera's new brick-clad "Theatre in the Woods", nestled amid a labyrinth of gardens and orchards next to the rambling Tudor pile of West Horsley Place in Surrey, and on a mild June evening you may feel as if you have fallen into some Home Counties version of a magic-realist novel.
The downside of all this bucolic charm is that the drama delivered inside the traditional, four-decker, horseshoe-shaped auditorium – funded and built from scratch by Grange Park's founder Wasfi Kani after Bamber Gascoigne inherited the West Horsley estate – should always match the enchantment of the setting. Stephen Medcalf's production of
Verdi
's mature masterpiece of conspiracy and concealment, jealousy and assassination, offers enough in the way of vocal and musical highlights to augur well for Grange Park's second season in its new abode.
Claire Rutter's Amelia (pictured below), in particular, would be worth struggling through miles of Surrey Hills hedgerows and thickets to hear. Conducted by Gianluca Marciano, the English National Opera orchestra and the company chorus anchor the show with well-paced authority and poise. As so often with Un ballo in maschera, though, the director faces a trickier challenge than any demanded by the fancy coloratura twists and leaps that Verdi writes for the pageboy Oscar – one of his rare breeches roles, and delightfully, impressively scaled here by the Armenian soprano Tereza Gevorgyan.
The problem is perennial. Verdi, and his librettist Antonio Somma, wrote Un ballo about the assassination of the Swedish King Gustav III in 1792. In late-1850s Naples, the censors vetoed any such depiction of a European monarch's murder – in France, Napoleon III had just survived an attempt on his life. Hence the opera, somewhat absurdly, crossed the Atlantic to take place in a fantasy of colonial-era Boston, but still replete with the mental and cultural baggage of the aristocratic, honour-obsessed Old World. Lately, productions have tended to relocate the story back in Europe; Tim Albery's recent staging for Opera North followed this line. For Grange Park, however, it's a case of the Stars and Stripes forever. We open on a stage festooned with the flag, and at close of play Riccardo ("governor of Boston") expires, and forgives his wife Amelia, while fetchingly wrapped in Old Glory.
Rather than stay in the pre-independence period (when European rituals of courtly hierarchy still just about made sense in New England), Medcalf fast-forwards to the Civil War era. He and set designer Jamie Vartan do stick to their American guns (Winchester Repeaters, maybe). Staging and costumes keep to the programme and create a coherent visual style. Oscar in his/her Wild West jacket even brings a touch of Davy Crockett to the Boston court. But this firmly Puritan and Republican America feels more remote from the spirit of the piece than a pre-revolutionary location might have done. Yes, that stiff Yankee sobriety can help account for the anguished, almost Brief Encounter-style restraint of the never-quite adulterous lovers. But what to do with the charismatic sorceress Ulrica, whose prophecy warns Riccardo (disguised as a fisherman) that he will die not in battle but at the hands of a friend? Here, Ulrica becomes a sort of white-robed Haitian vodou priestess surrounded by her ghostly entourage – grinning skulls, fowl sacrifice, leaping flames and all. It makes for a striking tableau, if slightly too much tinged with Hammer Horror trimmings ("I must commune with Satan", Ulrica sings). And Italian mezzo Elisabetta Fiorello sings the spooky soothsayer with a flamboyantly old-school vibrato that could hardly sound less American.
Verdi mines music of spectacular variety, depth and range Medcalf does grasp that all the chief characters – the ghastly, spectral Ulrica included – have their own masks to maintain. Riccardo has to conceal his love for Amelia, wife of his bosom-pal and political confidant, Renato. Amelia writhes in the anguish of her guilty, but never-consummated, extra-marital passion. The conspirators – here, the sort of gloomy frock-coated gang who might have done for Abraham Lincoln – must pursue their dark designs amid the shadows. From this fatal ravine that divides public role and private need, Verdi, on the brink of his late-career peaks such as Don Carlo and Otello, mines music of spectacular variety, depth and range.
At first, Vincenzo Costanzo as the vacillating Riccardo sounded somewhat tentative, strained and squeezed towards the top of his range. His tenor blossomed and strengthened as the night wore on. By the time of his final arias – notably his great renunciation of illicit love, "Ma se m'è forza perderti" – he commanded the stage. Renato, the betrayed best mate who becomes Riccardo's bitter enemy and enraged nemesis, finds a consistently firm and affecting interpreter in Roland Wood's baritone – especially as, with a tone of genuine heartbreak, he laments his lost happiness with Amelia in "Eri tu che macchiavi quell'anima". Claire Rutter shines from first to last as Amelia. Her great duet with Riccardo at the gallows tree – here summoned by some stylised hanging fronds – brings out her best: vulnerable and imperious at once, utterly assured yet without any harshness.
This is the moment when you realise that Un ballo was composed around the same time as Tristan und Isolde. Rutter, at any rate, rises to the scene's scorching intensity. Fierce private passions must, ineluctably, break through the civic disguises worn by these reluctant double-dealers. The sinister, chilling "laughing chorus" that winds up the second act showed how much any staging of Un ballo rests on a tight-knit choral band of solid (if gossipy) citizenry. We had that here.
As for the closing ball itself, Nicky Shaw's costumes summon a mood of sober splendour as the conspiracy hurtles towards its climax when Renato shoots (rather than stabs) Riccardo. Now in uniform, Tereza Gevorgyan's Oscar (pictured above) threatened (not for the first time) to run away with the show as she taunted Renato with her canzone "Saper vorreste". As before in Medcalf's version, you felt that this music – and this emotion – belong in a world far distant from 19th-century Boston, however thoughtful the conception that has planted the opera there. In the pit, Marciano and the ENO band certainly played with a far-from-Puritan élan, eloquent, singing woodwinds to the fore. Medcalf's all-American reading has clarity and impact. But visitors to the West Horsley woods may – above all thanks to Rutter and Gevorgyan – end up waving a flag for the free republic of music alone.
Stephen Medcalf and set designer Jamie Vartan do stick to their American guns – Winchester Repeaters, maybe
rating
Explore topics
Share this article