Un ballo in maschera, Opera North review - decent, no more |

reviews, news & interviews
Un ballo in maschera, Opera North review - decent, no more
Un ballo in maschera, Opera North review - decent, no more
Dramatically muddled, musically satisfying account of a Verdi masterpiece
Bewigged and whitefaced: Opera North's 'Un ballo in maschera'
You'd expect a degree of mischief and bafflement in an opera about mistaken identity, closing with a scene set at a masked ball. But Tim Albery's new Opera North Un ballo in maschera is confusing for the wrong reasons, its shortcomings all the more irritating compared how good the performance actually sounds.
Verdi
was forced by censors to relocate his 18
th
century Swedish shenanigans to Boston, his real life protagonists recast as nonsensical fakes (King Gustav becoming "Riccardo, Earl of Warwick"). Albery sensibly returns us to Northern Europe, the sets and costumes suggesting that we're in the mid-20
th
century.
Designer Hannah Clark's dour colour scheme is pure Scandi-noir, though the grey suits worn by the chorus in the opening scene make it difficult to discern who's who and who's singing what. Rafael Rojas's King Gustavo could be just another bloke in a nicely cut suit. He's more stressed-out senior manager than commanding head of state, complete with a capable PA in the form of a scene-stealing Tereza Gevorgyan as Oscar (pictured below). Rojas sings beautifully, if a little harshly at times, but he's a tad too sympathetic: we don't understand why he's so despised by those plotting against him.
Still, Antonio Somma's lucid libretto and some of Verdi's most viscerally entertaining music make the production whizz by, despite the incongruities piling up. Patricia Bardon's commanding clairvoyant Ulrica is excellent, though why she's dressed up to resemble Marlene Dietrich, holding court in what looks like the Black Lodge from David Lynch's Twin Peaks, is left unexplained. Still, seeing the red drapes slowly rise is a visual treat, and it's fun to watch Rojas disguised as a sea captain. As you'd expect, the forecast is stormy, Ulrica predicting that Gustavo will be killed by the next person to shake his hand. Inevitably, this turns out to be his best friend and advisor Anckarström, sympathetically portrayed by a fresh-voiced Philip Rhodes.
The most arresting singing comes from the Hungarian soprano Adrienn Miksch (pictured below with Rhodes) as Anckarström's wife Amelia: her extended love scene with Gustavo at the start of Act II is riveting, her high pianissimo notes perched on the very edge of audibility. Glorious playing too from the company's former music director Richard Farnes's orchestra, the weeping cor anglais solo matching Miksch note for note.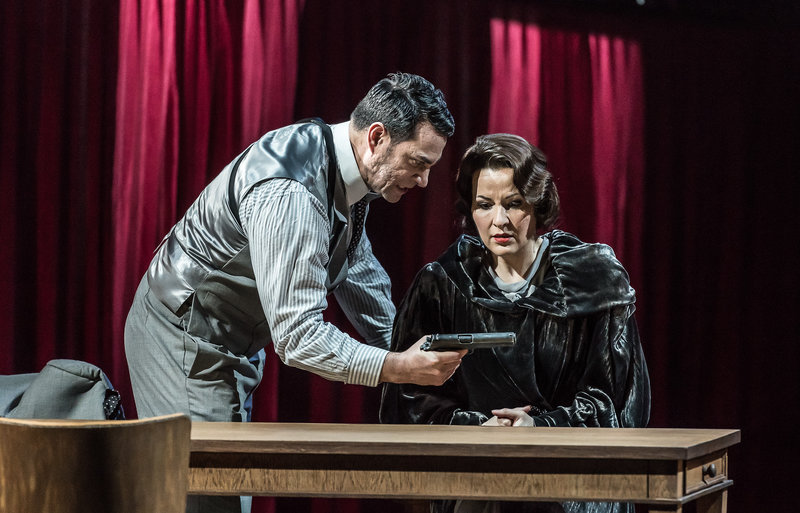 Farnes's dynamic control is his greatest asset: he revels in Verdi's quirky details and never lets the orchestra overwhelm his voices. The fortissimo chord which erupts when Gustavo and Amelia declare their love is overwhelming. They make a credible couple, his bluff, no-nonsense manner matched by her refinement. Miksch is especially good near the opening of the final act, accepting her husband's brutal demands with heartbreaking stoicism.
The titular masked ball is unseen; instead, we see the guests catching their breath between dances. Having the entire cast bewigged in whiteface makeup is disconcerting, as if we've suddenly leapt back 200 years. Trying to spot Gustavo and Anckarström is like playing a live action version of Where's Wally? And why is Gevorgyan's Oscar now a young girl in a ball gown? I was baffled. Happily, outstanding chorus work and Farnes's electrifying conducting save the day: the bleak close packs a mighty punch and we're left wanting more. Decent, but not quite decent enough, especially given Albery's excellent track record with this company.
A weeping cor anglais solo matches soprano Adrienn Miksch note for note
rating
Explore topics
Share this article