Having a Verdi ball: conductor Richard Farnes on Opera North's upcoming production |

reviews, news & interviews
Having a Verdi ball: conductor Richard Farnes on Opera North's upcoming production
Having a Verdi ball: conductor Richard Farnes on Opera North's upcoming production
Hugely respected former Music Director on returning for 'Un ballo in maschera'
Thursday, 01 February 2018
Richard Farnes at a rehearsal for 'Un ballo in maschera'
Commentators have, over the years, variously described Un ballo in maschera (A Masked Ball) as all things to all people: Verdi's Tristan und Isolde, Verdi's masterpiece, Verdi's Don Giovanni, a pure love poem, and much more. It seems to me to be one of his most consistently exciting works, perfectly proportioned and dramatically astute.
Interestingly, in this instance Verdi did not feel the need to make the extensive revisions that he undertook to the operas either side of it in his canon – Simon Boccanegra, La forza del destino and Don Carlos. Its creation was relatively swift, and its storyline traces a succinct sequence of events in a specific location, taking place over the course of a few days at most. Like two of those other works, Ballo's leading protagonist is a man of power who lives with a conflicting interest between his moral sense of public duty and the emotions of his private life. Some of the opera's main themes chime somewhat with the current debate about how much the private lives of powerful figures, whether in politics or business, should affect our view of their work. Where today we're supposed to vote them out, in those days they stuck the knife in.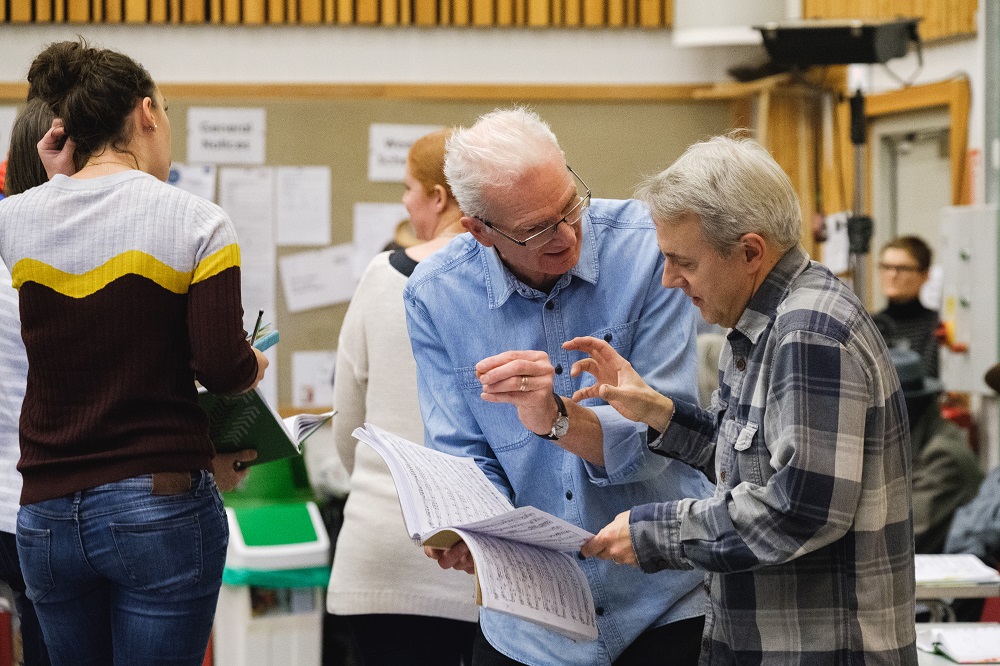 All this makes Un ballo in maschera a thrilling piece to work on. Opera North has assembled a cast, the majority of whom – along with director, conductor, chorus and orchestra – have never worked on the opera before. Yet many of us already know each other well, having worked together on other productions (I myself have collaborated with director Tim Albery (pictured above on the left with Farnes) on Macbeth, Don Carlos and Otello from Verdi's canon alone), and the sense of trust that this engenders hopefully lends support in this endeavour to a new face like the extremely talented Hungarian soprano Adrienn Miksch, making her debut here, and in the role, as Amelia. Tim is a director who above all excels in a detailed but clear telling of the story, and the chief motivation of his decision to transfer the setting from New England back to its original, the Swedish court of King Gustavus III, is to help the drama speak about humankind in general rather than being encumbered with the specific political and historical baggage associated with Boston, at least here in the UK.

As so often with Verdi, especially at this point of maturity in his career, the rhythmic heartbeat and melodic invention of his music are supremely aligned with its dramatic purpose. King Gustavo (sung here by Rafael Rojas) must be one of the detailed character studies of all his tenor parts, and this production illustrates clearly the bi-polar nature of the ruler's personality, swinging from the optimism of his upbeat exchanges with the page Oscar (played by Tereza Gevorgyan) to the brooding pessimism elicited by his best friend and confidant Count Anckarström (Phillip Rhodes).
The king's Act 2 duet with Anckarström's wife Amelia has to be one of the most beautiful yet understated that Verdi ever wrote, balanced perfectly by the sardonic and cruel humour of the conspirators at the other end of the act. And the mysterious undercurrent to all this is the fascinating character of Ulrica (Patricia Bardon, pictured above on the left with Miksch as Amelia), appearing only in Act 1 but whose presence pervades the whole drama – is she really a skilled soothsayer aided by the supernatural or just a brilliant psychologist?

As rehearsals have progressed it has struck me how much the opera's title refers to the whole work, and not just to the masked ball at the end; in each act major protagonists take up disguises which are subsequently unmasked: the king as a "fisherman" visiting Ulrica in the first, Amelia as an "unknown lady" in the second, and of course the entire company in the final ball. Ballo contains all the best ingredients of a tasty dramatic dish - love and duty, tension and betrayal, humour and comedy amidst tragedy – all brilliantly defined within a tightly structured and beautifully woven whole. I think I shall just add to the general chorus and call it a "perfect Verdi opera".
The rhythmic heartbeat and melodic invention of Verdi's music are supremely aligned with its dramatic purpose
Share this article