Die Walküre, Opera North, Southbank Centre |

reviews, news & interviews
Die Walküre, Opera North, Southbank Centre
Die Walküre, Opera North, Southbank Centre
The Ring's most wrenching tragedy excels with a great Wotan and Brünnhilde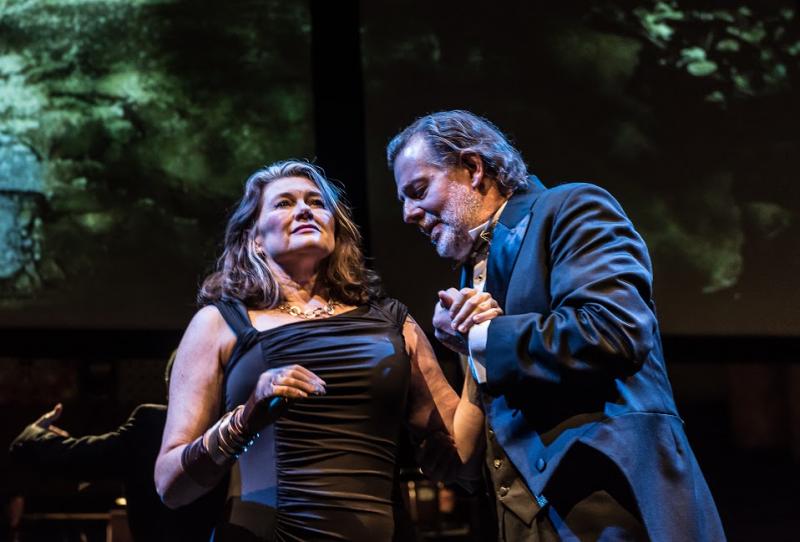 Greatness: Kelly Cae Hogan's Brünnhilde and Robert Hayward's Wotan
Enter the human - and superhuman demands for at least four of the singers - in the second, towering instalment of Wagner's Ring cycle. It says so much for Opera North's achievement so far that no one fell in any way short of the sometimes insane vocal demands. There were only varying degrees of characterisation and commitment, none of them less than fine.
Bad luck, perhaps, that the lower, though not exactly low, temperatures came in the first act as we meet the hero Wotan has fathered as free agent, or so he thinks, and the heroine sister whose incestuous love is a case, as the chief god puts it, of "just because something unexpected happens, it doesn't mean it shouldn't happen". Really that fabulous storm at the start, with appropriately wild visuals again from Peter Mumford's elemental video work, should hurl onto the stage a fugitive at the limits of his endurance. Michael Weinius didn't quite suggest that in body and face; nor did Lee Bisset in her slinky evening wear impress upon us a buttoned-up, downtrodden housewife. Both (pictured below) struck vocal form immediately, though, going on to find rare intimacies in the midst of their infatuation with each other. But for once, and once only so far, the magic carpet of the Opera North orchestra responsive to Richard Farnes's every nuancing didn't take flight from Hunding's living-room floor.
These are the imponderables of large-scale Wagner performance. Experience a slight disappointment in one act, and you may hit the roof of heaven in the next. As happened here the instant we saw Robert Hayward's Wotan intoxicated by the battle-might of his favourite valkyrie daughter, and Kelly Cae Hogan's Brünnhilde championing at the bit. Very well, so those war-cry "Hoiotoho"s are never a marker of how the rest of her role will proceed, and those treacherous top Bs were under par. But after that Hogan never gave us a false note or gesture, pouring forth musical and dramatic generosity without any forcing.
Hayward (pictured below) was a powerful but unrefined Wotan in Phyllida Lloyd's ENO Ring. Glastonburyites may remember him with amazement when Act Three hit the festival, a reminder that the Ring has long been "for the people". He is now one of the greats, focused and physically relaxed enough not to need to do too much dramatically to let us know of the chief god's exultation and deepest despair.
We were back to the crystal-clear dialectics of Das Rheingold with the return of Yvonne Howard's adamantine Fricka, pointing out the law of marriage-customs in as gripping a husband-wife scene as I've ever experienced. Then the long narrative of what has brought Wotan to the point of wishing for "the end" was riveting – and if a bass-baritone can pull that off, you have no fear of him lasting through to the end, where having encircled his beloved daughter with a ring of fire Hayward's god signed off with an exultant final high E. Magnificent and deeply moving.
There were fine things from the doomed sibling lovers in the second act, too, Weinius turning a golden screw in the great "Annunciation of Death" scene where his ever more intense questioning leads Siegmund to a refusal to follow Brünnhilde to Valhalla if it means leaving behind the woman he loves so much. And I wonder if the impact of 10 distinctive female voices as Brünnhilde and Sieglinde follow the Valkyries' ride of the unrelentingly emotional last act with the urgent fallout from Siegmund's death can ever have been more thrilling, with so much delivered direct to us.
Transfigured from beauty-goddess Freia to bad girl Gerhilde, Giselle Allen led the way – another singer who tells you everything you need to know about a character from the off – while the most amazing high notes of the evening came from Valkyrie 2 in the ensemble, Katherine Broderick, and there was clarion lower-register underpinning from Madeleine Shaw's Rossweise. A rightly climactic apostrophe from Bisset's grateful hero-bearing mortal to Brünnhilde's cosmic generosity was followed by an equally astonishing ensemble as the protective valkyrie sisters protect the soon-to-be-outcast Brünnhilde: when have you ever heard a septet of competing lines sound so bel canto?
And the end, arguably the most moving in all opera (though the last-minute redemption of Jenůfa runs it close), crowned the work as Brünnhilde (Hogan pictured above) improvises bright ideas to stop her total humiliation by the furious but desperately loving Wotan. Physical contact in this out-front semi-staging is minimal, but when Wotan blew the kiss to put his daughter to sleep, passed it over her face and Hogan's head dropped, it was hard not to let tearfulness spill out into a sob. And Farnes's calm authority reached its zenith in the shape of the flames and the emotion of the "Magic Fire Music", as fine a slice of deep-level Wagnerian conducting as you're ever likely to hear, with none of the grandiosity or choppiness of comparatively overrated Barenboim. Whatever happens as we meet a new hero and a different Wotan/Wanderer in Siegfried, thankfully Hogan will be there until the end of the world. This Walküre, at least in its second and third acts, will go down in the history books among the very greatest.
Further instalments of Opera North's Ring at the Southbank Centre are free for spectators of the Clore Ballroom livescreening. Full programme of events here.
The end, arguably the most moving in all opera, crowned the work
rating
Share this article