Macbeth, Opera North |

reviews, news & interviews
Macbeth, Opera North
Macbeth, Opera North
Blackly comic, fast-paced Verdi receives a welcome revival
Saturday, 08 February 2014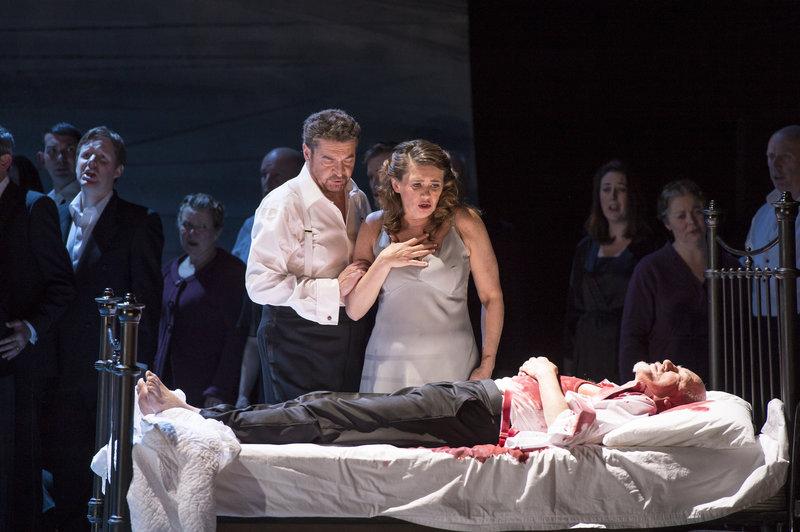 Béla Perencz and Kelly Cae Hogan, up to no good
The colours! Or the lack of them; Johan Engels's neat, versatile set is decked out in 50 shades of black and grey. As are most of the cast, meaning that you begin to feel that you're watching a grainy monochrome newsreel. Scotland has rarely looked so unalluring – a dark, damp, claustrophobic pit of a place, its sour-faced population dressed in grey trench coats.
Birnam Wood is cleverly suggested with the slenderest of means, and the steeply raked slope stage rear adds to the sense of clammy confinement: we're all in this together. Tim Albery's 2008 staging of Verdi's Macbeth is full of brilliant things, and it looks and sounds as good as ever in this revival. The stark visuals nicely reflect the tone of the libretto, and also serve to undercut the disconcerting jauntiness of so much of Verdi's score.
The players inject a touch of grace into Verdi's endless piccolo shrieks and cymbal crashes
This is a fast production. The four acts whizz past with disconcerting speed, starting with Shakespeare's cackling witches disposing of Lady Macbeth's miscarried child. It's a queasy, uncomfortable moment. En masse, they're a terrifying bunch – clad in grubby grey, occasionally wearing false beards, tossing babies across the stage and wielding knitting needles. You're aware of how well they've been choreographed by Maxine Braham, especially when they're perched menacingly on both sides of the stage, moving as one. The crowd scenes are brilliantly handled; Act 2's austere banquet scene flows seamlessly, and watching the guests' response to Macbeth seeing Banquo's ghost provides some light relief.
Béla Perencz, last seen here as Wotan in Opera North's Die Walküre, is well-cast – vocally commanding, and physically convincing, able to suggest a degree of nervous self-doubt, visibly deteriorating as the opera progresses. Kelly Cae Hogan's Lady Macbeth is a perfect, terrifying foil. She's statuesque, alluring and dangerous; the sort of person you'd never dare say no to. The voice is occasionally shrill in the upper register, but it's exactly as you'd expect her characterisation to sound. Paul Whelan's tall, charismatic Banquo is a little stiff in his early scenes, but comes into his own during his supernatural second coming, nonchalantly discarding his jacket, shirt and waistcoat in front of a terrified Macbeth. Jung Soo Yun's Macduff sings sweetly and exudes dependable strength.
But, as is so often the case with this company, it's the chorus who excel. Every line of Verdi's contrapuntal writing emerges with ringing clarity, and the physical thrill of hearing them singing flat out remains one of life's pleasures. Act 4's gloomy opening scene, the stage filled with downcast and exiled Scots, is perfectly realised. Tobias Ringborg conducts with subtlety and energy, his players managing to inject a touch of grace into Verdi's endless piccolo shrieks and cymbal crashes. Offstage effects are well-synchronised, and Opera North's lower brass are sensational. Verdi would have approved.
Scotland has rarely looked so unalluring
rating
Explore topics
Share this article