Macbeth, Glyndebourne |

reviews, news & interviews
Macbeth, Glyndebourne
Macbeth, Glyndebourne
Verdi's opera is reduced to a string of cheap gags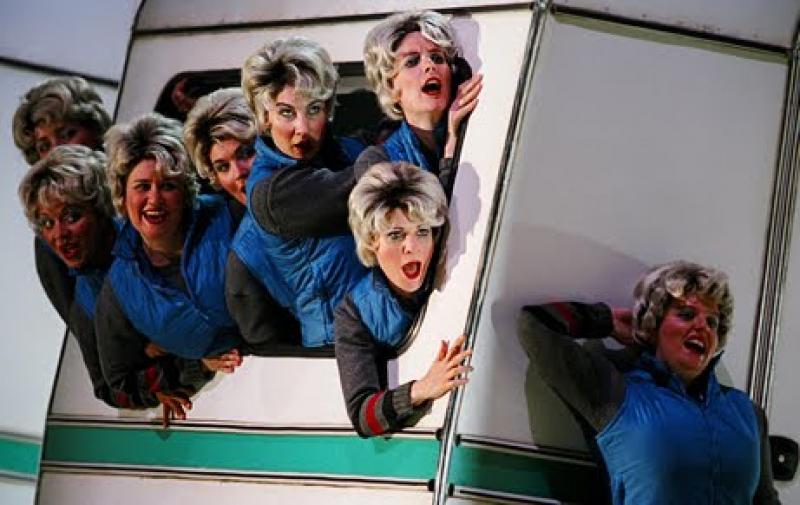 The witches: 'A nice creepiness was conjured up - particularly in the eminently weird, small-stepped, blue puffer-vested, 70s jumpered, sulking Hindley creations'
Shakespeare's Macbeth is full of fleetingly funny moments. Halfway through the regicidal Second Act, we stumble upon a castle porter gibbering on about the bodily consequences of drink - "nose-painting, sleep and urine". Verdi's opera mostly shuns these vignettes for the bigger, more concentratedly darker picture. The music works itself up into an ornamented mania and for the most part broods on low orchestral colourings. There is nothing funny about a single second of it. Why Richard Jones has therefore decided to send the whole thing up for Glyndebourne in a series of dumb gags is completely baffling and rather irritating.
The first gag is the set itself (designer, Ultz): a psychedelic castle of white bricks and blue mortar, empty but for a makeshift, tartan hut on the side, where the King seems to enjoy hanging out. There's scaffolding at the back (don't ask why), which the choruses march up once or twice in the first half. Things proceed in a slow, flat, nothingy way (original choreographer Linda Dobell, revival, Sarah Fahie), as marauding hordes of axe-wielding Scots, kilted, T-shirt-ed, cumberland booted, charge from one side to the other and back. Lady Macbeth is dressed up as an air hostess, Macbeth in a T-shirt and kilt. Questions of motive, identity and place are left hanging. The only logic running through the production was the logic of the one-liner. Which would have been fine if they had been any good. Which they were not.
Jones almost gets to some comedic nugget of truth in the portrayal of the three witch choruses: one made up of Myra Hindley clones, one resembling that piggy headscarved lady from The League of Gentlemen and one lot resembling a 1980s Vicky Pollard. A nice creepiness was conjured up - particularly in the eminently weird, small-stepped, blue puffer-vested, Seventies-jumpered, sulking Hindley creation - but this soon runs out of steam as Jones resorts to cliché.
None of it was helped by a revival cast of singers of a singularly uncharismatic sort. They could all more or less sing the notes cleanly and correctly but with so little emotional involvement that one wondered if they too had issues getting their head around this uninspiring production. Andrzej Dobber was mostly absent in character as Macbeth. Stanislav Shvets (Banquo) had a lovely tone but ragged technique. I wouldn't really have cared what the voice of Lady Macbeth (Erika Sunnegårdh) had been like if she had managed an even half decent attempt at capturing a Lady-Macbethian spirit. But, though the music kept offering her the perfectly deranged springboards from which to leap, she wasn't having any of it. She played it safe and, in terms of entries, often very late. Yonghoon Lee (Macduff) was received well by the audience but smelled of ham to me. Only from conductor Vasily Petrenko's hands in the pit were we getting any real musicality.
I always thought I rather enjoy the free-wheeling, surreal side to Richard Jones, but actually I probably respect his engagement with realism far more. And when he is forced to do this in Macbeth (because the music won't let him play silly buggers any more), he hits the emotional bullseye. Real feelings suddenly broke out with his plain, honest presentation of the chorus, "Patria oppressa" ("Our oppressed homeland"), a statement of universal and specific wartime grief. And the realism of Banquo's murder (a superb Coen brothers-like jobbie) and Lady Macbeth's self-sufffocation by orange laundry bag showed what could have been if only Jones hadn't been so lazy and arrogant as to think that the work could be reduced to a string of cheap jokes.
Jones almost gets to some comedic nugget of truth in the portrayal of the three witch choruses
Explore topics
Share this article