Manchester Collective, Chetham's, Manchester review - flair and variety |

reviews, news & interviews
Manchester Collective, Chetham's, Manchester review - flair and variety
Manchester Collective, Chetham's, Manchester review - flair and variety
In-the-round chamber music breaking new ground in every direction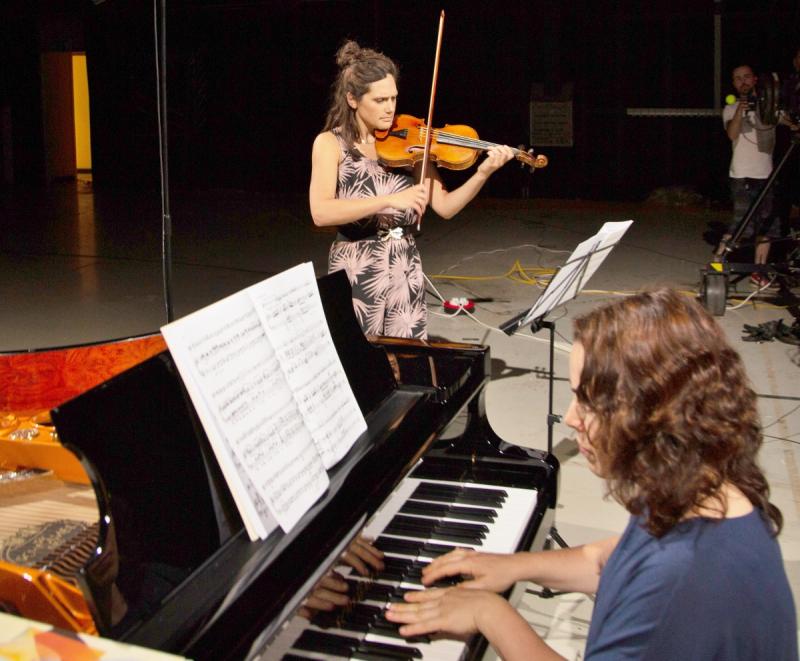 Rakhi Singh and Katya Apekisheva
Manchester Collective is a new and enterprising group of musicians determined not just to create performances of high quality but to offer a new way in which the performances themselves are done. They started from scratch at the end of 2016, and I saw one of the first of their efforts, given at Islington Mill – a laid-back space in the basement of an old industrial building in Salford – in March last year.
It was a place well used to commercial music performance, but not of Janáček… coupled with a
brand-new
dramatic piece for voice and string quartet commissioned from composer Huw Belling.
It makes a change to be at a classical music concert where hardly anyone looks a day under 30, and the young musicians of Manchester Collective have developed a real skill for drawing an audience of their own generation. Since then they've moved into standard venues, including the Stoller Hall and Carole Nash Hall at Chetham's School of Music, but their programming has the same flair and variety, ranging from Purcell to electronics to traditional African music, with more new commissioned works.
There was playing of assurance and real communicative power
This end-of-series programme, on the surface a traditional violin-and-piano recital by Rakhi Singh (co-artistic director, with Adam Szabo, of Manchester Collective) and Katya Apekisheva, held surprises of its own. First off, the programme as performed was substantially different from the one advertised. Nothing wrong with that really, and in a sense returning small-scale public music to the kind of roots it had in the mid-19th century.
We were in the round, the audience seated encircling the performers (just as in John Ella's Musical Union concerts in the 1840s and 50s), with the Collective's own lighting, rather than the house lights, creating focus and atmosphere, and they talked to us about the music as well as playing it. They also invited the audience to talk back, in a 30-minute period at the end of the interval, which is probably one reason why there wasn't time to play all the pieces they'd originally thought they'd include.
Rakhi Singh began with some solo violin pieces by Kurtag (they tend to programme a "set", selections from a published work, rather than always doing things complete, another return to 19th century practice), and then the Bach G minor sonata's glorious Adagio and Fugue. She is a player of formidable technical equipment and interpretative ability and this was ample reward for more traditionalist audience expectations. She and Katya Apekisheva played four of Cage's Six Melodies: they're disarmingly close to modal in harmony, dance-like in rhythm and song-style in structure, but with little bumps along the way to remind you he's pursuing a discipline of his own, and these two players made friends for Cage with them.
Then it was the Janáček Violin Sonata of 1914, whose four movements contain a vast variety of style and expression – ever intriguing and passionately realised. Prokoviev's Visions Fugitives – 10 of them, anyway – provided Apekisheva her solo piano opportunity. Though each is individually brief, they're very demanding technically, and she has the ability to do them justice in every way and make them poetically attractive, too. You feel you're listening to what Grieg might have written if he'd wanted to borrow from Debussy and Stravinsky both at once.
The final two pieces were Pärt's Fratres, in the "original" violin and piano version, and Messiaen's Theme and Variations of 1932. Pärt's opening is strangely reminiscent of some of the string-crossing figuration we'd heard in Kurtag and Bach, and the piece was nothing less than another formidable demonstration of executive skills, but more than that, as it creates its own haloed beauty.
Likewise the Messiaen – the piece he wrote for his first wife when they married and which in its melodic arch shapes and chording has an affinity to the second part of his organ Diptyque (written two years earlier and more familiar to many now as the final section of Quatuor Pour la Fin du Temps) – there was playing of assurance and real communicative power.
If Manchester Collective aspired to make their mark through imaginative programming and advocacy for the unusual, combined with top quality musicianship, they are succeeding already.
If Manchester Collective aspired to make their mark through imaginative programming and advocacy for the unusual, combined with top quality musicianship, they are succeeding already
rating
Explore topics
Share this article