Eric Clapton, Carlos Santana and Steve Winwood, BST Hyde Park review - the Clapton faithful in their droves |

reviews, news & interviews
Eric Clapton, Carlos Santana and Steve Winwood, BST Hyde Park review - the Clapton faithful in their droves
Eric Clapton, Carlos Santana and Steve Winwood, BST Hyde Park review - the Clapton faithful in their droves
65,000 fans see three rock heroes
Eric Clapton: 'this really is some franchise'
Would we see any of the three guitar-toting rock legends together? Yes, we would. Two of them, if briefly. Carlos Santana came back just before 10pm to join Eric Clapton's band for the encore of their set, a quick valedictory burn-through of Joe Cocker's tune "It's High Time We Went".
It was the logical way to finish this first Sunday of British Summer Time in Hyde Park, which was more or less full to its capacity of 65,000. Each of the three headlining bands has a pair of guitarists, so the evening had been building up to it. The first of them to perform, Steve Winwood, when stepping away from the Hammond to play guitar, can rely on the calm completeness and inventiveness of São Paulo-born José Neto. Carlos Santana has a pillar of strength and a contrasting guitar sound from Tommy Anthony, and Eric Clapton would occasionally step back to admire the soloing assertiveness of Doyle Bramhall II.
For the first of the three, Steve Winwood's tune for Blind Faith "Can't Find My Way Home" brought back a fond personal memory. He recalled the previous time he had played in Hyde Park: it had been 49 years ago, in 1969, and he remembered that people hadn't needed to pay for that gig. Above all, Winwood's set was a joyous reminder of what a complete musician and a natural songwriter he is. From the ease of Traffic's "Empty Pages", co-written with Jim Capaldi, to the perky "Higher Love", and on through to the happy Hammond hooks of "Gimme Some Lovin'" there was a natural flow to the set, just one good song after another. Unlike the other two bands, Winwood also nailed their allotted time slot with total precision (Winwood pictured below by John Watson/ jazzcamera.co.uk).
Winwood's set was, however afflicted by sound problems, some queasy-making bass feedback during "Higher Love", a very uncomfortable moment that the band seemed all too aware of. At least the festival organizers weren't ashamed to admit the failure. "We're on it," their Twitter feed responded. Not with complete success, though, since the same sound problem briefly dogged Clapton's set too, during "Nobody Knows You when You're Down and Out."
Carlos Santana's set was all about coruscating energy. From Babatunde Olatunji's "Jin-go-lo-ba", performed with a video backdrop of African dancing, to Tito Puente's Oye Como Va right through to "Foo Foo" and "Smooth" the party vibe predominated. The group has a formidable percussion engine in drummer Cindy Blackman, and percussionists Paoli Mejias, Karl Perazzo, a real force of nature who constantly enlivens the mix with his rapid-repeat, machine-gun-like rat-a-tats.
The faithful had come in their droves to hear Eric Clapton. This really is some franchise. I met people who had flown in specially from the US, and were already booked in for Madison Square Garden in October. The merch tent had been doing a roaring trade in 2018 Clapton t-shirts. Clapton, at 73 the oldest of the three headliners – the other two are both seventy this summer – took the stage with just three words: a deadpan "It's coming home." And got down to the business of knocking out the three opening blues numbers, "Somebody's Knocking", "Key to the Highway", and the slower "I'm Your Hoochie Coochie Man." Once the band moved on from the blues to the rockier "Got to Get Better in a Little While" there was room to build up some more intensity, but that moment passed, and Clapton took up position in the centre of what looked like a vast Persian carpet, and switched to acoustic guitar. There was also an uptick in energy when Marcella Detroit, aka Marcy Levy of Shakespear's Sister, joined the band (Clapton and Santana pictured below).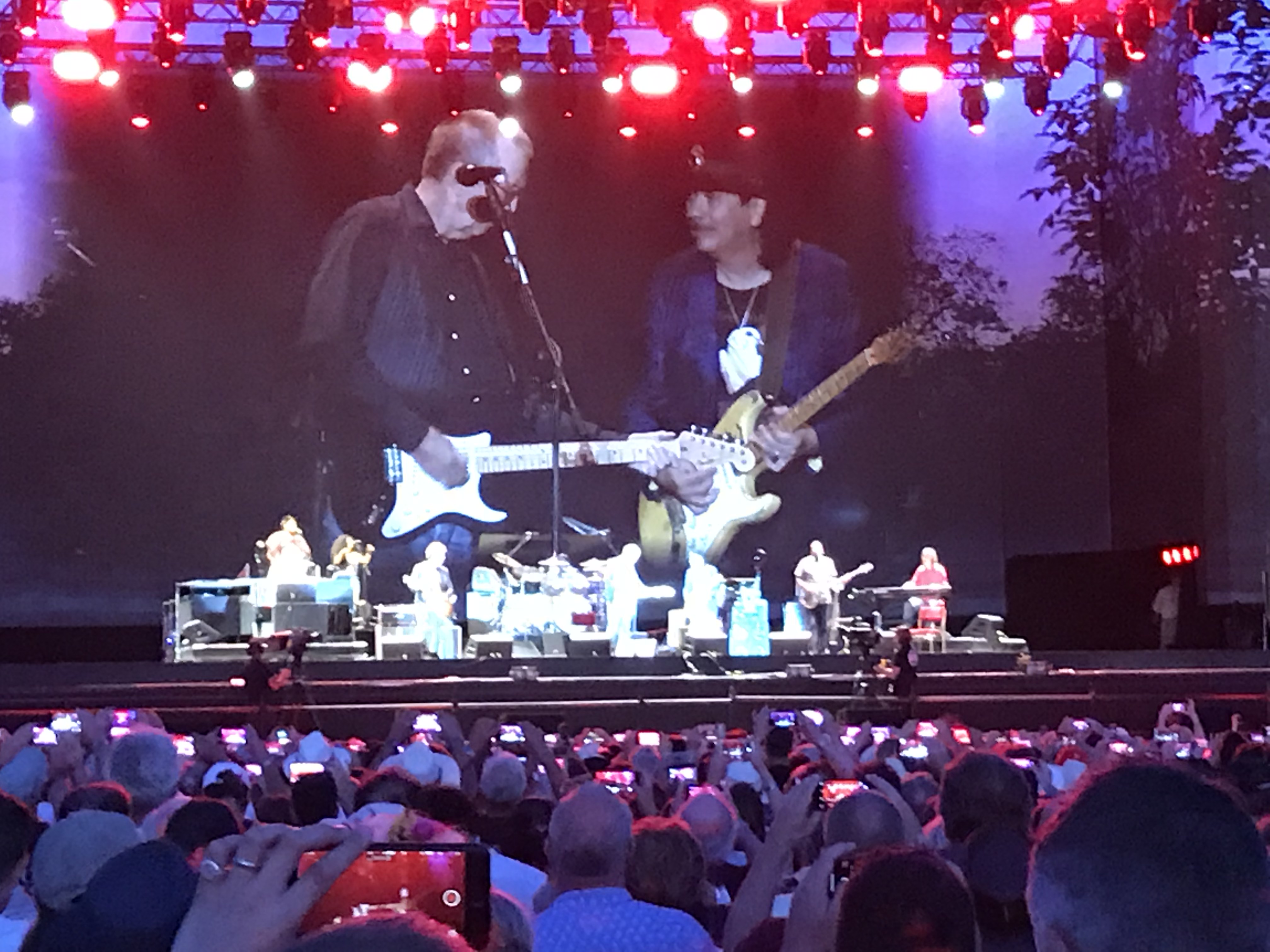 Yet nothing rocks the boat in this band. Guitarists Doyle Bramhall II and Clapton stay comfortingly in the chords when soloing, which leaves keyboard player Chris Stainton the maverick role, with the latitude to occasionally step creatively outside them and to find his inner McCoy Tyner.
Clapton has been a major force for promoting the blues and bringing it to life, but I couldn't help having a twinge of cognitive dissonance at the points where he sang the Jimmy Cox /Bessie Smith tune "Nobody Knows You When You're Down and Out" and particularly "Little Queen of Spades" by blues legend Robert Johnson, who never saw any money from his work – the same was true for his heirs. And those feelings were reinforced when we were told afterwards that the Clapton-devoted in Hyde Park last night had also included Bill Nighy, Dustin Hoffman, John McEnroe and... Bernie Ecclestone. His version of "Nobody Knows You..." would be surreal.
British Summer Time continues with Michael Bublé on Friday 13 July, Bruno Mars on Saturday 14 July and Paul Simon on Sunday 15 July