Prom 43, Batiashvili, West-Eastern Divan Orchestra, Barenboim review – from Russia with love |

reviews, news & interviews
Prom 43, Batiashvili, West-Eastern Divan Orchestra, Barenboim review – from Russia with love
Prom 43, Batiashvili, West-Eastern Divan Orchestra, Barenboim review – from Russia with love
Grace, and gravity, from the border-crossing band
Wednesday, 15 August 2018
Lisa Batiashvili, Daniel Barenboim and the WEDO in Tchaikovsky's Violin Concerto
The days are long gone when a Proms gig by Daniel Barenboim and his West-Eastern Divan Orchestra felt like a life-changing visitation by a major prophet.
Expectations of the ensemble he and the scholar-writer Edward Said founded in 1999 to encourage young
Arab
, Israeli and (later) Mediterranean-region musicians to work, and play, together have contracted on the political front. Meanwhile, WEDO's purely musical scope and ambition has never ceased to grow. Now, a WEDO event feels (almost) like a normal Proms night at the Royal Albert Hall, although a special warmth – bordering on reverence – flows towards Maestro Barenboim and his ensemble.
The programme generally features a showpiece that displays the uplifting togetherness he crafts from his players in pursuit of a wonderfully creamy, calorific – and wholly satisfying – sound. Last night, it arrived in the form of Scriabin's heaving, writhing orgy of fin-de-siècle musical sensuality, the Poem of Ecstasy. In the first half, however, Barenboim's soloist stole the show with another Russian star-burst – another sign, perhaps, that WEDO these days can occasionally take a back seat, like any other band.
The star turn was Lisa Batiashvili, who reprised the Tchaikovsky Violin Concerto she recently recorded with Barenboim and his Berlin Staatskapelle. Well, you can wait ages for a Georgian virtuoso to come along and then (as Batiashvili followed the previous evening's Grieg concerto from Khatia Buniatishvili) two turn up at once. Barenboim, not the world's most obvious Tchaikovsky devotee, had warmed us up with a hearty polonaise from Eugene Onegin that, after a slightly ragged start, hinted at the WEDO treats to come.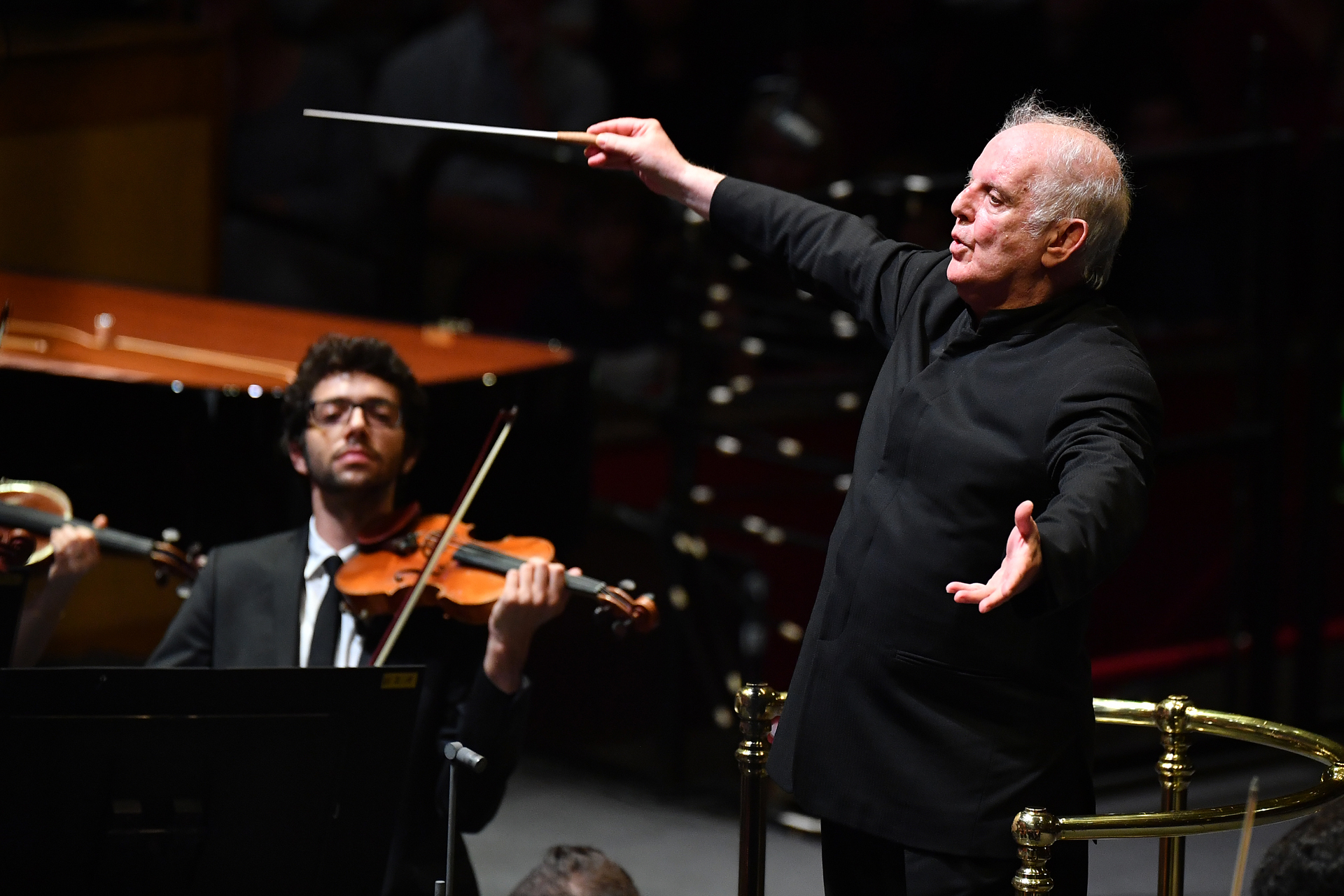 Then Batiashvili entered to deliver a succulent but never sickly account of an old stager that (as with the Grieg) can suffer from its very familiarity. Batiashvili, who came to this work comparatively late, brings restraint and calm to the flowing grace of the opening allegro, with its tune that tantalises, only to vanish. Her wistful, cantabile tones never cloyed, while she attacked the cadenza with a thrilling, edge-of-the-seat sense of theatre that reminded you why, in 1878, this piece could shock as well as stir. The delicate, songbird lilt of the second-movement canzonetta glowed with quiet grace, and here WEDO made their presence pleasurably felt in the violin's intimate exchanges with woodwinds.
In the finale, Batiashvili kept a tight rein on the propulsive peasant dance – whose rustic brio so appalled early critics – while building up the necessary momentum and excitement. Bravura rhythmic shifts animated the movement's second theme, while the band weighed in with a roof-raising coda. Together, Barenboim and Batiashvili find a clean-limbed, long-striding fluency in a work that sometimes offers too easy an alibi for show-off pyrotechnics. They made you appreciate Tchaikovsky the meticulous architect, and artisan, while never losing touch with the fire that burns, and sometimes, spits thorough the solo part.
WEDO's core commitments came to the fore after the interval, in David Robert Coleman's Looking for Palestine. Coleman, raised in Britain and based in Germany, sets an autobiographical text by Najla Said – daughter of Edward – into a monodrama for soprano and orchestra on the great Saidian themes of exile, identity and empathy. The words express the baffled yearning for belonging and for home – wherever that is – of a young émigrée in Beirut and New York as bombs rain on Lebanon during the conflict of 2006. The music, which especially in its vocal colours sometimes reminded me of Berg, filters the anguish of the Levant and its scattered peoples through the lens of Austro-German modernism.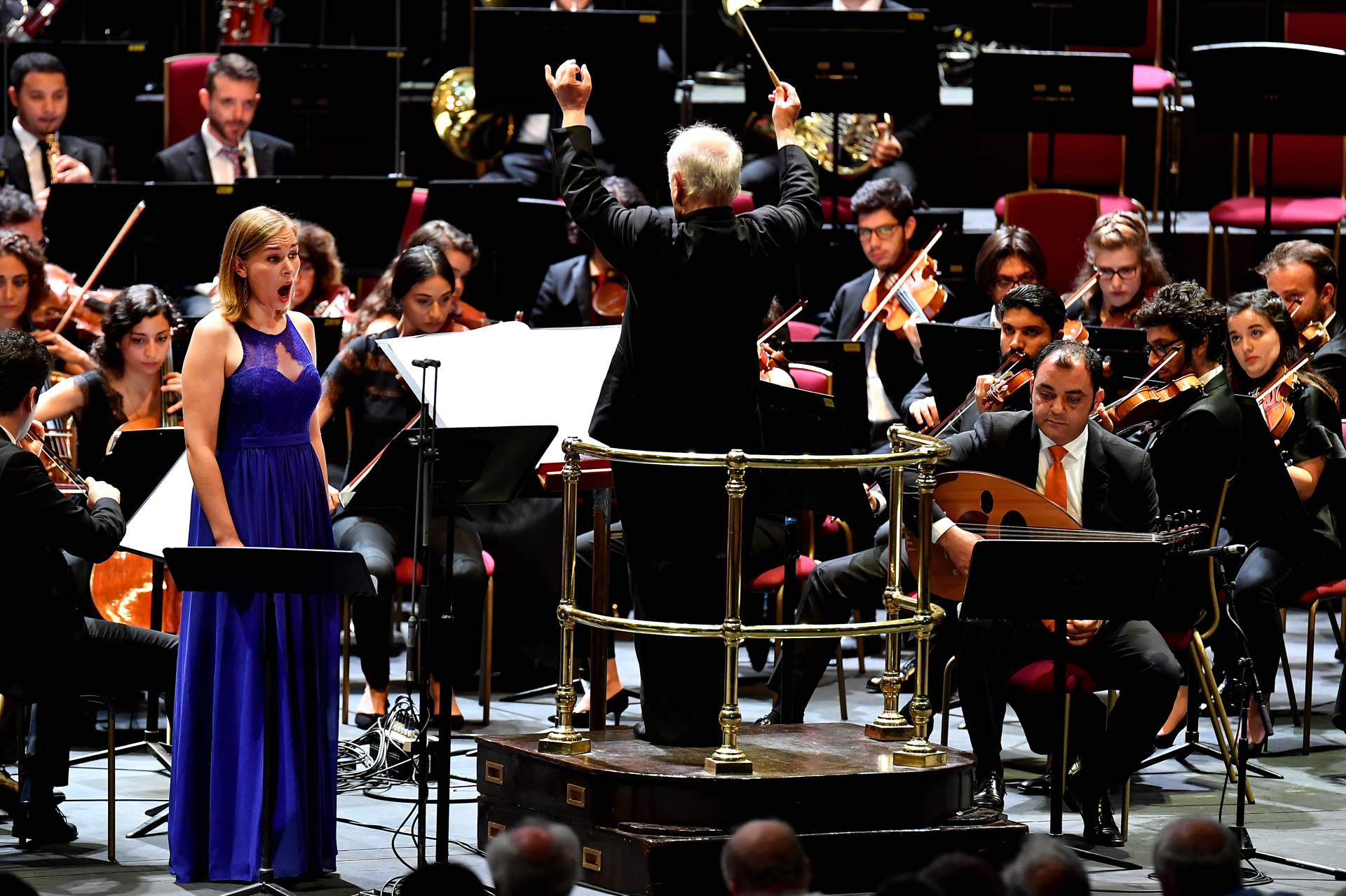 Coleman is clearly too scrupulous a composer to go in for outright Orientalist pastiche ("cultural appropriation", as the stock phrase goes). However, the haunting presence of a solo oud – beautifully played – amid the orchestra hints at a musical world elsewhere. Middle Eastern garnish, perhaps, rather than fusion – but uncannily powerful all the same. Despite many ear-gripping passages, as in the eerie sort of danse macabre that seizes hold of the orchestra towards the climax, the balance of forces felt somehow misplaced. Elsa Dreisig, the excellent soprano (pictured above), sometimes had to struggle against the jagged drama of the orchestra behind her. For all its geopolitical urgency, the piece created a chamber-sized aura of intensity not entirely suited to the RAH. Perhaps this intimate response to global tragedy needs a setting to match.
No such qualms about the Scriabin. The Poem of Ecstasy demands vast forces, a big show and, preferably, a cavernous space. Barenboim marshalled this riot of orchestral colour with utter aplomb. WEDO rolled out the densely-woven magic carpet in all its psychedelic shades. However, Scriabin's druggily perfumed head-trip also insists that individual instruments soemtimes lead the orgy; here, solo violin and trumpet both delighted. A kind of mystic and rhapsodic half-way house between Tristan and Isolde's Liebestod and Ravel's Bolero, the Poem's gigantic swell of musical foreplay brought out the richness, and the coherence, of the WEDO sound. The C-major climax came in a shattering surge, just as it should. Where to go after that Slavic consummation of spirit and flesh? For an English stroll with Nimrod from the Enigma Variations – an encore that serenely reminded us of Barenboim's peerless credentials with Elgar, but hinted at the disruptive passion that flows through this music as well.
The Poem's gigantic swell of musical foreplay brought out the richness of the WEDO sound
rating
Share this article