I'm Not Running, National Theatre review - puzzling political drama |

reviews, news & interviews
I'm Not Running, National Theatre review - puzzling political drama
I'm Not Running, National Theatre review - puzzling political drama
David Hare's latest is set in an alternative reality that is more 2008 than 2018
Wednesday, 10 October 2018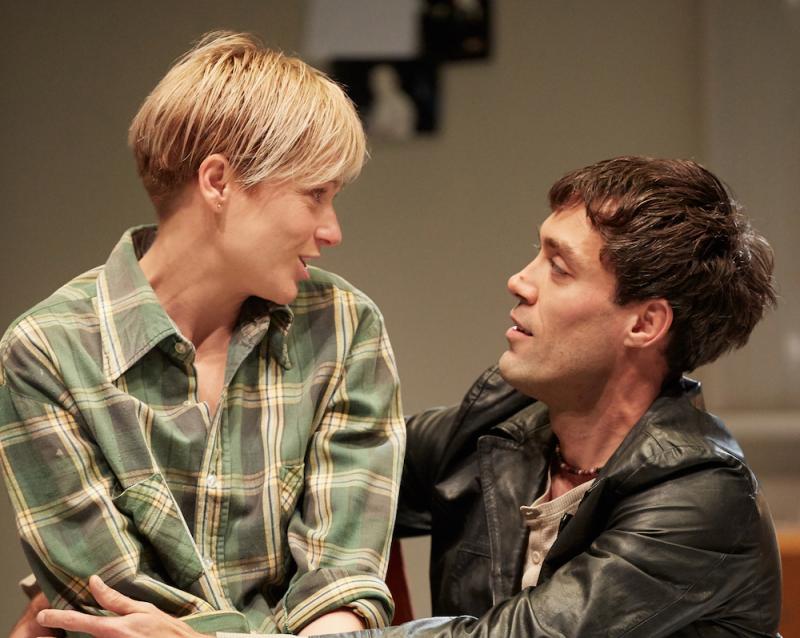 Personal and political: Siân Brooke and Alex Hassell in 'I'm Not Running'.
Whatever you might think about Brexit, the dreaded B word, the current climate certainly seems to be reinvigorating both feminist playwrights and political playwrights. So welcome back, David Hare, the go-to dramatist for any artistic director wanting to stage a contemporary state-of-the-nation play.
His latest, with the rather downbeat title of
I'm Not Running
, opened at the
National Theatre
, but it may be a disappointment to anyone looking for answers to burning current questions because it is more concerned with an imaginary female contender for the Labour leadership than with Brexit, austerity or the country's future. It's a play about the Labour Party which never once mentions Jeremy Corbyn or Momentum — and that takes some doing.
We have been here before. Hare excels in writing political dramas that fictionalise facts and turn them into archetypal situations: his 1993 classic The Absence of War, for example, is about the Labour Party before it was taken in hand by Tony Blair, but its version of the leader is only tangentially based on Neil Kinnock. Then in Gethsemane (2008) he wrote a drama about political ambition that was deliberately not concerned with Gordon Brown. Similarly, his latest is about Labour, but it's a fantasy, an alternative reality if you like, which bears little relationship to the party's current role, and current conflicts. Instead, we find ourselves in Hare world, a place where fact and fiction blend. And where it feels more like 2008 than 2018.
The story offers a rich study in female psychology
Typically, the playwright focuses on a female character, Pauline Gibson, played by Siân Brooke, and the story offers a rich study in female psychology, and the role of women in two of our defining national institutions: the NHS and Labour. Pauline is first shown as medical student in Newcastle in 1997, the year of the Blair landslide, but although she's dating Jack Gould, a young law student and Labour activist modelled slightly on the Milibands (having also a brilliant socialist theorist for a father), she is more concerned with her dying alcoholic mother than with joining any cause. Things change when she starts working as a junior doctor in Corby hospital, especially when one of her patients, Sandy Mynott (another politico), tells her that the hospital faces closure because of a plan to make the NHS more efficient.
The story, which is told in flashbacks as well as moving forwards, sees Pauline teaming up with Sandy to run a campaign to save the hospital. By leading this venture, she comes into conflict with Jack, who is a rising Labour star, but whose views on the NHS are more technocratic (things need to be more efficient) than democratic. When she argues passionately in favour of the right of Corby citizens to have access to their own local hospital, he points out that they would get better medical results if it was closed and they went to bigger, more specialist, institutions in adjacent towns. Galvanised by this experience, Pauline decides to run for parliament as an independent, but how long will she resist the lure of joining Labour?
The trouble with Hare world is that it is not only a place where people feel that it is necessary to explain everything at great length (the play lasts two hours and 40 minutes), but it is also a paradoxical situation in which the main female character is sincere but a bit monotonous, while the main male character is a bastard but charismatic with it. So sprinting Jack gets some of the best lines, despite the fact that Pauline is on stage for the whole marathon. Although it's nice to see Pauline getting the best of Jack, and the men being hysterical for a change, it takes a long time for the main theme of the play to emerge: the search for a woman to lead Labour.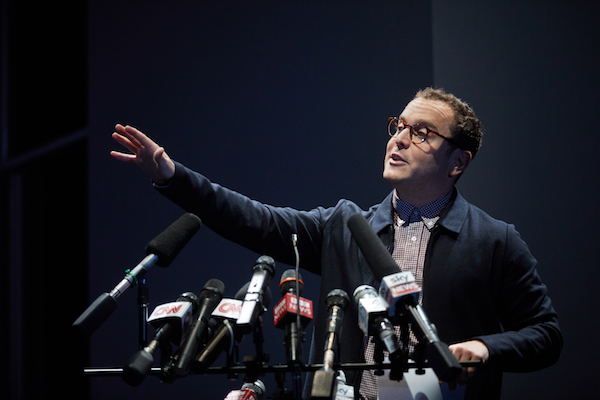 In Hare world politicians don't have mobile phones, or tablets, or social media followers, but they exist in a puzzling vacuum where only a small cast of intimates appear. That said, there is a strong emotional charge to the central relationship of Pauline and Jack, which might remind some of Hare's Skylight (1995) or even Amy's View (1997). What's new this time is how explicitly the playwright relates the political not only to the personal, but to the sexual as well. The most intimate moments of Pauline and Jack's on-and-off relationship (more off than on) are shown to be highly charged with power games, with hate as well as love. These scenes, along with a brilliantly written climactic confrontation in a garden, are the best in the play.
Directed by Neil Armfield on Ralph Myers's simple set, the action is padded out with Jon Driscoll's projected video interviews and a slightly satirical news conference. Brooke does a good job of staying the distance with her character, although at times I felt that her range was rather narrow, especially when compared to Alex Hassell's Jack, who gives the performance of a lifetime, sometimes confident, often anguished, frequently mansplaining and occasionally hysterical. By contrast, Joshua McGuire's Sandy (pictured above) offers an oasis of calm. Amaka Okafor plays a student well, and Liza Sadovy is Pauline's troubled mother. But while the play has lots to say about women in public life, and some good jokes about male self-esteem, it really says nothing about Labour's current malaise. And that's a bit puzzling, isn't it?
We find ourselves in Hare world, a place where fact and fiction blend
rating
Explore topics
Share this article