Upstart Crow, BBC Two review - Shakespeare does Dickens in seasonal tale |

reviews, news & interviews
Upstart Crow, BBC Two review - Shakespeare does Dickens in seasonal tale
Upstart Crow, BBC Two review - Shakespeare does Dickens in seasonal tale
Ben Elton's literary mash-up melds comedy and tragedy
Wednesday, 26 December 2018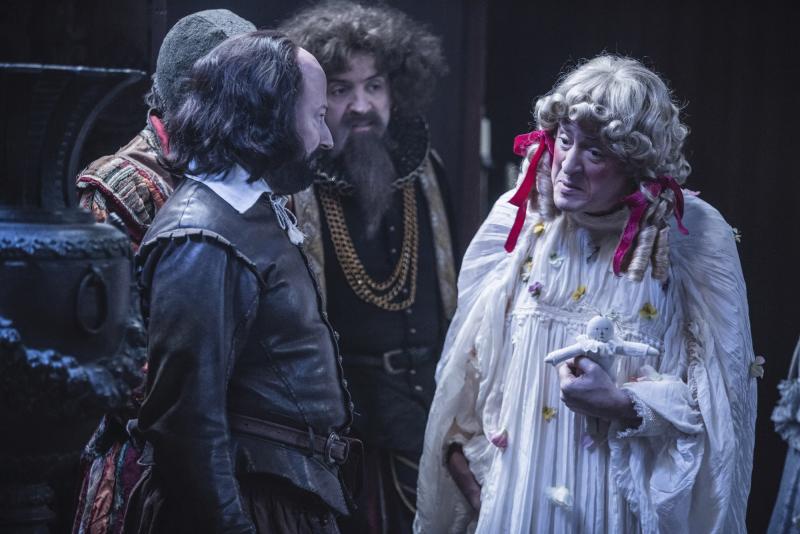 David Mitchell (left) and Dominic Coleman conjure a ghostly apparition
After the heart-breaking ending to the third series earlier this year, which covered the death of William Shakespeare's young son, Hamnet, it was back to the comedy for this seasonal special.
But there was no jarring handbrake turn for writer Ben Elton who, like his hero the Bard, has form in melding tragedy and comedy to great effect. Rather he used that storyline to make a narratively sound segue from loss to laughter; in A Crow Christmas Carol the Shakespeares, feeling unable to celebrate the season at their home in Stratford-upon-Avon, decide to spend the holiday at Will's lodgings in London.
The trip is prompted by Will's encounter with a mysterious stranger (Kenneth Branagh, in one of the show's two star cameos, Lily Cole being the other), who recounts a tale of love and redemption. Will (David Mitchell) is so enamoured of the story that he becomes filled anew with hope in this bleak midwinter and sets out on a mission, to save another soul.
The soul he decides to save is that of his nemesis, Robert Greene (Mark Heap on cracking form as ever), to rescue him from his mean and miserly life and show him the error of his ways as he mistreats one of his servants, Job Scratchit. Scratchit's wife will serve up a sparrow – "a whole sparrow!" – to feed the family, including the crippled Tiny Todge, on Christmas Day.
Will enlists the help of his wife, Anne (Liza Tarbuck), his servant Bottom (Rob Rouse), Kit Marlowe (Tim Downie) and his acting troupe as they plot three midnight visits by ghosts to Greene's bedchamber before Christmas.
It was a jolly wheeze, as Elton gave a spirited 40-minute retelling of Dickens' A Christmas Carol as if it had been written by Shakespeare. As usual he threw in some decent anachronisms – "May I remind you this is a safe-space work environment" as the lecherous Kit overdoes the charm with the ladies – and tongue-twisting neologisms such as "linguistical poncing toggling" that really sound as if Shakespeare had invented them.
Elton threw in nicely judged shots at actorly egos and virtue signalling – "I do so much for charity" – a writer's ownership of his or her work, and literary oneupmanship. Will decided against turning the stranger's story into a play because of its lack of baffling minor characters and bewildering subplots, not to mention any crossdressing...
Deft as he is with Shakespeare gags and wordplay, Elton appeared less sure with Dickens, but this was still a lot of fun. There were some touching moments among the broad humour, and under Richard Boden's direction the story didn't overstay its welcome in a longer slot.