Jill Abramson: Merchants of Truth review - news in the age of digital disruption |

reviews, news & interviews
Jill Abramson: Merchants of Truth review - news in the age of digital disruption
Jill Abramson: Merchants of Truth review - news in the age of digital disruption
A former New York Times editor on newspapers' struggle for survival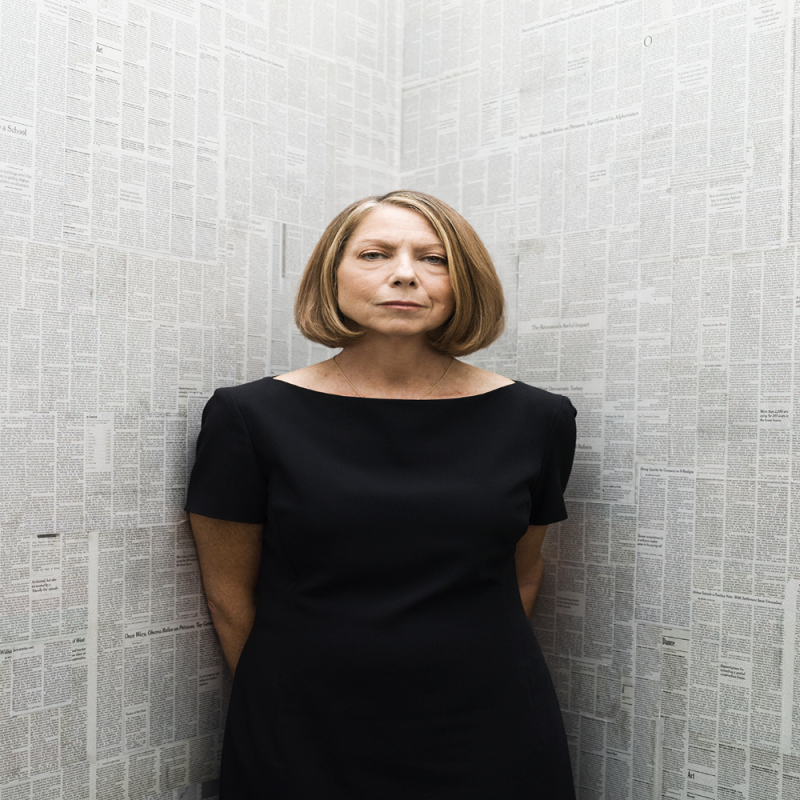 Jill Abramson: a view from the bridge
It's more than a little ironic when journalists who grew up in the upstart world of digital media, with all its mash-ups, plagiarism and (yes) theft, accuse a print journalist with a distinguished career of playing fast and loose with her attribution of quotes in a book that takes an in-depth look "Inside the News Revolution".
Jill Abramson, who spent nine years on the Wall Street Journal and 17 on the New York Times, latterly as Executive Editor, has agreed to review the published text against her notes, admitting that she "fell short" in the attribution of certain quotes and passages. She's far from the first author to find herself in the dock - Princess Michael tripped up over Crowned In a Far Country, her 1986 outing about her royal antecedents. Abramson's is a long and dense book, around 150,000 words (there are moments when it felt like a little judicious editing would not have gone amiss, though maybe that's only because the proof shrinks the size and makes it a physically tiring read) and while she hasn't blamed anyone for the alleged snafus, she has alluded to using researchers which must inevitably distance her from original material and make such problems more likely. Still, her name is on the cover and, just as newspaper editors must take responsibility for whether the news is fit to print or not, she must take responsibility for her book.
Be that as it may, Merchants of Truth is a fascinating read, the story of the last 20-odd years in news reporting during which time established and trusted newspapers - local, regional, national - found their very existence threatened by aggregators such as The Drudge Report (which broke the Monica Lewinsky story), Huffington Post, Vice and BuzzFeed. Abramson focuses on Vice and BuzzFeed and two of the world's most respected newspapers, the Washington Post and (of course) the New York Times, writing what is a sort-of sequel to David Halberstam's The Powers That Be (1979), which examined the history and role of the Post, the Los Angeles Times, CBS News and Time Inc. If he was writing at what she describes as "the moment of journalism's zenith", Abramson herself is writing at something approaching its nadir, although both the Post and the NYT have won their struggles for survival, thanks to brutal cost-cutting and the deep pockets of Jeff Bezos (who acquired the Post in 2013) and Carlos Slim, the Mexican business magnate and philanthropist who, in 2007, loaned the Times $250m.
Both newspapers - in common with other news organisations - failed to spot the danger posed by the digital revolution, which enabled kids such as Jonah Peretti of BuzzFeed and Shane Smith of Vice to disrupt beyond their wildest imaginings, getting filthy rich in the process. Neither man set out to engage in real journalism - the former was all about cutesie kittens and puppies, the latter a down-and-dirty lads mag impossible in our #MeToo age - yet both became news aggregators who would go on to launch their own news teams. Obsessed with "viral growth curves" and "mega-vi", they introduced such things as "listicles", "scooplets", quizzes and snack-sized stories alongside "native ads" that went viral and blurred the lines between business and editorial, seriously undermining the ecosystem on which print newspapers depended for survival. Peretti, who had "shaped the technological architecture" of HuffPo, declared that he liked "working in morally ambiguous spaces." It's a strange twist of fate that has seen 2,200 jobs cut from those companies in the week that Abramson's book is published and most print journalists will have greeted the news with a sense of schadenfreude.
Peretti in particular watched Facebook like a hawk and the Post's Don Graham offered the then 20-year-old Mark Zuckerberg $6m for a 10 percent stake in his fledgling company. The Harvard dropout accepted twice that in venture capital. History could have been so different: the Washington Post would still be a family business and Facebook's malign tendencies would have been kept in check. In such an alternative scenario, Trump would not have been elected and Brexit would have remained Nigel Farage's wet dream.
As things turned out, the so-called Trump bounce has provided a great fillip to the Post and the Times. Abramson describes in forensic detail the battles for survival that led the Gray Lady to this point. The wall between business and editorial is no longer totally impermeable but the paper appears to have found a workable digital strategy and remains "a beacon of truth and a fierce defender of facts".
In local and regional newspapers in America, and beyond, the digital disruption has proved devastating, newspapers stuffed with advertorial but deprived of the journalists whose investigative stories keep local government accountable. When there's no one to sit in on council meetings, tragedies such as Grenfell are inevitable.
Merchants of Truth: Inside the News Revolution by Jill Abramson (Bodley Head, £25)
It's a strange twist of fate that has seen 2,200 jobs cut from those companies in the week that Abramson's book is published and most print journalists will have greeted the news with a sense of schadenfreude
rating
Explore topics
Share this article