Medea, Internationaal Theater Amsterdam, Barbican review - lacerating contemporary tragedy |

reviews, news & interviews
Medea, Internationaal Theater Amsterdam, Barbican review - lacerating contemporary tragedy
Medea, Internationaal Theater Amsterdam, Barbican review - lacerating contemporary tragedy
Simon Stone's homage to Euripides is faultless, while Marieke Heebink tears at the soul
Aus Greidanus Jr's Lucas tries to reason with Marieke Heebink's Anna
Hallucinatory theatre has struck quite a few times in the Barbican's international seasons.
On an epic scale we've had the
Shakespeare
compendiums
Kings of War
and
Roman Tragedies
from Toneelgroep
Amsterdam
, newly merged with the city's Stadsschouwburg to form this present company. Most concentrated in intensity of vision, in my experience, have been director/playwright Simon Stone's Belvoir Theatre Sydney adaptation of Ibsen's
The Wild Duck
, and now his Dutch
Medea
for our times. They almost make a diptych, with the same hermetic acting space - this time white and open, not black and glassed in - an updating that manages to be both poetic and colloquial, tragic and funny (in the early stages, at least) and utterly plausible texts for a great team of actors. The man is a genius.
So too, in her sphere, is Marieke Heebink, a Medea for our times in the formidable shape of Doctor Anna, who has certain correspondences in her blurring of fantasy and reality with the character Heebink played in Ivo van Hove's stage version of Bergman's Persona. Both on stage and in close-up on a big screen above the naked white space of Bob Cousins' set, blindingly lit by Bernie van Velzen, she makes us feel the supercharged vitality of the character from the start, grinningly trying to persuade her estranged husband Lucas (Aus Greidanus Jr) to forgive her for a past crime against him and to start a new life again with their two sons.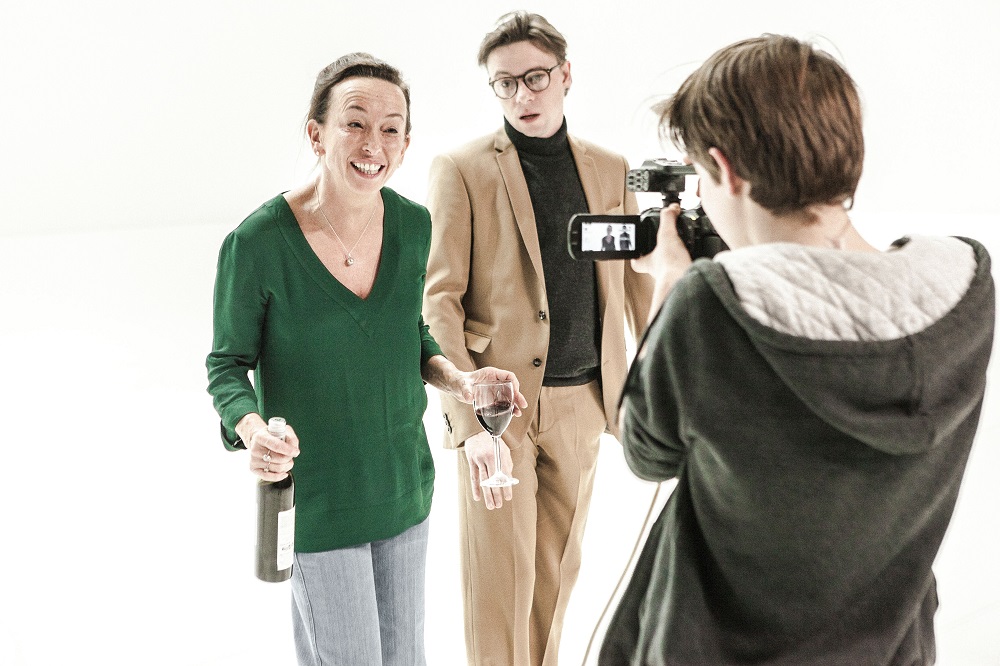 Although she's supposed to be calmer from a cocktail of drugs, we see the hyper-creative end of the bipolar scale with which she initiates games with their two sons (Heebink and Greidanus Jr pictured above posing for one of the boys' video diary); we know the calms in between are deadly, we feel for much of her predicament, but we know from Euripides, whose outlines are Stone's model, what's to come. A sense of dread, never far from the surface, begins to build as a shower of black ash starts falling on the white stage at the two-thirds mark. It's a powerful symbol that needs great acting to carry it, and gets it.
Nothing can prepare you for the delivery of the denouement. Let's just say that Stone, best known here for his version of Yerma with Billie Piper, respects the Greek tragic device of the messenger's speech describing horrors we don't see, and gives it to his protagonist. Heebink spellbinds with her handling of the surgically precise text. Though there was an instant standing ovation from many in the audience, the rest of us sat there too numb to move.
Yet this is not just a star turn with satellites. The sons, ordinary teenagers caught up in a family rift they don't entirely understand, have voices here (presumably the children in Euripides, who speak only to cry out against their inevitable murder, are younger). Faas Jonkers' Edgar and Poema Kitseroo's Gijs are full of the adolescent vitality and moodiness writ large in their mother; we believe in them. As we do in the equivalent of Jason's young bride Glauce, Eva Heijnen's Clara, who evinces some sympathy and shows some spirit but is ultimately manipulated by her father Christoper, head of the drug company (Leon Voorberg), the contemporary version of Glauce's regal father Creon.
In Euripides, Jason contracts the royal marriage out of pure ambition. He's a shit, nothing more. But Stone has more interesting things to say about Lucas. Originally Anna's lab assistant, he has risen through the ranks with the help of the supremely talented professional who became his wife. He doesn't seem to be a bad man, just a weak one, or rather a mere mortal alongside the force of nature that is this Medea figure. Greidanus Jr manages to surprise us with the anger and terror that break out in him. There's a sympathetic cameo from Fred Goessens as Herbert, the eccentric who's helping Anna with rehabilitation, and a more faceless one from Jip Smit as counsellor Marie-Louise. But everyone plays a crucial role, and everything works.
As in The Wild Duck, Stone manages not to seem at all small alongside his powerful source. We've had adaptations of Greek tragedy either frankly ludicrous – Martin Crimp's clunking travesty of Sophocles' Trachiniae as the appalling Cruel and Tender – or just falling short of credibility, as in Robert Icke's failure to make plausible in a contemporary context Agamemnon's sacrifice of his daughter Iphigenia in the often magnificent Almeida Oresteia. The Almeida's modern Medea simply didn't work, and I've forgotten it already. This is surely branded on the soul. Stone gives clever reference points to the myths: Lukas battles with monsters in his sleep, Herbert gives Anna a copy of Ovid's Metamorphoses and when she reacts with horror to the rape of Philomela, tells her these things happen in real life. They do indeed; outlines of Stone's action correspond to a real-life revenge tragedy, the case of Dr Debora Green (and only today you can read of the Claire Colebourn case). But this transcends the local anecdote and tells us as much as anyone can take in a single sitting about the human condition at its most extreme. A masterpiece.