Yerma, Young Vic |

reviews, news & interviews
Yerma, Young Vic
Yerma, Young Vic
Lorca rewrite places Billie Piper among her generation's very best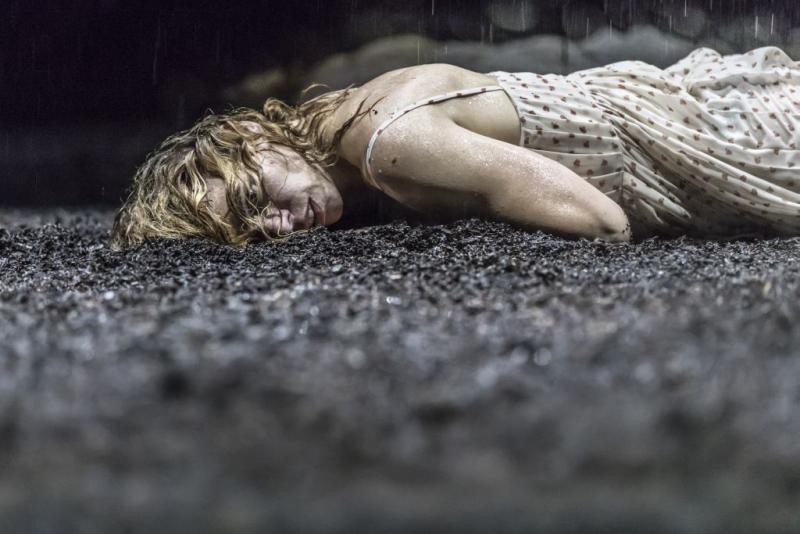 Bravura Billie: Billie Piper as Her in Simon Stone's rewrite of 'Yerma'
Billie Piper vaults to the top rank of British theatre actresses with Yerma, Australian writer-director Simon Stone's rabidly free rewrite of Lorca's 1934 play that posits its young star as the sort of take-no-prisoners talent whose gifts come not from drama school but from something gloriously unfettered and astonishingly free.
Billed as "after Lorca", Stone quickly leaves behind his Spanish source to construct a modern-day story about a psyche in freefall that takes a marriage with it, the occasional directorial modishness soon giving itself over to an unsparing portrait of individual madness that compels and exhausts even as it excites: heaven only knows how Piper delivers this performance with such abandon night after night, but one has the feeling that this address won't be its final resting point.
Newcomers to Stone's work – and I for one regret missing his much-vaunted Wild Duck at the Barbican two years ago – will note an affinity at once to such recent Vic alums as Ivo van Hove and Benedict Andrews, all of whom share an interest in the classical canon as a way of releasing these texts into the here and now. (Robert Icke, who was in attendance at the Yerma press night, is another.)
So it is that an evening taken without an interval references Kurt Cobain and Brexit, Al Gore and Gore Vidal, while anatomising what happens when obsession turns to self-destruction, taking the known and cherished world with it.
And while the self-enclosed playing space may itself seem a cliche of sorts – we've clocked the concept of people-as-specimens often before – it has the net effect of presenting the characters as if they existed in some way in vitro. That itself corresponds to a narrative propelled by the desire of Piper's gnomically named Her to have a child and the catastrophe that ensues when one's soul is given over to an objective that in every way goes sour.
It doesn't help, of course, that Her's sister, Mary (Charlotte Randle, pictured with Piper above), has a knack for pregnancy that in context seems cruel and that her none-too-maternal mum (the splendid Maureen Beattie) is the sort of parent with whom one has to schedule a hug. The crunch comes when Her's greatest ally, her ever-itinerant husband John (Brendan Cowell, pictured below with Piper), ceases to remain on side, his climactic "I'm not a fucking cow; you can't just fucking milk me" one of numerous moments that pull an attentive audience up short.
Logicians in the house may question why Her doesn't simply adopt – the prospect is mooted and then quickly dismissed – not to mention why, in the Britain of 2016 with its infinite life choices, she allows herself to be so readily identified by the act of child-bearing. But those questions miss the point of a play fully acquainted with those realms that exist beyond the rational: if parents can love a child beyond all reason, so, surely, can one or another mourn to the limit the absence of that same presence in their lives.
I wasn't sure at first about the piecemeal strategy of Stone's stagecraft, which apportions Her's story into chapters that come separated by musical scene changes, of which a sonic burst of Vivaldi turns out to be the most devastating. But one begins to feel over time as if Her's fragmented self is mirrored in an approach that allows designer Lizzie Clachan to effect breathless changes of set on an order not seen since Love and Information at the Royal Court. The stagehands must be the speediest in town.
The acting has its own quicksilver brilliance, an increasingly cornered Cowell functioning in regard to Piper in much the way that Owen Teale did some years back opposite Janet McTeer's celebrated Nora in A Doll's House: a performance possessed of the same vivid abandon the open-faced Piper displays here. Acting seemingly on instinct but clearly also with great control, Piper communicates at every turn the irony of a play in which the quest for life leads with irrevocable power towards death.