Yerma, Gate Theatre |

reviews, news & interviews
Yerma, Gate Theatre
Yerma, Gate Theatre
Radical reworking of Lorca's work strays too far from home
Saturday, 12 November 2011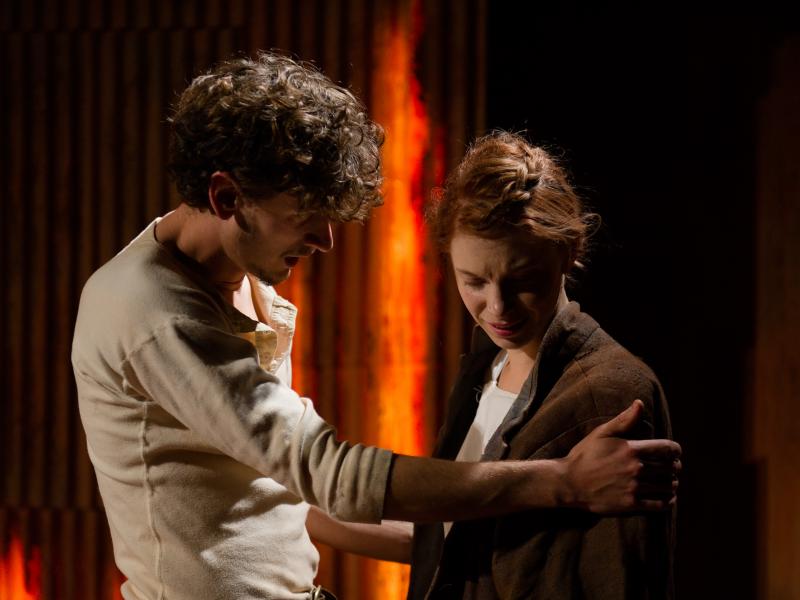 Hasan Dixon and Ty Glaser in Anthony Weigh's new version of 'Yerma'
If you didn't know Frederico García Lorca's Yerma before this show, you probably wouldn't be any better informed after watching Natalie Abrahami's engaging but flawed production. In "a new version by Anthony Weigh", as it says on the programme cover, a backstory of the childless couple Yerma and Juan is interpolated in the Spanish playwright's 1934 "Tragic Poem in Three Acts and Six Scenes" and its chorus has been excised in a much-reduced cast.
In fact the version by Weigh (who has just been appointed associate artist at the Donmar Warehouse in London under new artistic director Josie Rourke) is so radical a reworking of Lorca that it would be more accurate to describe it as inspired by the original. Where Lorca's play was a contentious study of the influence of the Catholic Church in Spanish life and the imprisoning effects of conventional morality – indeed such dangerous thoughts are considered to have contributed to his murder by anti-communist death squads during the Spanish Civil War in 1936 – Weigh and Abrahami have chosen to concentrate on psychological drama rather than political.
The stream, a pivotal Lorca metaphor, here becomes the irrigation ditch
Yerma (Ty Glaser) is a 15-year-old bride and her new husband, Juan (Hasan Dixon), is not much older. They start out married life without a pot to piss in but as the years go by, Juan, a hardworking sheep farmer, is able to buy more furniture for the house; he has no need, however, to buy a crib. We see him turning away from his wife in bed – when he's there, for his sheep seem to need an awful lot of tending during the night – but he accuses her of being barren, an unnatural state regarded as a curse upon their house and any other Yerma enters.
Over time, Yerma becomes obsessed by her barrenness, which is not made any easier by the cruel remarks "they" in the village (the chorus, as was) make about her childlessness and the fact that her neighbour Maria (the superb Alison O'Donnell, who gets every ounce of comedy out of her role) pops out a baby each year.
Then when Yerma consults local witch-cum-healer Dolores (an effective Sharon Duncan-Brewster), who instructs her in pagan fertility rites, another possible reason for the lack of babies becomes apparent. Victor (Ross Anderson), the local butcher from whom Yerma buys meat every day, is keen to drop by her house for no particular reason. The contrast between the red-blooded Victor and the whip-thin Juan, who feeds his orphan lambs from a bottle, could not be more apparent – but why do these boyhood friends now barely speak?
Ruth Sutcliffe's pleasing and effective design, rusted corrugated iron walls and terracotta-coloured sand floor, neatly suggests rural Spain, even if the production (a joint venture between the Gate and Hull Truck Theatre) doesn't, while Weigh's language is hardly poetic – the stream, a pivotal Lorca metaphor, here becomes "the irrigation ditch". But in stripping the play of its historical and geographical context, Abrahami and Weigh struggle to convey Yerma's inner turmoil as we move towards her final, fatal confrontation with Juan.
Yerma is at the Gate Theatre, London W11 until 17 December
We see Juan turning away from his wife in bed – when he's there, for his sheep seem to need an awful lot of tending during the night
rating
Explore topics
Share this article