Blood Knot, Orange Tree Theatre review - defining apartheid-era drama delivers afresh |

reviews, news & interviews
Blood Knot, Orange Tree Theatre review - defining apartheid-era drama delivers afresh
Blood Knot, Orange Tree Theatre review - defining apartheid-era drama delivers afresh
Athol Fugard's seminal 1961 play hasn't lost its potency
Oh, brother: Kalungi Ssebandeke and Nathan McMullen in 'Blood Knot'
London's impromptu mini-season devoted to the work of Athol Fugard picks up real steam with Blood Knot, Matthew Xia's transfixing take on one of the benchmark titles of the apartheid era and beyond.
I first encountered this play during its Tony-nominated Broadway engagement in 1985, in which Fugard and his great South African friend and colleague, Zakes Mokae, returned to roles they had originated in
Johannesburg
in 1961. Now 86, Fugard continues to proffer a theatrical call to conscience which Xia and his exemplary collaborators at the
Orange Tree Theatre
understand to their core. And if the play remains overwritten in parts, that, too, goes with the territory: the pared-down Fugard of
"Master Harold"...and the Boys
(the Fugard title which
Blood Knot
largely anticipates) was still to come.
The situation couldn't be simpler, the emotions it unleashes more complex. In a shack in a corner of Port Elizabeth known for the presence of donkeys and an abiding stench live two coloured half-brothers. Morrie (Nathan McMullen) is the lighter-skinned, literate one of the two: an intense, compactly built figure who tends to the cooking and reads passages of scripture aloud. Hesitant in his own skin, he couldn't contrast more strongly with the dark-skinned Zacharias (Kalungi Ssebandeke), or Zach, a springy, electric presence who lives in the body as fully as Morris lives in the mind.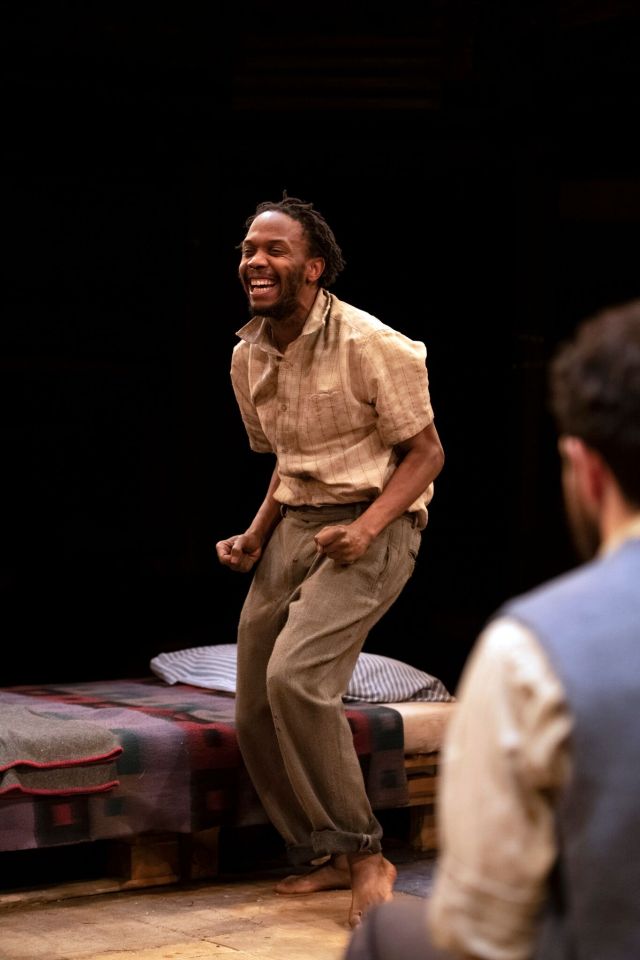 So it's not altogether surprising when Morrie abets Zach's desire for female companionship by penning replies on Zach's behalf to various women advertising in the local paper for pen pals. And when one of these prospects, Ethel, actually comes back with a written response and photo, the inevitable fact of her white skin, and its attendant privilege, bumps up against the brothers' hardscrabble reality in a narrative rife with game-playing that builds to its deeply serious, eternally wounding conclusion.
For a while, Fugard finds real comedy in the incongruousness of the situation, and the wonderful Ssebandeke, in a career-making performance, all but quivers with anticipation at the female delights that lie by definition out of reach. But it isn't long before one is aware of Zach needling Morrie about a lack of sexual awareness in his feverishly animated, brainier brother that may be indicative of something else. And as the pair, Godot-like, embark upon a series of play-acting scenarios intended largely to while away the time, their symbiosis threatens to be rent asunder by the penetrating toxicity of a racist culture that leaves no one free from its malignant grip. Not for nothing is the Bible regularly invoked.
Xia's direction shows here the same gift for tightening the noose that he brought to his excellent Young Vic reappraisal of Blue/Orange several years ago, and one only wishes the scene changes were a tad less fussy (the ambient music doesn't add much); nor do either of the two acts land as decisively in their closing moments as the galvanic material that precedes them. But the production as a whole has a momentum missing from the comparatively stolid revival of Fugard's later, and also-great, A Lesson from Aloes, that has been playing at the Finborough across town. Its young actors, too, are fully attuned to its trembling heart.
Morrie, the less obviously rewarding of the two roles, nonetheless exists on a spectrum of self-loathing common to the fairer-skinned, or white, characters that populate Fugard's work. McMullen keenly captures an agile mind at odds with itself and yearning for a fresh start (the brothers are saving up for a farm), even as the harsh reality of his present is beginning to do him in. "Say something to help me," Morrie says tellingly late on to Zach, the brother whom he has been busy helping only for Morrie to be found in need of succour himself. Ssebandeke's entirely riveting Zach, meanwhile, lets words like "prejudice" and "inhumanity" linger on the tongue rather like alien entities to which he is becoming accustomed – until such point as their stinging force hits quite literally home.
Blood Knot at Orange Tree Theatre to 20 April
The penetrating toxicity of a racist culture leaves no one free from its malignant grip
rating
Explore topics
Share this article