Pigs Pigs Pigs Pigs Pigs Pigs Pigs, Hare and Hounds, Birmingham review – Matt Baty's crew make ears ring like church bells |

reviews, news & interviews
Pigs Pigs Pigs Pigs Pigs Pigs Pigs, Hare and Hounds, Birmingham review – Matt Baty's crew make ears ring like church bells
Pigs Pigs Pigs Pigs Pigs Pigs Pigs, Hare and Hounds, Birmingham review – Matt Baty's crew make ears ring like church bells
Geordie noisemongers unleash psychedelic tsunami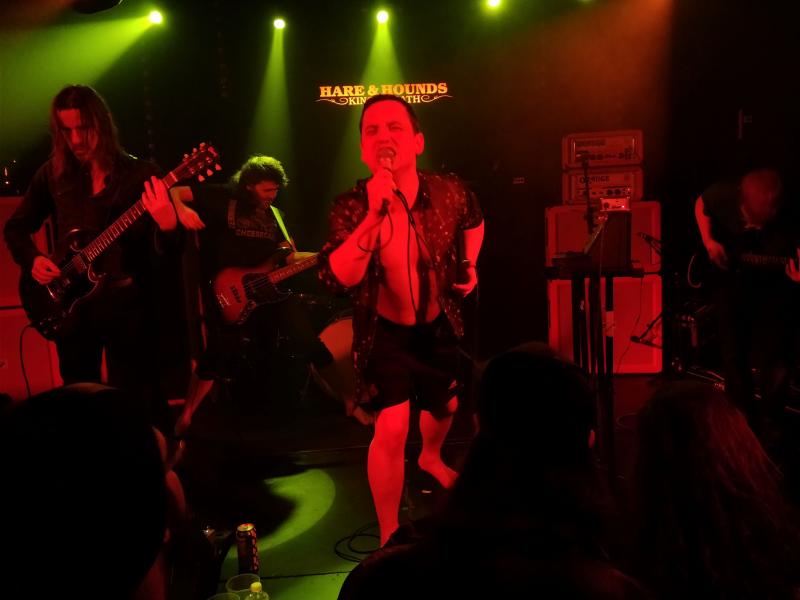 This little piggy makes an almighty noise
Support bands rarely get a mention in live reviews but Pigs Pigs Pigs Pigs Pigs Pigs Pigs' opening act for their present jaunt around the UK, Cattle are no bog-standard fare, designed to make the headliners look good.
Comprising two drummers, screaming
electronics
, bass and howled vocals, they brought an apocalyptic sound that had much of the audience pummelled into submission well before their set was finished.
There was certainly no way to ignore them as distortion and extreme volume swept all away with a sonic artillery barrage and a singer throwing himself around in a frenzy throughout a muscular set that had ears ringing before the headliners had even got on stage. That said, Pigs Pigs Pigs... are themselves no sensitive acoustic troubadours. With a sound that takes the depth of early Black Sabbath and the swing of classic Motorhead while whipping the crowd into a riotous fever, they are a band that make a righteous noise indeed.
Volume and exuberance are all that's needed to re-energise the soul
Opening with "GNT" from their latest King of Cowards album, Pigs etc laid down monolithic slabs of noise from the off which had the crowd pushing towards the stage and immersing themselves in the waves of distorted and primal sound. This was soon followed by "Shockmaster" with its relentless riffing and a new song, which seems to be lacking a title for the time-being but did include a short bass solo, which allowed the rest of the band to indulge in some liquid refreshment before getting back to the task in hand.
The Pigs may be heavy but they are not with a sense of humour, and this was a gig that had singer Matt Baty yelling song words that had been hastily inked onto a pitta bread, making snarky comments about the Brexit debacle and threatening to cover local lads UB40's "Red Red Wine" before the end of the show – "But the lyrics are so boring!". Instead, we got "Sweet Relief" from the band's Feed the Rats album and the audience finally went bonkers, with young and old, male and female moshing and thrashing around like no-one's business. And they didn't let up as the band put the pedal to the metal with a stirring "Cake of Light" and the more moody "Gloamer".
As the room temperature skyrocketed, Baty was soon left in just a pair of shorts, as he indulged in some kind of metal yoga while the rest of the band laid down a wild and forceful groove for the glorious set finisher, "A66". "What's this lesson to learn?" he howled through the tsunami of heavy psychedelia as all went off around him in a cloud of smoke and condensation. Well if there was a lesson to learn this evening, it's that volume and exuberance are all that's needed to re-energise the soul and usher in the weekend after five days of doing the boss's bidding – and anyone can relate to that.
The audience went bonkers, with young and old, male and female moshing and thrashing around
rating
Explore topics
Share this article