Other People's Money, Southwark Playhouse review - onetime Off Broadway hit retains its sting |

reviews, news & interviews
Other People's Money, Southwark Playhouse review - onetime Off Broadway hit retains its sting
Other People's Money, Southwark Playhouse review - onetime Off Broadway hit retains its sting
Greed is good or at least entertaining in feisty Off West End revival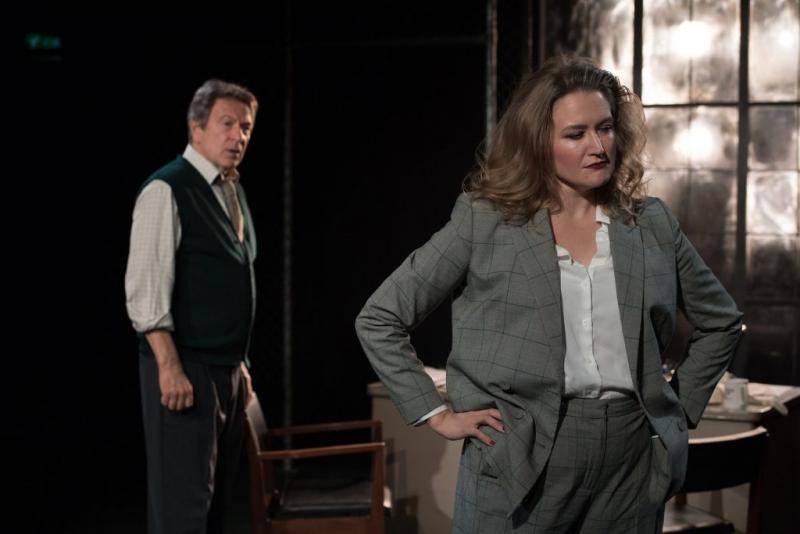 Bygone days: Michael Brandon and Amy Burke in 'Other People's Money'
Deft and funny and nicely cast, what's not to like about Other People's Money, the era-defining Jerry Sterner play in revival at Southwark Playhouse? The play's 1989 premiere Off Broadway allowed for a contemporary skewering of the roaring, rapacious, uncaring 1980s.
Now it's a period piece, where Amy Burke, playing a pumped-up and pugnacious
Manhattan
lawyer, sports a swishing pale-grey pantsuit that would have done Paul Smith proud: her hair is as big as her ego.
Under Katharine Farmer's direction, the stage is framed by offices at either end, two worlds apart. One desk belongs to Andrew Jorgensen (Michael Brandon), chief proprietor of the Wire and Cable Company of New England, an old-style Rhode Island firm that employs 250 and is doing very nicely. Contributing to the atmosphere are cluttered papers, an old dial telephone, and smoke hanging in the air, while Brandon's "Jorgy", as the character is called, channels Gregory Peck: he's all upright integrity as was Peck, who took this role in the 1991 film. The other workplace is the New York lair of Lawrence Garfinkle, aka "Larry the Liquidator", who munches companies like donuts. He's played by Rob Locke (pictured below) in a swelling pinstriped suit with plenty of sweat creases. Larry's desk comes in imperial black, gleaming like his shoes, with pen set and padded leather throne to match and, on the wall behind, an abstract painting that gives off an imperiousness all its own.
Other People's Money is the story of Wall Street meeting Main Street and swallowing it whole: of '80s moneymen ripping up small-town America. Jorgy is the silver-haired boss determined in his rolled-up sleeves to keep his staff in good old-fashioned work; Garfinkle (Danny DeVito's screen role) is a callous raider in a stretch limo, his mind only on the millions to be made by asset-stripping the company's carcass. As this matter-of-fact Satan, Locke gets to be both tempter and confessor, at once smirking and knowing. "I'm not going away," he declares. "I adapt." These days he'd be sailing around with Russians on a super yacht building skyscrapers in the Green Belt or fracking in the Cotswolds.
As battle is joined, Jorgy reaches for support from the doughty Bea Sullivan (Lin Blakley, Pam Coker in EastEnders, punchy and delicious to watch), with Burke on hand as her fast and furious legal eagle daughter. Mark Rose plays the twitchy company sidekick, forever watching his chances. The passing of the years has brought dramatic irony aplenty: at the time the play debuted, the World Wide Web was yet in its infancy and Facebook and Twitter as yet unknown. The yen, not the renminbi, was the new currency rival, and Brandon, for his part, had barely finished playing a New York cop in that oh-so-'80s series Dempsey and Makepeace. Garfinkle aims several Donald Trump-style boardroom passes at Kate so crude that he would be ostracised within minutes in the #MeToo era. The production fittingly uses the 1979 recording of "Money", by the Flying Lizards, as its background tune.
After a roaring first act laced with wicked one-liners, Sterner's script flags fractionally in the second half; the family drama becomes a bit of a distraction and the set piece speeches need some spicing up. But the whole makes for a thoroughly entertaining evening: a lively snapshot of a greedy decade that asks how its values echo in our own.