Bob Dylan Special - Rolling Thunder Revue, Netflix |

reviews, news & interviews
Bob Dylan Special - Rolling Thunder Revue, Netflix
Bob Dylan Special - Rolling Thunder Revue, Netflix
Martin Scorsese reexamines the legendary 1975 tour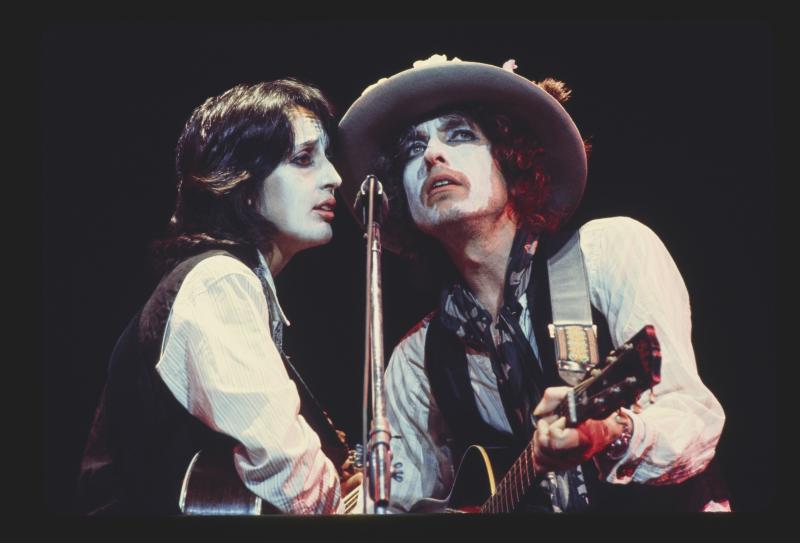 Duo in white-face: Baez, Dylan
Tomorrow, Martin Scorsese delivers, via Netflix, two hours and 22 minutes of screen time devoted to Bob Dylan's Rolling Thunder Revue, following on from the release last week of the latest Bootleg Series boxed set, 14 CDs covering five
full concerts from November and December 1975, as well as rehearsals and sundry soundboard cuts from other shows. Casual fans may be content with the excellent 2 CD
Rolling Thunder
set issued back in the Noughties; collectors, however, will be clearing shelf room to set it alongside the rest of an increasingly cyclopean Bootleg Series. The rehearsals, especially, contain treasures – the likes of "People Get Ready", a radically rewritten "If You See Her, Say Hello" and the heart-stoppingly beautiful Irish ballad, "Easy and Slow".
Signing a non-disclosure agreement a week before release in the lounge of a private screening room at Soho House, I'm advised that the movie Scorsese has delivered is a "fever dream", which suggests unreliable narratives and narrators – even if the story it tells is true.
There will be many discussions ahead over the truths and untruths embedded in The Rolling Thunder Revue: A Bob Dylan Story. It's a different beast from No Direction Home, in that it is not telling it straight, but setting off on crooked paths through a hall of mirrors peopled by singers in masks, and talking heads who are not who they say are. As it plays with reality, memory and perception, it achieves something of what Dylan tried and failed to do with Renaldo & Clara – to unfold home truths about identity, time and projection.
One of the film's talking heads is a performance artist named Martin Von Haselberg, who purports to have been chief film-maker on Rolling Thunder. He also happens to be Bette Midler's husband of 34 years, and ten years before they married she was offered a place on the Revue as it brewed in the folk clubs of New York. She never made it on board, but Von Haselberg does, or at least on its ghost ship. Elsewhere, actor Michael Murphy plays a "senator friend" of Jimmy Carter's who crosses the Revue's path at Niagara Falls; the CEO of Paramount Pictures Jim Gianopulos plays Rolling Thunder's promoter, and most deliciously and slyly, Sharon Stone weaves an entire fiction about going to one of the concerts with her mom in a Kiss T-shirt, a local teen beauty queen Dylan takes back stage and asks to join the tour. Is this mischievously toying with some retrospective #MeToo moment, wishful thinking on Dylan's part – or Stone's?
At the start of this fever dream, Dylan says: "When somebody's wearing a mask, he's going to tell the truth." Well, the mask never slips, but it changes shape a lot, and so do the truths. Dylan wore white-face throughout the tour; he got that from Scarlet Rivera, who got it from her make-up kit and a focused personal philosophy. He did not, as he suggests in the movie, pick it up from Gene Simmons of Kiss, who happened to be dating Rivera at the time. So why does he say that? In her correspondence with me, Rivera is certain: "It was purely from my own creativity and inner state of being, which inspired Bob and everyone else on the tour to copy, and I would say only Bob knew the symbolism of the white-face he painted." She does, however, admit, as Dylan asserts, to touring with a 13th-century sword and dagger.
As for Rolling Thunder's place in cultural history, it's been dubbed "Dylan's wildest tour", a reversal of 1970s rock's trajectory towards stadia and bombast, a rejuvenation of the "gypsy spirit" of the early 1960s folk scene that helped to mould Dylan, a medicine show for the self-medicating, and a controlled experiment in chaos. The Dylan of today who looks back at those times – squinting as if through a fog of amphetamines, pearls and a million stage lights – keeps the same face in the retrospective interviews, but not necessarily a straight face – more a mixture of tall tale and tell-tale. It's great to watch.
There were plenty of old faces to spot staring through the windows of the bus as it rolled out of the Village down to Plymouth, Mass, first landing of the Pilgrim Fathers, in the 200th anniversary year of America's founding. Here, the film offers up the grainy contexts of Nixon, Vietnam, the Bicentennial and the rust settling in across America's industrial heartlands – the depressed smaller towns like Plymouth that Rolling Thunder would play to. Between that first date and the last of the Revue's first leg, at a Madison Square Garden benefit for the imprisoned boxer "Hurricane" Carter, Dylan played some of the greatest concerts of his career, to some of his smallest houses. The shape-shifting, elasticated strength of the sprawling band of players, Dylan's astonishing power of delivery, his playing with masks, face paint and dynamic on-stage hand gestures all point to the peak performance atmosphere that surrounded Rolling Thunder's first months. It's all there on the CDs.
Dylan's band of brothers included Roger McGuinn, Mick Ronson, Ramblin' Jack Elliott, Bob Neuwirth, bassist and band leader Rob Stoner, and drummer Howie Wyeth. But there was a significant number of sisters, too: Joan Baez from the off; Ronee Blakley fresh from playing a singer in Altman's Nashville; and Joni Mitchell, who climbed aboard, freaked out, stayed on board, had an affair with tour scribe Sam Shepard, which resulted in the song "Coyote" she is filmed performing at Gordon Lightfoot's house in the Scorsese movie.
And then there was Scarlet Rivera, the "gypsy" violinist at Dylan's right-hand side during each concert. It is her instrument that defines the sound of Desire (which would not be released until early 1976) and of Rolling Thunder itself. Her sweeping, soaring violin is the key to what Dylan was searching for when he came across her carrying her instrument down a New York street in June 1975 and asked, "Can you play that thing?". So are great moments in cultural history made.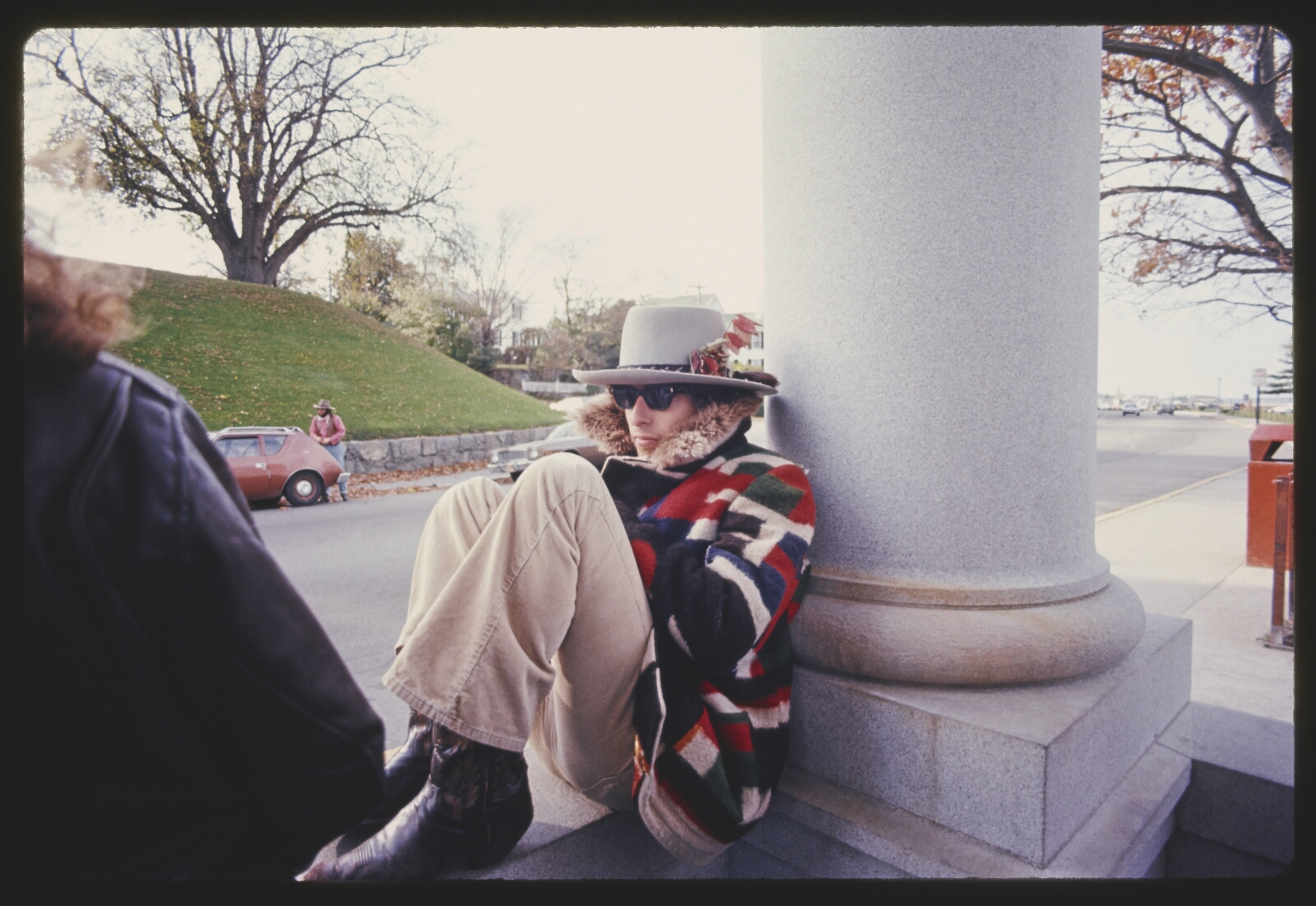 What's brilliant about the tour's access-all-areas documentation is that Dylan himself was director-at-large of his own film, Renaldo & Clara, as well as of the tour and all the people in it. Because it was his crew, his money, his own time, the film Scorsese has created from what was shot in the autumn of 1975 comprises the most intimate, intense footage of Dylan at work that will ever be released. From the big pre-tour gathering at Gerdes Folk City, with superb sequences featuring Patti Smith in action and hanging with Bob, and performances so potent they all but peel off into the corner to fornicate, through studio and hotel rehearsals and backstage verite and the live footage itself, this is Dylan performing the hell out of songs not yet released, and caught in multi-camera heaven. Roll film, roll thunder – the facial close-ups reveal Dylan souped-up, made-up, sweating like a warrior and acting out songs like "Isis" and "One More Cup of Coffee" in ways we'll not see again. He's here as shape-shifting rock'n'roll magus at peak potency, conducting energies you feel but cannot name.
At one point, Martin Von Haselberg remarks: "Dylan created controlled chaos in which each of the participants could reach their maximum potential." Well, that could be read as the lead in the pencil of many a magical ritual – Dylan as some master alchemist, directing and combining all the necessary raw ingredients to create alchemical gold in the shape of Rolling Thunder. There was something happening here, and via the truth of the music, the footage and the "mythdirections" of Scorsese and Dylan's reconstructions, we're finally getting a glimpse of what it was.
Rolling Thunder Revue: A Bob Dylan Story by Martin Scorsese launches on Netflix and in select cinemas on June 12; a box set of the live recordings was released on June 7
The facial close-ups reveal Dylan souped up, made up, sweating like a warrior and acting out songs like 'Isis' and 'One More Cup of Coffee' in ways we'll not see again
rating
Share this article