Bob Dylan Special - theartsdesk Q&A: Scarlet Rivera |

reviews, news & interviews
Bob Dylan Special - theartsdesk Q&A: Scarlet Rivera
Bob Dylan Special - theartsdesk Q&A: Scarlet Rivera
The violinist on 'Desire' and 'Rolling Thunder Revue' talks about working with Dylan at his peak
'Confidence rarely given'
As Martin Scorsese's new feature film, Rolling Thunder Revue: A Bob Dylan Story, hits Netflix and cinemas, and a new 14 CD boxed set enters the official Bootleg Series, theartsdesk
talks exclusively to Scarlet Rivera, the
violinist
on
Desire
and the
Rolling Thunder Revue
tours of 1975 and 1976, about her experiences of encountering, recording and touring with Dylan.
I wrote to Scarlet Rivera via her website, expecting only the outside chance of a reply, because few who have worked and spent time with Dylan tend to open up about their experiences in public. I stressed my interest in the internal workings of an artist like her creating music with someone like Dylan at the height of his powers. What was it like, creatively, internally? It was the inner experience I wanted to know about. To my delight, she got back to me after a few days. These are the answers she gave me.
SCARLET RIVERA: Dear Tim, you're right, it's about the inner experience that most journalists miss entirely. Both my inner experience and Bob Dylan's towards me, which was the reason the outrageously rare position of importance and trust was extended to me, especially as he made that decision within a day of knowing me.
That said, on that first day there was a significant dance that went on while and in-between times. I joined with him for the first time playing violin on songs he chose that I could not possibly know, neither telling me the key nor offering a chart of any kind. He tried to make me feel at ease, but make no mistake, I was being seriously tested, not only musically but he needed to know who was I, what was my character, and what was I made of. Was I going to be trusted to stand alongside him as a musician, was I going to be genuine, respect his space, and grateful for whatever he gave, or would I be calculating, pushy, egotistical or grasping for more?
Somehow I passed this critical test of character that day. He put his guitar down and asked if I wanted to go to a club with him to see a friend play and I said yes. We arrived at the Bottom Line where Muddy Waters and band were playing. Bob sat in and the audience was blown away. Bob Dylan was there in front of them. But after sitting in on a song and the applause died down, he went to the mic and announced, "Now I want to bring up my violinist." I got the nod from Muddy Waters, Bob Dylan and the entire band as I did a solo. They all smiled and that was another test passed. After the show the entire band, Bob and myself piled into cars and headed to Brooklyn to visit a Blues legend, Victoria Spivy, listening to their stories and talking till dawn. And from recording Desire to being onstage standing on his right side every night, he went on to lift me to great heights and extended confidence in me rarely given.
TIM CUMMING: Did you know much about Dylan and listen to his music before you met him?
SR: I was very aware of the Rolling Stones, the Beatles and the Doors, but for me the depth of Bob Dylan's lyrics surpassed everyone else's by miles. However, I was never an obsessive fan of anyone, but simply quietly admired him from afar. I would never have gone out of my way to seek him out. I lived in an inner world of extreme opposites. I was wild but extremely withdrawn, verbally silent but confident in my musical voice, a lone wolf, social only enough to play music with others. But aloof and not very social otherwise, traits I believe Bob Dylan understood and appreciated. In fact, I feel that if I was a confident gabby social butterfly we would never have clicked in so many ways as we obviously did.
TC: How long was it between you started work on songs for Desire? And how did that develop, alongside the rapport with Dylan?
SR: That first night Bob drove me back to my little apartment in the Lower West Side in the meat packing district and gave me his number. A couple days later I still hadn't called, and he called me noting that I hadn't called him. I didn't want to bother him, so I didn't call. I could sense he was pleased that I had simply waited to see if anything was going to happen or just be an amazing one night.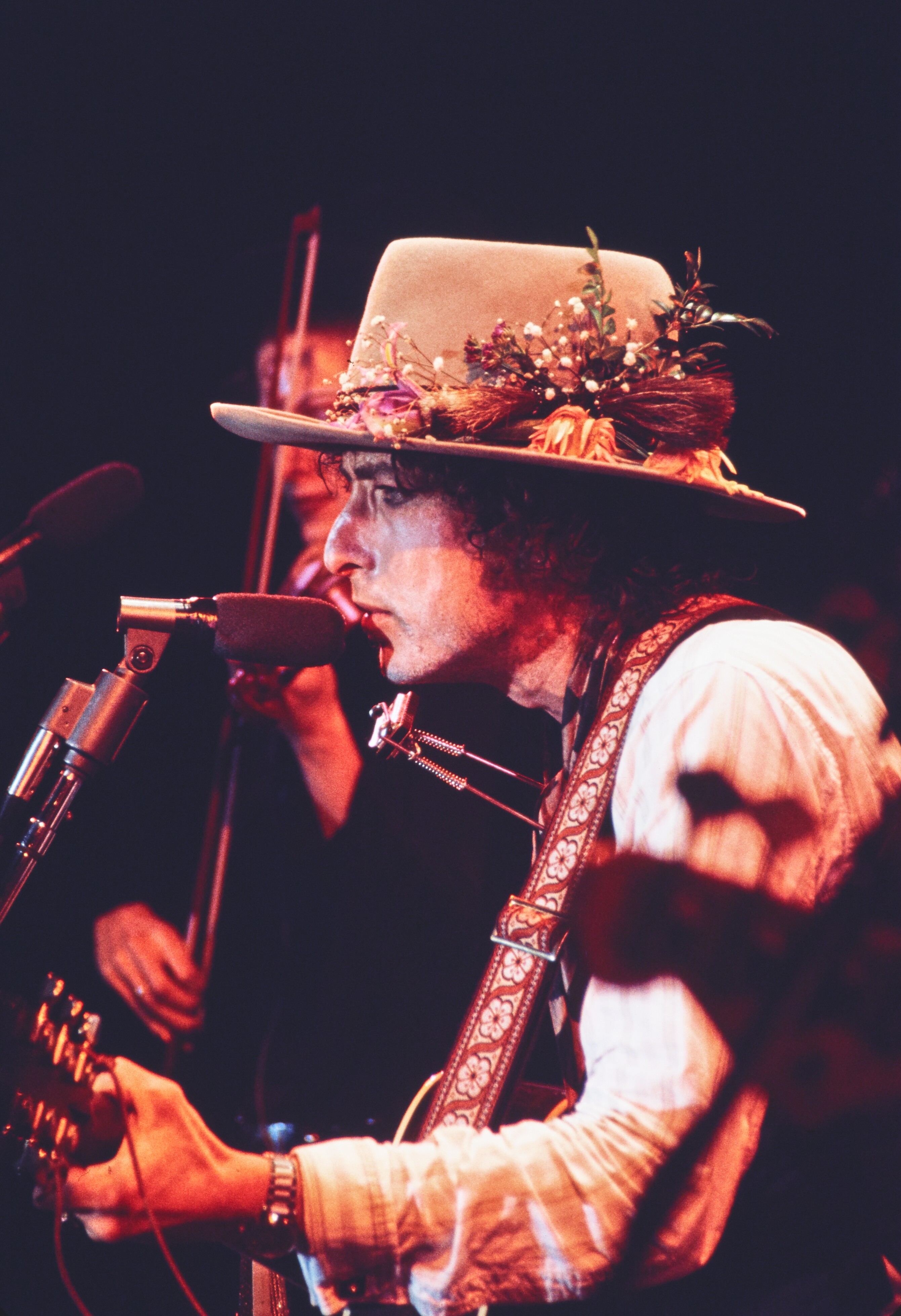 Then he asked me to take down the address of CBS Studios and be there the next morning. I walked to the recording studio… A first, as I had never been in one in my life, but would pretty much live in them from then on. The studio was packed with musicians. There was Eric Clapton and his band as well as many of the top session players in New York. It was very intimidating but I quietly took my place and listened carefully to each track as Bob ran them down before recording. I didn't stay in the main room, but had to go into an isolation booth to play. I quietly came up with all my parts on the spot for each song, without instruction from anyone. I listened and tuned into Bob and let the feeling guide me each step I took. At one point he began a harmonica solo and I dropped out immediately. I knew better than to play over him, and yet he stopped the recording and told me to feel free to try and play along. I tuned in and wove around and with him. I was totally unaware that others had tried and failed to play along with his harmonica. I'm glad I didn't know, because it helped me stay in the moment with him. I would later be told I played like a lead guitarist – by lead guitarists! In the end, Bob made a dramatic decision to go with the small intimate sound of myself, Rob Stoner on bass and Howie Wyeth on drums over Eric Clapton and the big band sound.
TC: The performance at the 1975 John Hammond tribute, one senses an overpowering intensity in Dylan, his persona and his delivery; performing beside him, did you understand this presence, and feel it, work with it? How could you describe it? What kind of power is involved here, and what is it bringing out?
SR: Bob asked me and the trio of Rob and Howie to join him in Chicago for the tribute to John Hammond Sr, who changed the course of music by his vision and courage to sign many greats, including Bob Dylan, to CBS. This was another First. I had never performed on live TV and now it was going to be in front of every senior executive of CBS and a viewing audience of millions! I am amazed still that Bob had confidence in me to pull this extremely important concert off without failing on live TV, especially as this show was before a single live concert to support Desire. I would also perform "A Simple Twist of Fate" with him, and I had only rehearsed it that afternoon once backstage. Appreciating the song and playing it live with the man himself are two very different things! I was incredibly tense and taut but I indeed pulled it off and it is my all-time favourite video of playing live with him.
TC: What was your experience of the Desire recording sessions, and Dylan's specific ways of working – first takes, unexpected swerves and changes?
SR: I somehow rolled with each take in the studio… Many were two or three takes after learning them on the spot. Again, no charts or instructions of any kind… It was sink or swim… actually sink or soar, considering I made the cut on each track. I somehow found my wings and took flight into the songs. "One More Cup of Coffee" was recorded in one take.
TC: What was the experience like of the lead-up to Rolling Thunder, and the assembling of this huge and brilliantly colourful cast?
SR: Apart from buying some interesting new clothes for the tour, the majority of my preparation was internal. I was withdrawn enough to know how to listen to an inner voice guiding me… A Muse that stayed with me throughout the tour and led me to initiate the face painting that I did on the tour… Never doing the same thing twice and quite symbolic of my inner state.
TC: Your violin is at the heart of the album, but what changes did you bring when the music came to the stage, among a roster of many musicians?
SR: While I could accompany Bob on some intimate songs like "Oh Sister", I was not intimidated by the big sound around me… And the confident lead guitar attitude came out in my playing transforming songs like "Isis" from the more subtle way I did it on Desire, to a more powerful wild way of playing it live. From recording Desire to being onstage, standing on his right side every night, it was clear that I held an important place on stage… It was evident in the musical chemistry between us that could be seen and heard by everyone on stage and in the audience. He lifted me to great heights and extended confidence in me rarely given.
TC: Thank you, Scarlet Rivera.
Rolling Thunder Revue: A Bob Dylan Story by Martin Scorsese launches on Netflix and in select cinemas June 12; the box set of the live recordings was released on June 7
From recording Desire to being onstage standing on his right side every night, he went on to lift me to great heights and extended confidence in me rarely given
Share this article