Mahler's Eighth, CBSO, Gražinytė-Tyla, Symphony Hall Birmingham review - a symphony of 600 |

reviews, news & interviews
Mahler's Eighth, CBSO, Gražinytė-Tyla, Symphony Hall Birmingham review - a symphony of 600
Mahler's Eighth, CBSO, Gražinytė-Tyla, Symphony Hall Birmingham review - a symphony of 600
A rite of spring as a great orchestra launches its centenary year in epic style
Supersize symphony: Mirga Gražinytė-Tyla conducts Mahler's Eighth
"Try to imagine the whole universe beginning to ring and resound" wrote Gustav Mahler of his Eighth Symphony. "There are no longer human voices, but planets and suns revolving." It's an image that captures the impossible scale and mind-boggling ambition of this so called "Symphony of a Thousand".
But it doesn't begin to do justice to the freshness, clarity and sheer headlong energy of this performance by the
City of Birmingham Symphony Orchestra
and no fewer than five choruses under the direction of Mirga Gražinytė-Tyla. Doesn't the Earth alone move at 67,000 miles per hour? With around 600 performers (I couldn't manage a precise headcount) in Symphony Hall, the words that came to mind (appropriately enough, in this Beethoven year) were from the
Ode to Joy
: the bit about stars speeding gladly along their courses.
By any standards, this first major concert of the CBSO's centenary year was a special occasion. As well as Gražinytė-Tyla and a suitably enlarged CBSO, all three of the CBSO's resident classical choruses and youth choruses were on stage, reinforced by the University of Birmingham Voices (another project of the CBSO's chorus director Simon Halsey) and the hundred-odd singers of Baltimore Choral Arts Society, who'd made the trip across the Atlantic to perform a work which, 110 years on, is still worth a detour. The artistic rationale – besides an understandable desire to make a splash – was intriguing. In 1920, the CBSO's first music director Appleby Matthews planned (but never gave) what would have been the symphony's UK premiere. It's hard to imagine what that might have sounded like: even in Symphony Hall, the massed singers extended into the Circle and more than halfway down the auditorium.
That created a thrilling surround sound effect – not, as feared, an engulfing wash of undifferentiated noise, but a brilliant, ricocheting, physical impact as each section hurled its phrases across the hall in counterpoint and in dialogue, crystal clear and blazing with conviction. Even the adult voices had a youthful ring. Words were comprehensible, dynamics were observed with absolute unanimity and the mightiest perorations had a recognisably musical shape and direction, while Part One's dissonant, demonic shouts had a vicious sting. Credit for that – a huge element in the performance's impact - has to go to Simon Halsey and his colleagues, of whom Julian Wilkins was upstage, acting as assistant conductor with the CBSO Youth Chorus and Children's Chorus (who sounded serenely unfazed either by Part One's medieval Latin or the tongue twisting high German of Goethe's Faust in Part Two).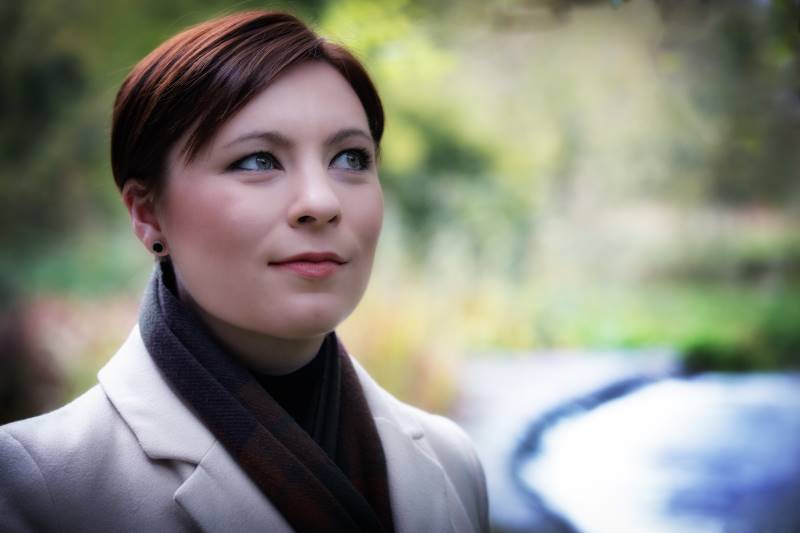 Knowing what these forces could do, Gražinytė-Tyla opened the regulator and let them fly. The colossal opening hymn Veni Creator Spiritus seemed to rocket forward on jets of raw euphoria: Gražinytė-Tyla controlling her ensemble with brisk, precise gestures in what must have been the fastest imaginable account of this stupendous sonata allegro. With singing of breathtaking precision and power, commandingly handled, this really was a symphonic argument rather than a mere choral blow out, punctuated by the black toned, Olympian playing of the CBSO's timpanist Matthew Hardy. Of the seven onstage soloists, the tenor and top soprano lines occasionally vanished beneath the sheer mass of choral sound; certain soaring moments which (to be honest) I've only ever heard work on recordings, didn't quite come through here. That seemed beside the point. Part One swept by as if in a single breath and slammed to a finish with the speed and decisiveness of a Mozart quartet.
Understandably, the orchestra sounded slightly shaken by all that; which didn't stop Gražinytė-Tyla and her players from opening Part Two by painting a romantic landscape that swung from the very edge of audibility – a tremolando so fine that it was sensed rather than heard - to fierce, passionate surges of tone. Then we received the full benefit of a team of soloists that included Erin Wall (on luminous voice), Karen Cargill, Alice Coote and a radiant, ringing Morris Robinson. Natalya Romaniw (pictured above) sang with a pleading tenderness as Gretchen, while Katja Stuber (Mater Gloriosa) echoed rapturously from some hidden space high in Symphony Hall. We already knew that the final climax, when it came, would overwhelm, and it really did, with extra trumpets fanfaring from an Upper Circle box while the organ seemed to rumble up from the railway tunnel below. But Gražinytė-Tyla was in command throughout. No amount of drama (and every phrase had its due) detracted from a genuinely symphonic sense of purpose.
And yet – I've got to say this again - it just felt so fresh, so immediate, and so optimistic. Horns thrusted lustily up through the texture, woodwind solos glistened with dew, and quiet melodies for violins and harp were gently allowed to unfurl and blossom. Overall, it swept by like a summer storm. I realise that over the years, I've come to think of the Eighth as an essentially tragic work: a vast, doomed monument to a civilisation at twilight, written on the edge of the abyss, with Mahler deploying every last technique of classical art to raise a defiant, towering bulwark against the coming darkness. But Gražinytė-Tyla isn't in the business of erecting monuments, and this didn't feel like that at all. It felt like a rebirth.

The colossal opening hymn seemed to rocket forward on jets of raw euphoria
rating
Share this article