Among the Trees, Hayward Gallery review - a mixture of euphoria and dismay |

reviews, news & interviews
Among the Trees, Hayward Gallery review - a mixture of euphoria and dismay
Among the Trees, Hayward Gallery review - a mixture of euphoria and dismay
Our complex relationship with trees explored to powerful effect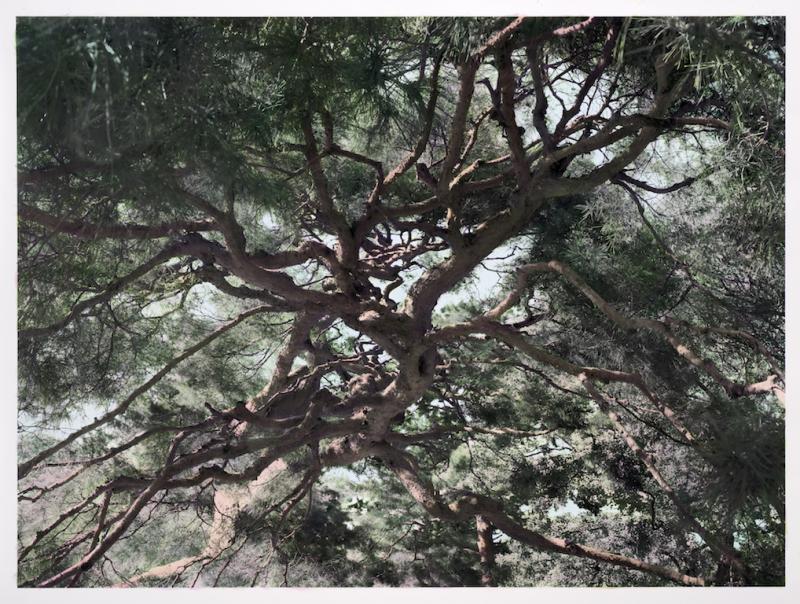 Pine, 2016 by Shi Guowei
Paradise, according to German artist Thomas Struth, is to be found in the tropical rain forests of Yunnan Province, China. His gorgeous photograph Paradise 11 is the first thing I saw on entering the Hayward Gallery and, immediately it had a soothing effect on my frazzled urban psyche.
Then I spotted the cable car dangling above the tree canopy – a sure sign that the remote wilderness of Xishuangbanna is no longer unspoiled; Paradise has been trampled on. Next I discovered that these magical forests are being uprooted to make way for rubber plantations.
Since this is an exhibition review rather than a diatribe, I'm resisting the temptation to launch into a polemic about the need to preserve woodlands and plant trees. Yet conservation is an issue underlining the show, since artists began focusing on trees just when the environmental movement kicked off. The two activities are intertwined, and Among the Trees marks the Year of the Tree by celebrating the magnificence of trees while also reminding us of our devastating impact on them.
It seems that we love trees yet treat them with contempt and, deep down, harbour primal fears of dense woods. This ambivalence is beautifully expressed by Japanese artist Shi Guowei. By photographing an ancient pine tree from high up in the branches, he produces a glorious sense of euphoria (main picture). Perched like a bird among a tangle of limbs that seem to have no trunk supporting them, you can't tell which way is up and which down. He achieved this unnerving sense of disorientation by combining multiple black and white shots, then hand-colouring the composite image to dizzying effect.
At 4,000 years old, the Crowhurst Yew is one of the most ancient trees in Britain. To dramatise the gnarled silhouette of this magnificent specimen, Tacita Dean has painted out the graves that surround it. On her huge black and white print, the white gouache resembles deep snow and, by removing the tree from the familiar context of a Surrey churchyard, sets it trudging like some ancient warrior on a journey through time. Graves are also located beneath the tree photographed by Steve McQueen near New Orleans. The bodies of victims hanged from this Lynching Tree lie buried around its base; and, as though the tree were implicated in the shameful crimes it witnessed, this knowledge colours one's response to it.
The spruce filmed by Eija-Liisa Ahtila is 30 meters tall, far too huge to be recorded by a single camera. Her solution was to film it in six segments and show the videos side by side. The result is extraordinary; the tree appears to lie horizontally as though felled, yet its branches are blowing vigorously in the wind. The woman standing at its foot is dwarfed by the presence which also fills the room, dominating us with its vast size. And that, I guess, is what arouses our animosity. Such giants make us feel small and, while admiring their grandeur, we resent being reminded of our insignificance.
The second part of the exhibition is a melancholy reminder of the liberties we take with trees. Zoe Leonard hones in on the scars inflicted on urban trees by the chain link fences and barbed wire that seek to constrain them (pictured above right: detail of Untitled, 2000). Lone palm trees stand sentinel in Yto Brrada's photos of vacant lots in Tangier (pictured left). Sheep graze on a sparse lawn skirted by a towering wall of grey concrete – the back of high rise apartments, built round a minuscule courtyard overlooked by a stack of tiny balconies. This scruffy oasis seems to taunt the inhabitants of the prison-like block with a glimpse of more gracious living while, in turn, the grey walls bear down menacingly on the bucolic remnant.
From a distance Mariel Neudecker's back-lit vitrine of a forest with golden light filtering through the trees resembles one of Caspar David Friedrich's romantic paintings. Close-up, though, the light takes on a sulphurous hue; submerged in water that looks as poisonous as acid rain, the trees are blighted by unsightly growths. Utopia turns dyspeptic; our dreams die along with the trees.
The third part of the show celebrates the potential longevity of trees with photos by Rachel Sussman of ancient specimens including a 9,500 year old spruce, and a cast by Ugo Rondinone of an olive tree twisted and warped by time. These are the survivors, remarkable for having avoided the logger's axe since we've destroyed over 50% of the world's forest cover.
Our relationship with trees is deep, long and often nasty and a survey of the topic is inevitably a mixed bag. Some of the work is irritatingly anthropocentric, but this alone is a useful reminder of the problem. We behave as if nature were largely a resource to be exploited, regardless of our inextricable links with it.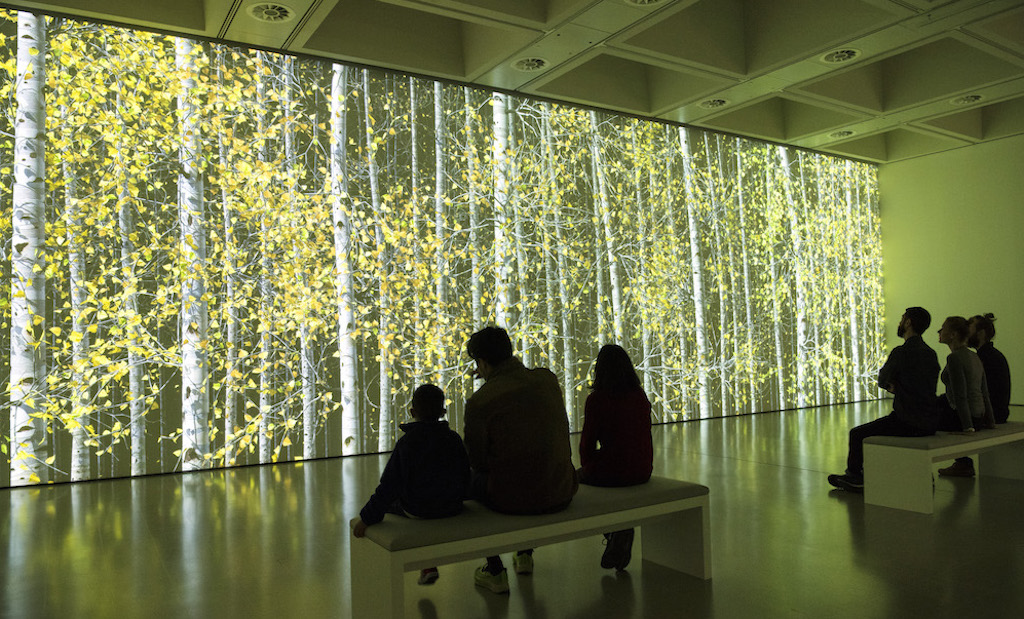 Anyone who doubts the strength of this bond need only watch Jennifer Steinkamp's video of a grove of birch trees. Blind Eye, 2018 (pictured above) fills an entire wall with a close-up of tree trunks. In just three minutes, we witness buds forming and leaves unfurling and waiving in the wind, before shrivelling and falling as winter takes hold. The surge of emotions aroused by this rapid resumé of a passing year took me completely by surprise. It was a timely reminder that the rhythm of the seasons is deeply embedded within us, no matter how separate from nature we believe ourselves to be.
The surge of emotions aroused by this rapid resumé of the seasons took me completely by surprise
rating
Explore topics
Share this article