Fire Will Come review - slow-burning Spanish beauty |

reviews, news & interviews
Fire Will Come review - slow-burning Spanish beauty
Fire Will Come review - slow-burning Spanish beauty
Rewarding rumination on a rural firestarter's return
Figure in a landscape: Benedicta (Benedicta Sánchez) contemplates her country
This lovely, contemplative Cannes prize-winner has something to teach us in testing times. Filmed in director Oliver Laxe's grandparents' Galician village, it observes convicted arsonist Amador's return from jail to the fire-prone landscape he's blamed for devastating.
This is slow
cinema
, smouldering with hurt but attentive to beauty and kindness, as Amador settles back into rural rhythms and his elderly, stoic mum's care.
The land, lush and sodden early on, has a painterly palette, and Laxe drinks in its supernal sights. A great bridge appears spindly between mountains, mum Benedicta hides from rain in a mimosa's hollow womb, and morning starts with fog rising like clouds from the valley. Fire and heat are nursed, whether it's Amador crisping bread on the stove's edge or a corpse sent for cremation. It's 34 minutes before anyone hurries. If Laxe's framing of picturesque tableaus can seem overdone, they repay his worship, being ephemerally awesome beyond special effects. The director grips by this immersion in his ancestral homeland, Amador's subtle ostracization within it, and the tremors of dread around his return.
The quietly rhapsodic use of Leonard Cohen's "Suzanne" as tentative looks of tenderness pass between Amador and vet Elena, the sun sets, and a cow peers at us ruminatively risks ridicule, but becomes profound. Amador's later wounded, wordless entreaty on seeing Elena once she knows his past shows his dashed hopes.
Laxe named and wrote his protagonists around the non-professionals playing them. Amador Arias's long head suggests the skull beneath the skin; he has the strong-boned features of a native Latin American not their conquistadors, and also somewhat recalls Antonio Banderas, if life had shriven him more. His physical presence veers between weary matinee idol, and Frankenstein's hulking monster fleeing the mob. Benedicta Sánchez as his mother is shrunken by age but implacably protective, and an amusingly brazen matchmaker. Both are characters set firmly in a landscape, traversing it as evenly as cattle or water. Only Elena Mar Fernández's vet, an urban emigrant living in a village which seems a relative metropolis, seems at all separate from the soil, and an actor in a film.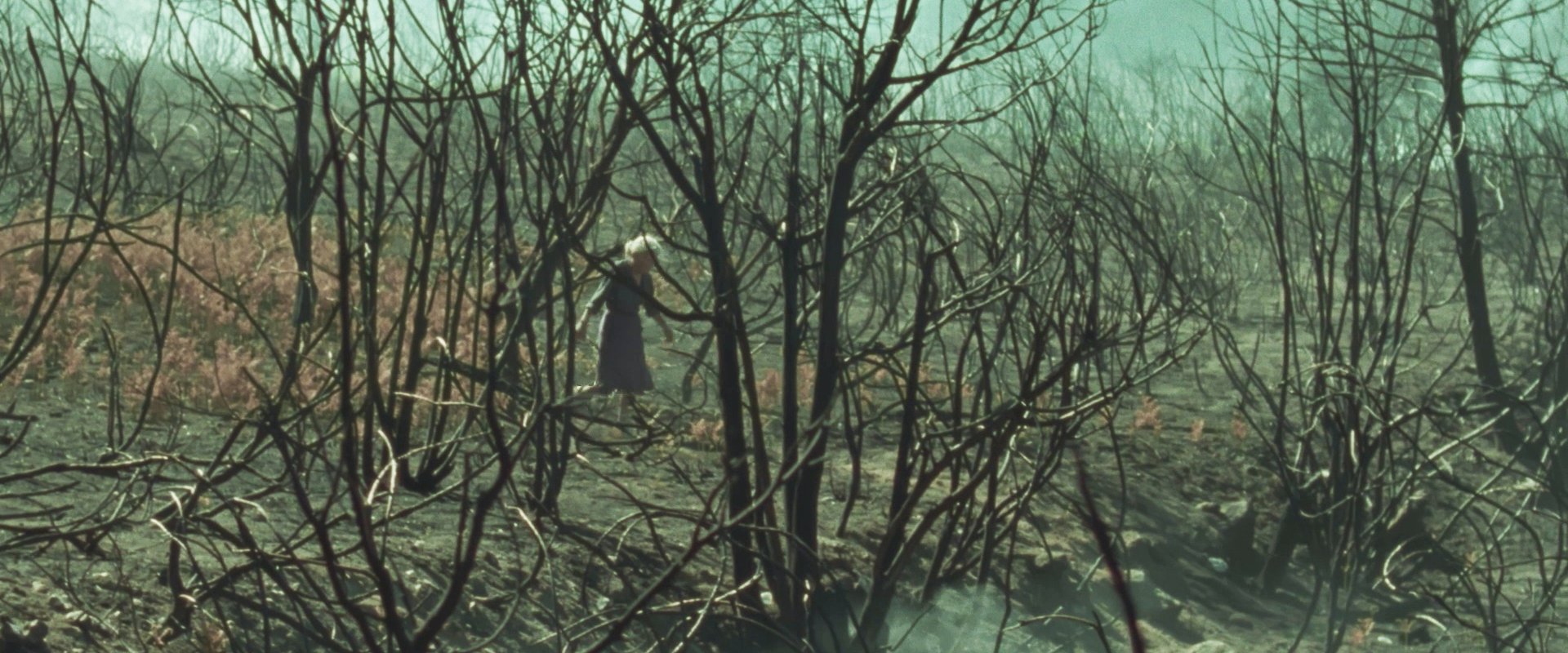 When fire savages the region again – as it does in Galicia every year, for reasons including politics and property as well as climate and arson – Laxe follows overstretched fire-fighters as they tackle an actual inferno. Desperate efforts to stem the flames, and the prising of a broken old man from his burning farm, make a devastating contrast with the early idyll.
Amador, who may be scapegoat or culprit, is brutally blamed by his scared, stressed neighbours. "If they hurt others, it's because they hurt too," Benedicta says, suggesting a natural balance we're all faced with now.