The Whalebone Box review - documentary through unreliable surrealism |

reviews, news & interviews
The Whalebone Box review - documentary through unreliable surrealism
The Whalebone Box review - documentary through unreliable surrealism
A different kind of road trip with artist Andrew Kötting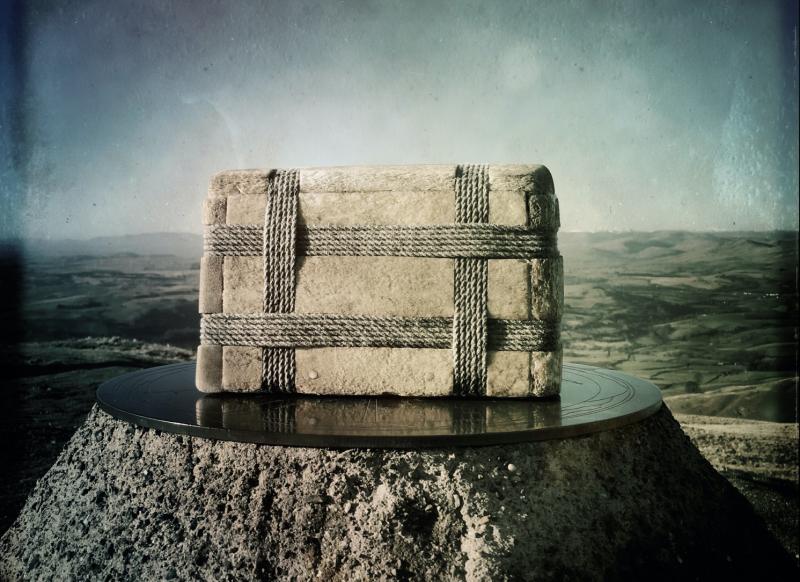 The mystical titular Whalebone Box
The UK-wide lockdown has thrown the cinematic release schedule into chaos. Some films are postponed indefinitely, while others have opted for direct digital releases. It's not ideal for anyone, but in a strange way it may play to The Whalebone Box's favour. Specialist arthouse streaming service MUBI has secured the exclusive rights, and their captive subscribers are the ideal audience for such a strange, hypnotic piece.
Experimental artist and filmmaker Andrew Kötting has built a reputation for idiosyncratic documentaries, and The Whalebone Box is true to form. Essentially, the plot follows Kötting, writer Iain Sinclair, and photographer Anonymous Bosch as they travel from London to Tarbert, off the west of Scotland, in possession of a box. It was crafted from the bones of a beached whale, and gifted to Sinclair by its sculptor Steve Dilworth. Their intention is to return it to the sands from which it came.
But this is no fly-on-the-wall road trip. It's presented as a half-remembered fever dream, spilling from the conscious of Kötting's daughter Eden (pictured above), an artist in her own right. She tries to piece together the story from fragments of footage, which get lost between her own hunt for a whale in the forest. The further north the group travel, the more distracted the account becomes. As the narration says, the box devours narrative like a black hole.
The film conjures images from paganistic folklore. They take the box to various locations on the journey, from graveyards to mountains, imbuing it with ancient energy. But the deeper we get, the less reliable the story becomes. Why does the box change in appearance? How did they stop by the Pyrenees on their journey to Scotland? And who is that voice analysing the film's imagery? It's as if the box's energy warps the very reality of the footage it's filmed on. How else can you explain the reflection of mobile phones as they shoot on 16mm?
Kötting is a master of soundscapes, and The Whalebone Box is equal parts impressive and unnerving. The wails of a mermaid merge with archive audio on aircraft black boxes, with approaching deep drones lurking underneath. Paired with images that bulge and sway, it builds the box's mystique as this unknowable, powerful force of nature.
A star rating for a film like this is almost redundant. Its very nature is to subvert, confuse and disturb. It's not an easy watch and not designed for mass appeal. But it is fascinating, surprising and strangely charming. For MUBI subscribers, worth a taste, just to see if you are the right audience.
The Whalebone Box is equal parts impressive and unnerving
rating
Explore topics
Share this article