Blu-ray: The Apu Trilogy |

reviews, news & interviews
Blu-ray: The Apu Trilogy
Blu-ray: The Apu Trilogy
An enduring Bengali epic from India's greatest filmmaker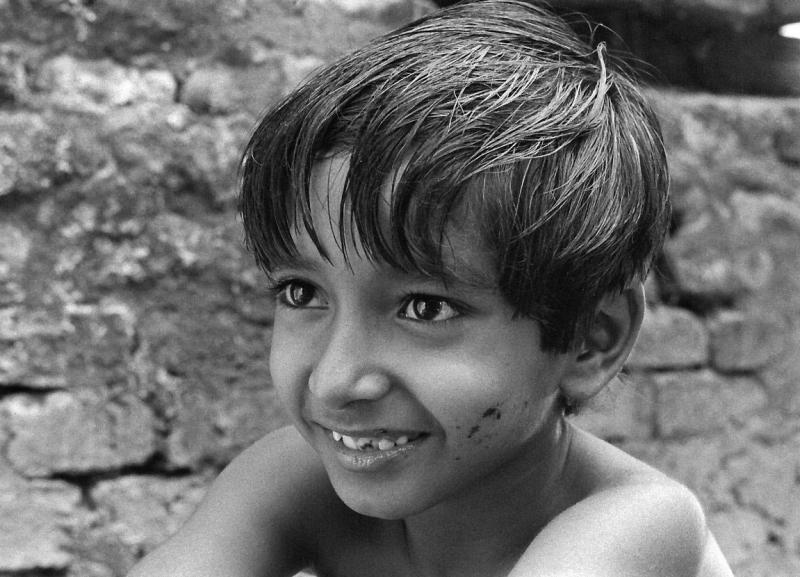 Subir Banerjee in Pather Panchali
Over the years, the legend of The Apu Trilogy has been much-repeated. Now widely considered India's greatest filmmaker, Satyajit Ray was little more than a small-time commercial artist when, failing to find a sponsor for his script, he assembled what few funds he could in order to begin filming.
Come the first day, Ray had never previously directed a scene, he had a still-photographer (Subrata Mitra) for a cinematographer, and a
composer
(Ravi Shankar) who was essentially unknown. Together, they combined to produce a set of films that have been acclaimed ever since as masterpieces of arthouse cinema.
Such trivia is perhaps outworn, but the trilogy itself stands the test of time, aided by a new and magnificent 4K digital restoration. The films take as their protagonist Apu: a young boy, later to become a man, whose birth into a rural village in the Bengal region of India provides the subject matter for Pather Panchali (1955). Ray depicts poignantly the modesty and innocence of Apu's early childhood, spent traversing rice fields and mango groves, or trekking across plains for a mystical glimpse of a passing train. In these meagre events Apu finds ample fulfilment, and proves himself a foil to his mother, Sarbojaya – by far the trilogy's most maligned figure. In what is an astounding performance by Karuna Banerjee, her character speaks powerfully to the tribulations of a particularly female experience as, during the extended absences of a gentle but selfish husband, she bears the shame and tragedy of the family's impoverished existence.
Though it drags a little, Pather Panchali is the set's most profound film, and certainly its most beautiful. Rooted to the landscape of rural Bengal, there is an arresting simplicity to its shots of leaves flapping under sunlight, or the skipping of water boatmen across a river's surface – more than adequate complements to the timeless, universal quality of Ray's narrative. With Aparajito (1956), however, this changes, as the family are forced to move to the nearby city of Benares; Ray's second film opens with a majestic extended shot of the city's towering Ahilya Ghat.
But if this shift of scenery is intended to symbolise a film vastly different from its predecessor, Ray is intentionally misleading. Now Sarbojaya, who had before lamented the jackals that haunted their village outskirts, is shown in an early scene fending off an intrusive monkey from the courtyard of their shared building. As a metaphor for a creeping danger, it is portentous: the sum of all tragedy in the first film strikes in Aparajito's opening forty-five minutes. We witness Apu's entrance into formal education, culminating finally in his moving to Calcutta, where he is to continue his studies. Once again, Ray proves himself a master of the small details; writing a letter to notify his mother of his arrival, Apu concludes: "I have an electric light in my room" – a throwaway remark, but one that effortlessly captures the teenage boy's wonder.
Ray was fresh from the making of a Bengali comedy, Parash Pathar (1958), when he came to the making of the Trilogy's final instalment, Apur Sansar (1959), and it shows. Though not without tragedy, the film is more light-hearted, picking up from its predecessor an unspecified number of years in the future. In part, this owes itself to cliché: numbering amongst its plot developments are the fracturing of Apu's friendship with a former university mate, in tandem the onset of a sudden romantic interest. Regardless, Soumitra Chatterjee gives an endearing performance as the eccentric Apu, now an aspiring writer – traits that frame him in the mould of his long-since deceased father.
Criterion's Special Edition Collector's Set boasts a fascinating range of features, including audio recordings of Ray, and interviews with the cast, while biographer Andrew Robinson delivers an exceptional video essay on the making of the trilogy. Also present is the footage, from 1992, of Ray receiving an honorary Oscar – a delightful inclusion, and a fine reward for the director of this humane and enduring epic.
Ray proves himself a master of the small details
rating
Explore topics
Share this article